Photo Flash: First Look at Kieran Campion, Pascale Armand and More in LOVE'S LABOR'S LOST at The Old Globe
The Old Globe presents the final offering in the 2016 Summer Shakespeare Festival: William Shakespeare's unabashed celebration of innocence, idealism, and the sweet folly of young love, Love's Labor's Lost, directed by three-time Tony Award winner Kathleen Marshall. This delightful romantic comedy will run now through September 18, 2016, in the Lowell Davies Festival Theatre. Opening night is Saturday, August 20. BroadwayWorld has a first look at the cast in action below!
The King of Navarre and his three schoolmates vow to embrace their studies-and not embrace girls-for three whole years. But the instant they take that vow, the Princess of France arrives with her three beautiful attendants, and all bets are off. Tony Award winner Kathleen Marshallmakes her Old Globe directing debut with this intoxicating classic under the San Diego stars.
Love's Labor's Lost features Pascale Armand (Tony Award nominee for Eclipsed, La Jolla Playhouse's Ruined) as Rosaline, Kevin Cahoon (Broadway's The Wedding Singer, Chitty Chitty Bang Bang, and The Lion King, Off Broadway's Hedwig and the Angry Inch) as Boyet, Kieran Campion (Broadway's The Heiress, The American Plan, and Journey's End) as Berowne, Kristen Connolly (Othello at the Globe, "House of Cards," "Zoo") as Princess of France, Greg Hildreth(the Globe's Arms and the Man, Off Broadway's The Robber Bridegroom, Broadway's Cinderella and Peter and the Starcatcher) as Costard, Patrick Kerr (the Globe's Twelfth Night and The Comedy of Errors, La Jolla Playhouse's Hollywood, Broadway revival of You Can't Take It with You) as Sir Nathaniel, Jonny Orsini (the Globe's Othello, Broadway's The Nance and Fish in the Dark) as Ferdinand, King of Navarre, Triney Sandoval (the Globe's The Merchant of Venice, Broadway's Macbeth, A Free Man of Color, A Man for All Seasons, Frost/Nixon) as Don Adriano de Armado, and Stephen Spinella (two-time Tony Award winner for Angels in America, The Velocity of Autumn, Spring Awakening) as Holofernes.
Joining them are actors from The Old Globe and University of San Diego Shiley Graduate Theatre Program, including Amara James Aja as Dumaine, Amy Blackman as Maria, Ally Careyas Ensemble, Ajinkya Desai as Lord, Talley Beth Gale as Katherine, Kevin Hafso-Koppman as Forester, Lorenzo Landini as Marcadé, Makha Mthembu as Jaquenetta, Jake Millgard as Dull, Christina A. Okolo as Ensemble, Suzelle Palacios as Ensemble, Daniel Petzold as Moth, andNathan Whitmer as Longaville.
The creative team is comprised of John Lee Beatty (Scenic Design), Michael Krass (Costume Design), Jason Lyons (Lighting Design), Sten Severson (Sound Design), Peter Golub (Original Music), Taylor Peckham (Music Director), Ursula Meyer (Voice and Text Coach), Jim Carnahan, CSA (Casting), and Pamela Salling (Production Stage Manager).
Tickets to Love's Labor's Lost start at $29 and are now on sale. Tickets can be purchased online at www.TheOldGlobe.org, by phone at (619) 234-5623, or by visiting the Box Office at 1363 Old Globe Way in Balboa Park.
Photo Credit: Jim Cox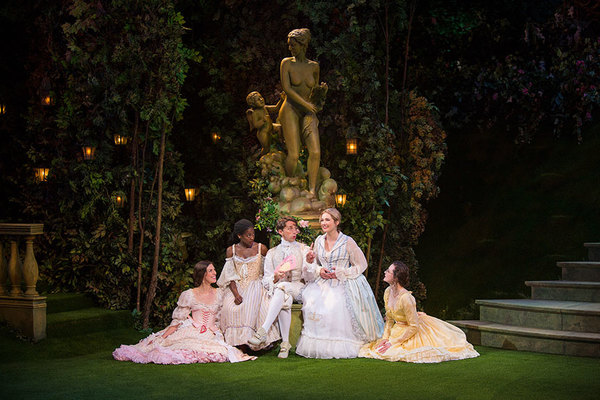 Amy Blackman as Maria, Pascale Armand as Rosaline, Kevin Cahoon as Boyet, Kristen Connolly as Princess of France, and Talley Beth Gale as Katherine

The cast of William Shakespeare's LOVE'S LABOR'S LOST at The Old Globe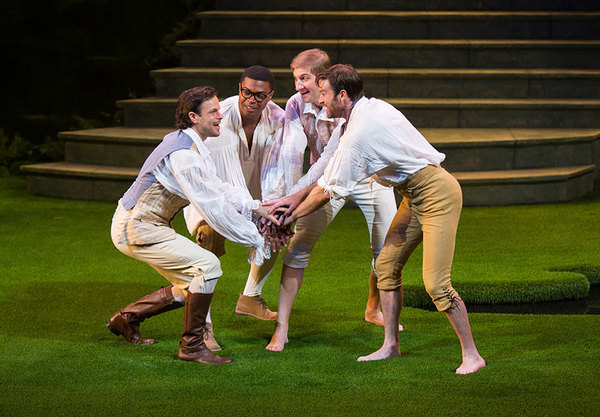 Jonny Orsini as Ferdinand, King of Navarre, Amara James Aja as Dumaine, Nathan Whitmer as Longaville, and Kieran Campion as Berowne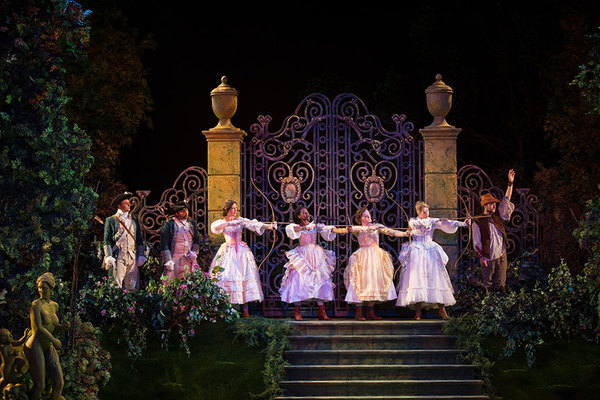 The cast of William Shakespeare's LOVE'S LABOR'S LOST at The Old Globe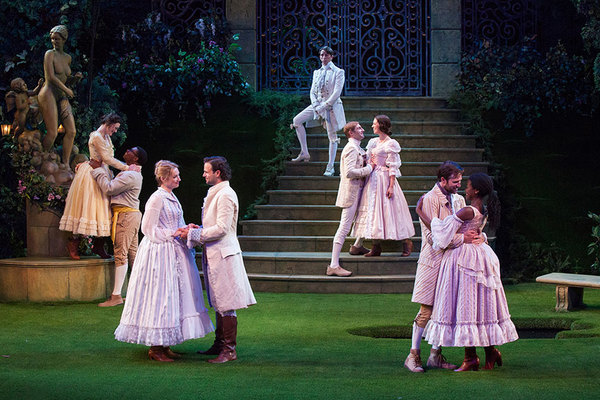 The cast of William Shakespeare's LOVE'S LABOR'S LOST at The Old Globe

Kristen Connolly as Priness of France, Pascale Armand as Rosaline, Kevin Cahoon as Boyet, Talley Beth Gale as Katherine, and Amy Blackman as Maria

Kieran Campion as Berowne, Jonny Orsini as Ferdinand, King of Navarre, Nathan Whitmer as Longaville, and Amara James Aja as Dumaine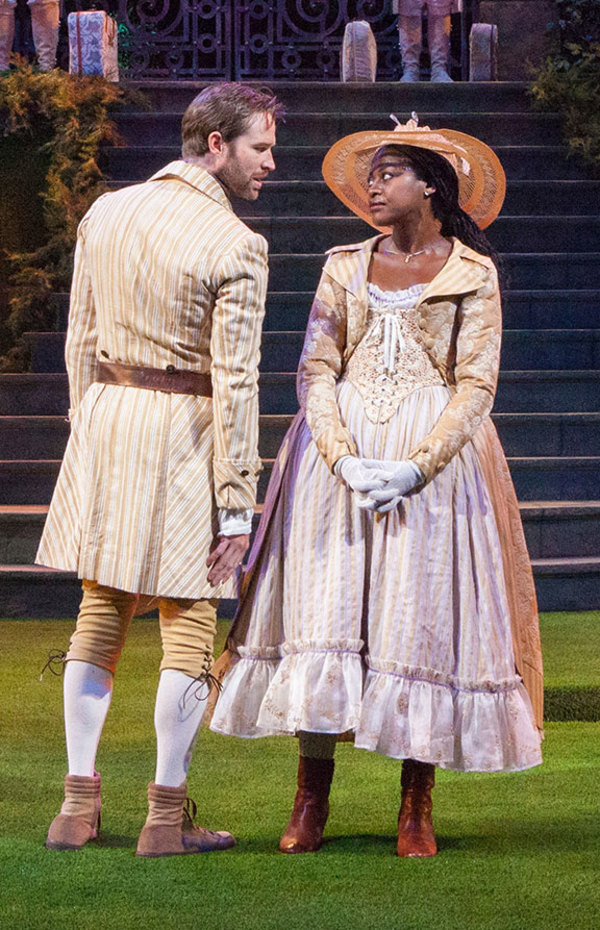 Kieran Campion as Berowne and Pascale Armand as Rosaline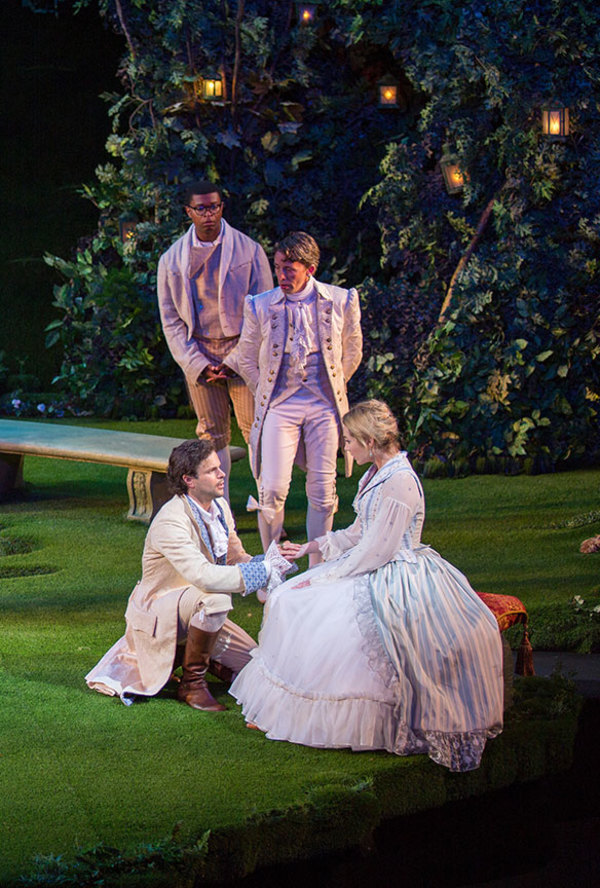 (clockwise from bottom left) Jonny Orsini as Ferdinand, King of Navarre, Amara James Aja as Dumaine, Kevin Cahoon as Boyet, and Kristen Connolly as Princess of France

The cast of William Shakespeare's LOVE'S LABOR'S LOST at The Old Globe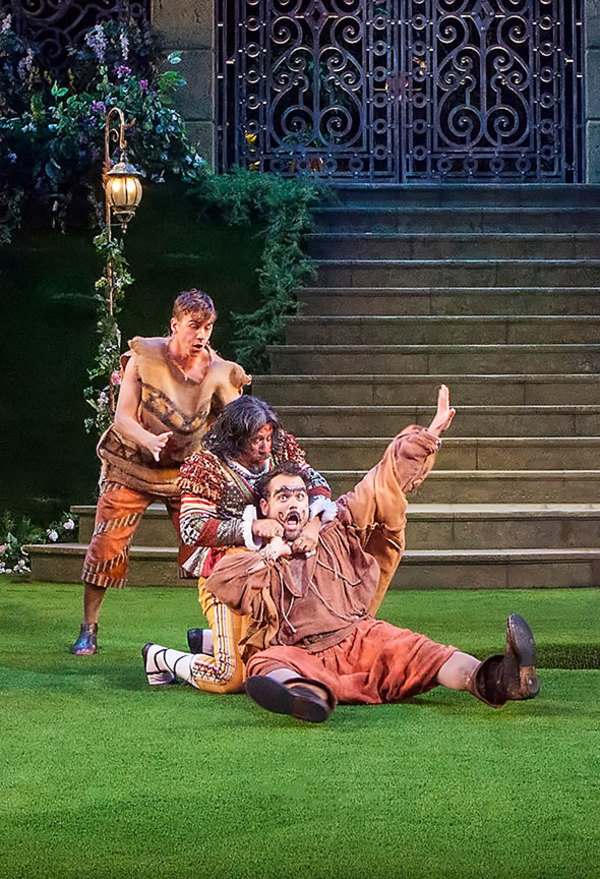 Daniel Petzold as Moth, Triney Sandoval as Don Adriano de Armado, and Greg Hildreth as Costard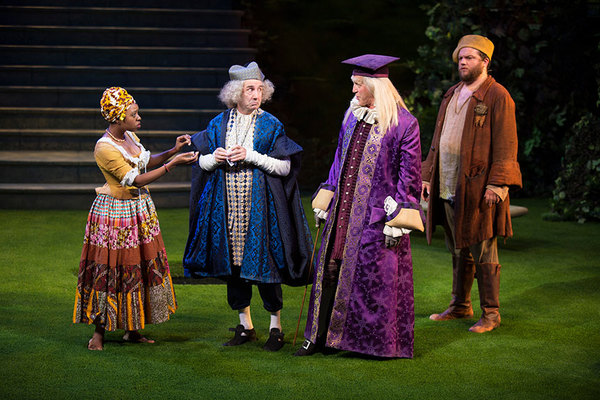 Makha Mthembu as Jaquenetta, Patrick Kerr as Sir Nathaniel, Stephen Spinella as Holofernes, and Jake Millgard as Dull

Triney Sandoval as Don Adriano de Armado and Greg Hildreth as Costard

Kristen Connolly as Princess of France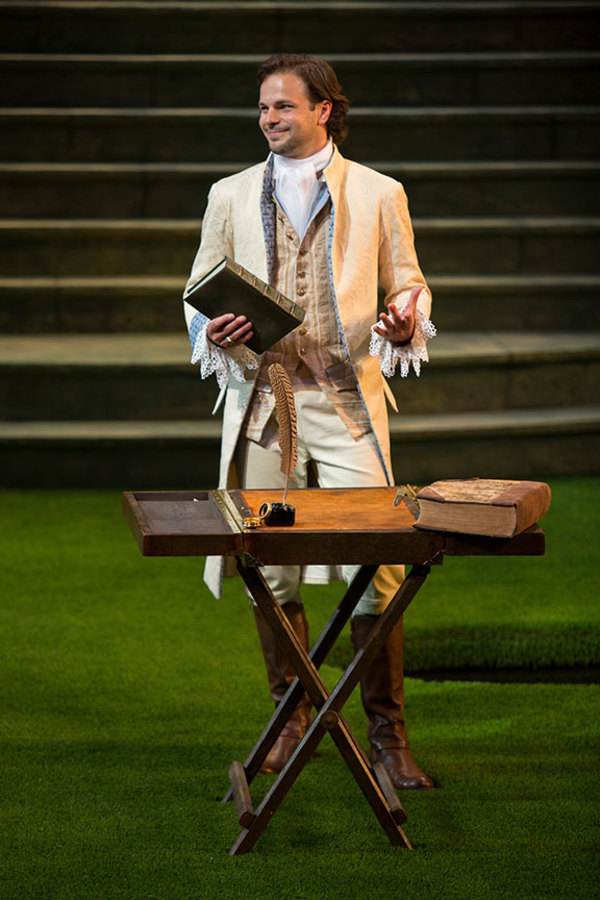 Jonny Orsini as Ferdinand, King of Navarre

Pascale Armand as Rosaline

Kieran Campion as Berowne

Jonny Orsini as Ferdinand, King of Navarre and Pascale Armand as Rosaline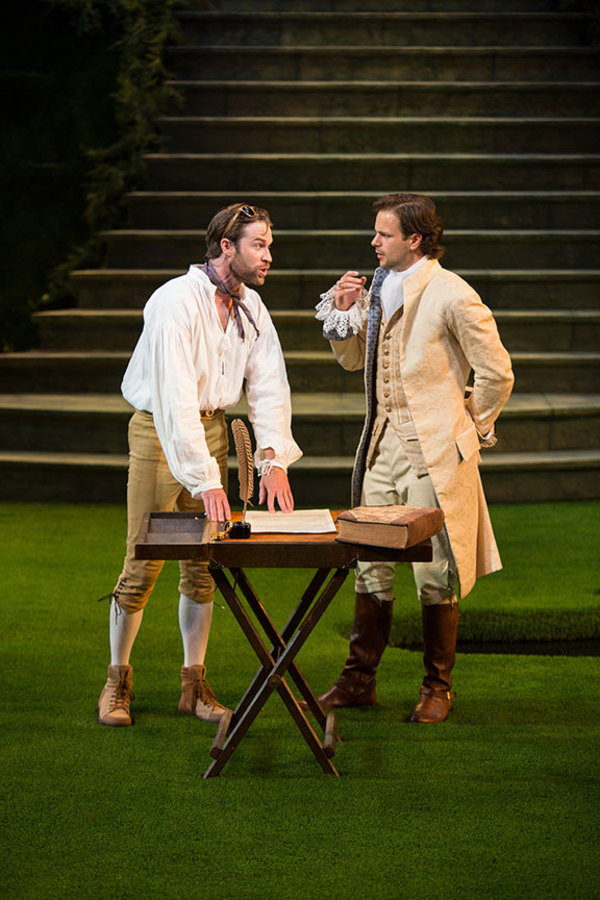 Kieran Campion as Berowne and Jonny Orsini as Ferdinand, King of Navarre

Kristen Connolly as Princess of France, Talley Beth Gale as Katherine, and Pascale Armand as Rosaline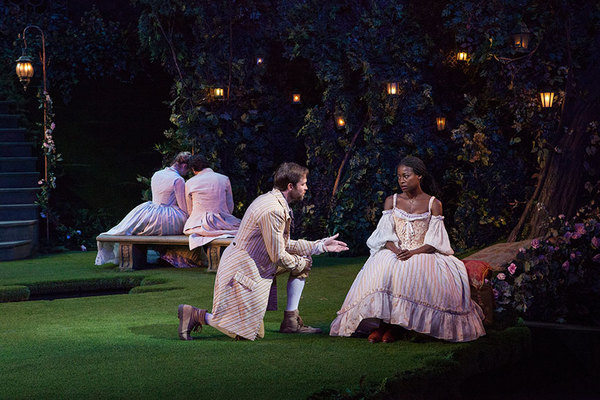 Kieran Campion as Berowne and Pascale Armand as Rosaline (foreground) with Kristen Connolly as Princess of France and Jonny Orsini as Ferdinand, King of Navarre