Old Globe to Host Free Public AXIS Event: GIVE LOVE SAN DIEGO. 2/10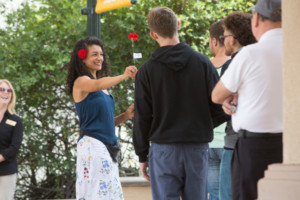 The Old Globe believes that theatre matters, and our work each day is to make theatre matter to more people! We invite everybody to share the love at our latest free AXIS event, Give Love San Diego, on Saturday, February 10 from 11:30 a.m. to 2:00 p.m. This love-charged day will take place on the Globe's Copley Plaza in Balboa Park and will precede the 2:00 p.m. matinee of The Importance of Being Earnest-which is full of people falling in love!
Give Love is a project intended to inspire a kindness movement. Beginning in New York City and spreading all across the country to San Diego, Give Love holds public gatherings to join communities in playful acts of joy and connection. Each event features creative activities such as passing out flowers, singing improvised songs of gratitude, engaging the community in art projects and games, throwing sidewalk dance parties, and sparking meaningful conversations.
Love Is will be the theme for Saturday. Give Love co-founders Catherine Hanna Schrock and Jamie Roach will be on hand at the event, and DJ Gill Sotu will entertain the crowds with music. And there will be a fun schedule of great activities for families, friends, and couples to enjoy! Let your inner artist shine through at these different stations:
· Love Is for All: Receive a beautiful flower full of love.
· Love Is Giving: Design your own flyer and express what you have to say about love.
· Love Is in Community: Who are the people in your life who show you love? Tell us how and why. Go in our photo booth with a handcrafted heart with your person's name on it and post it on our love wall.
· Love Is for Me Too: What is one thing you love about yourself? Discover or remember it with our mirror.
· Love Is Expressive: Doodle and decorate with sidewalk graffiti.
· Love Is Playful: Join the circle to keep the beach ball up and change the way it moves.
· Love Is Moving: Make friends while dancing in the Danze Zone.
· Love Is Beautiful: Dance to the beat of "The Gratitude Song."
· Love Is Connection: Roll the conversation dice to start a dialogue about love.
"We start February right with our first free AXIS event of 2018 by sharing the love on our plaza," said Director of Arts Engagement Freedome Bradley-Ballentine. "There will be activity stations illustrating what love is, the different types of love, and why it is important. It is our mission to continue offering interactive and fun ways to activate our Copley Plaza so audiences can come and have a good time with us."
Catherine Hanna Schrock is a San Diego-based applied theatre practitioner, which unites her roles as a performance artist, educator, and activist. She is the co-founder of the Give Love project, a movement to spread kindness from New York City to San Diego. Schrock is also the co-founder and associate artistic director of Blindspot Collective, a theatre company that seeks to build bridges and engage social issues. She has a master's degree in educational theatre from New York University and a bachelor's in sociology and international development. Schrock also works with various local and international organizations such as The Old Globe, the Center for Justice & Reconciliation at Point Loma Nazarene University, The Global Immersion Project, and others. www.catherine-hanna.net.
Jamie Roach is an actor, playwright, and educator. As co-founder of Give Love, Roach loves to use theatre as a tool for human connectivity. A graduate of Circle in the Square Theatre School and New York University with an M.A. in applied theatre, Roach has performed at The Public Theater, Metropolitan Opera House, Playwrights Horizons, New World Stages, and New York Theatre Workshop. As a coach, Roach develops curriculum and facilitates theatre-based programming with New York's most innovative theatre institutions, including Lincoln Center Theater, Disney Theatrical Productions, and Roundabout Theatre Company. www.jamieroach.com.
Gill Sotu is a U.S. Navy veteran and multidisciplinary artist originally from Oxnard, California, who currently resides in San Diego. He has been rocking dance floors as a DJ since 2004. He blends all genres of music but specializes in hip-hop, R&B, pop, soul, funk, and Top 40. He also has an affinity for rock, 80s, and Latin. Sotu is also a host, performing artist, and playwright, working closely within the San Diego community from small not-for-profits to large art organizations such as San Diego Symphony, San Diego Opera, and The Old Globe.
AXIS is supported by a grant from The James Irvine Foundation. Financial support is provided by The City of San Diego.
LOCATION and PARKING INFORMATION: The Old Globe is located in San Diego's Balboa Park at 1363 Old Globe Way. There are numerous free parking lots available throughout the park. Guests may also be dropped off in front of the Mingei International Museum. The Balboa Park valet is also available during performances, located in front of the Japanese Friendship Garden. For additional parking information visit www.BalboaPark.org. For directions and up-to-date information, please visit www.theoldglobe.org/plan-your-visit/directions--parking/detailed-directions.
PLEASE NOTE: To look up online or GPS directions to The Old Globe, please do not use the Delivery Address above. There is only a 10-minute zone at that physical address. For GPS users, please click here for the map coordinates, and here for written directions to The Old Globe and nearby parking in Balboa Park.
About AXIS: One of the ways The Old Globe's Arts Engagement team exemplifies its mission to make theatre matter to more people is through a program called AXIS, where free cultural programs on the Globe's Copley Plaza are led by local artists and craftspeople. 9.5 million visitors pass through Balboa Park each year. The Old Globe strives to engage this population as we transform our non-performance space into a participatory art venue, utilizing the Globe's unique physical location as an opportunity for connectivity and creative place making. AXIS is an effort to broaden our concept of audience, extending beyond regular ticket-holders and encompassing diverse, multigenerational constituencies from communities across San Diego County.