La Jolla Playhouse Announces Cast/Creative Team For World Premiere Of THE COAST STARLIGHT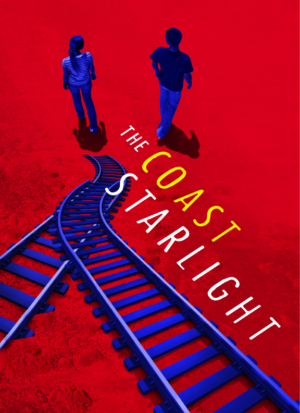 La Jolla Playhouse announces the cast and creative team for its world-premiere production of The Coast Starlight, by Keith Bunin (Playhouse's Without Walls production of Sam Bendrix at the Bon Soir), directed by Tyne Rafaeli (Off-Broadway's Usual Girls). Commissioned by the Playhouse, The Coast Starlight runs August 20 - September 15 (press opening: Sunday, August 25 at 7:00pm) in the Sheila and Hughes Potiker Theatre.
The cast features Mia Barron as "Liz," Camila Cano-Flavia as "Jane," Rhys Coiro as "Noah," Nate Mann as "T.J.," Stephanie Weeks as "Anna" and Rob Yang as "Ed."
The creative team includes Arnulfo Maldonado, Scenic Designer; Denitsa Bliznakova (Playhouse's The Luckiest, Queens, The Cake), Costume Designer; Lap Chi Chu (Playhouse's The Luckiest, The Year to Come, Queens and many others), Lighting Designer; Daniel Kluger (Tribes), Sound Designer and Composer; TBD Casting - Stephanie Yankwitt C.S.A. and Margaret Dunn, Casting; Shirley Fishman, Dramaturg; and Ashley R. Martin, Stage Manager.
"It is a pleasure to welcome back Keith Bunin with this brand new, Playhouse-commissioned piece - the second show this season to be developed through our DNA New Work Series. His rich and rewarding play, directed by Tyne Rafaeli in her Playhouse debut, follows a desperate young man who encounters a group of equally lost travelers aboard the iconic Coast Starlight train," said Christopher Ashley, the Rich Family Artistic Director of La Jolla Playhouse.
One morning, a young man boards the Coast Starlight, the long-distance train that runs from Los Angeles to Seattle. He's got a secret that can land him in terrible trouble, and he has roughly one thousand miles to enlist the help of his fellow travelers - all of whom are reckoning with their own choices in search of a way forward. Keith Bunin's The Coast Starlight is a smart, funny and compassionate story about our capacity for invention and re-invention when life goes off the rails.
The Coast Starlight was featured as part of the Playhouse's acclaimed DNA New Work Series, which offers playwrights the opportunity to develop a script and receive valuable audience feedback. Numerous Playhouse productions have been developed through the DNA New Work Series, including The Luckiest, Kill Local, What Happens Next, Miss You Like Hell, The Last Tiger in Haiti, Blueprints to Freedom, Chasing the Song and The Who & The What.
Keith Bunin returns to La Jolla Playhouse, where his play Sam Bendrix at the Bon Soir was produced in 2012 as part of the Without Walls series. His plays The Busy World Is Hushed, The Credeaux Canvas and The World Over all premiered Off-Broadway at Playwrights Horizons. His other plays include The Unbuilt City (New York Stage and Film), The Principality of Sorrows (Pure Orange Productions) and the musical 10 Million Miles (Atlantic Theater Company). He wrote the screenplay for the film Horns and was a writer for the HBO series In Treatment. He is currently writing screenplays for MGM, Universal, HBO Films and Fox Searchlight. He lives in Brooklyn.
Tyne Rafaeli is a New York-based director of new plays, classics and musicals. Recent productions include Ming Peiffer's Usual Girls at Roundabout Theater Company (New York Times Critics' Pick), Craig Lucas' I Was Most Alive with You at Playwrights Horizons (New York Times Critics' Pick), Martyna Majok's Ironbound and the world premieres of Anna Ziegler's Actually and Amanda Peet's Our Very Own Carlin McCullough at Geffen Playhouse, Michael Yates Crowley's The Rape of the Sabine Women at The Playwrights Realm, and the New York premiere of In a Word by Lauren Yee (New York Times Critics' Pick). Her work has also been seen at Classic Stage Company, Cal Shakes, Roundabout Theatre Company, Atlantic Theater Company, Two River Theater, PlayMakers Rep, New York Stage & Film, Goodspeed, Juilliard, Williamstown Theatre Festival, Great Lakes Shakespeare Festival, American Players Theatre, Idaho Shakespeare Festival and the O'Neill Playwright's Conference. Tyne is a 2016-18 Time Warner Directing Fellow at the Women's Project Theater and received the 2014 SDC Sir John Gielgud Fellowship for Classic Direction.
La Jolla Playhouse is a place where artists and audiences come together to create what's new and next in the American theatre, from Tony Award-winning productions, to imaginative programs for young audiences, to interactive experiences outside our theatre walls. Founded in 1947 by Gregory Peck, Dorothy McGuire and Mel Ferrer, the Playhouse is currently led by Tony Award winner Christopher Ashley, the Rich Family Artistic Director of La Jolla Playhouse, and Managing Director Debby Buchholz. The Playhouse is internationally renowned for the development of new plays and musicals, including mounting 102 world premieres, commissioning 52 new works, and sending 32 productions to Broadway - including the currently-running hit musical Come From Away - garnering a total of 38 Tony Awards, as well as the 1993 Tony Award for Outstanding Regional Theatre. LaJollaPlayhouse.org.