Carla Harting and Steven Lone to Star in ROZ & RAY at San Diego REP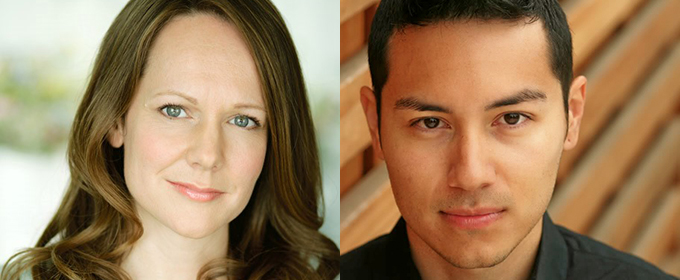 San Diego Repertory Theatre (San Diego REP) has announced final casting for "Roz & Ray," the second offering of its 42nd season.
The powerful new drama from playwright Karen Hartman will star two faces well-known to San Diego audiences: Carla Harting ("Outside Mullingar," "Who's Afraid of Virginia Woolf?") and Steven Lone ("Zoot Suit," "Boom").
Longtime San Diego REP collaborator Delicia Turner Sonnenberg directs this regional premiere, beginning on Thursday, September 7, 2017 and playing through Sunday, October 1, 2017 with an opening night on Wednesday, September 13, 2017 at 7 p.m. in the Lyceum Space Theatre at San Diego REP in Horton Plaza.
"San Diego-raised writer Karen Hartman's incredibly personal and immediate play is based on true events that shook the nation, with San Diego being an epicenter of the medical crisis in the story," says Sam Woodhouse, San Diego REP Artistic Director. "It's a rare treat and an honor to find a play set in San Diego by a writer from our city that is so powerful and intimate and moving as 'Roz and Ray.' Delicia Turner Sonnenberg, an accomplished interpreter of the most intimate and complex drama, is the perfect person to direct this superb new play."
Hartman's new drama, set in San Diego, stars Carla Harting as "Roz" and Steven Lone "Ray." San Diego REP audiences will most recently remember Harting's turn as "Rosemary" in The REP's smash hit production of "Outside Mullingar." She's made many turns on all of San Diego's biggest stages, as well as many of the country's regional theatres, including the world premieres of three plays by acclaimed playwright Sarah Ruhl. Lone is most likely recognized by San Diego for his performance as "Jackie" in Cygnet Theatre's production of "The Motherf**ker with the Hat." He was last seen by REP audiences in the theatre's production of "BOOM."
Ray is a devoted single parent with one goal: keep his twin hemophiliac sons alive. In 1976, this means endless hospital visits, rigorous testing and frequent blood transfusions. Then Ray meets Roz-a brilliant doctor who offers a cutting-edge treatment for his boys-and everything clicks. Until they both discover the miracle treatment may lead to very dangerous results.
Set in San Diego, this gripping, time-bending story sheds light on a little known chapter in medical history. While navigating through the complexities of the medical establishment, "Roz and Ray" tells a profound story of love, trust and sacrifice that grapples with the messy process of healing the human heart.
The creative team includes John Iacovelli (Scenic Design), Sherrice Mojgani (Lighting & Projection Design), Shelly Williams (Costume Design), Matthew Lescault-Wood (Sound Design), Rachel Mink (Dramaturgy), Patrice Amon (Assistant Direction) and Chandra R.M. Anthenill (Production Stage Management).
Karen Hartman (Playwright) had four productions of three world premiere plays in the 2016/17 season: "The Book of Joseph" at Chicago Shakespeare Theater, "Project Dawn" at People's Light and "Roz and Ray" at Seattle Repertory Theater and Victory Gardens. These last two plays both received Edgerton Foundation New Play Awards. Her play "SuperTrue" was on the 2015 Kilroy's List of the top unproduced plays by women. Many other works include: "Goliath," "Leah's Train," "Going Gone," "Girl Under Grain," "Wild Kate" (adapted from Moby Dick) and her Euripides adaptation "Troy Women," which has become a staple of college theaters. Additionally, Hartman's personal and political essays have been published in the New York Times and the Washington Post. A New Dramatists alumna and past Core Member of the Playwright's Center, Ms. Hartman's dramatic work has been supported by the Rockefeller Foundation at Bellagio, the National Endowment for the Arts, Princeton's Hodder Fellowship, the Helen Merrill Foundation, the Sustainable Arts Foundation, the O'Neill Playwrights Conference, a Jerome Fellowship and a Fulbright Scholarship. She has also been a guest artist at the Royal National Theatre of Great Britain. Ms. Hartman, who grew up in San Diego, graduated from the Yale School of Drama. She is now the Senior Artist in Residence at the University of Washington in Seattle. www.karenhartman.org
Delicia Turner Sonnenberg (Director) is the founding Artistic Director of MOXIE Theatre. Before MOXIE, Delicia worked as Artistic Associate of San Diego Repertory Theatre as a part of the Theatre Communications Group's New Generations Program: Future Leaders. Some San Diego directing credits include: MOXIE Theatre: "The Butcher of Baraboo" (co-director), "Bleeding Kansas," "The Listener," "Bluebonnet Court," "Rhubarb or How to Play With a Rollergirl," "The Treatment," "Pulp," "Gibson Girl," "Dog Act" and "Kimberly Akimbo." San Diego REP: "The Good Body," "Miss Witherspoon," "Intimate Apparel" and "Proof" (co-director with Sam Woodhouse). Cygnet Theatre: "Fences." New Village Arts Theatre: "Hamlet" and "Prelude to a Kiss." Diversionary Theatre: "Fit to be Tied," "Bluebonnet Court" and "Pulp." 6th @ Penn Theatre: "Sophocles' Antigone," "Euripides' Children of Heracles" translated by MariAnne MacDonald. Honors and awards include: San Diego Critics Circle Craig Noel awards, Patte awards, a Women's International Center Living Legacy Award, The Des McAnuff New Visions Award for Risk Taking Leadership from the San Diego Critics Circle and a SD Playbill Billie award. Delicia was twice a recipient of the Van Lier Directing Fellowship through Second Stage Theatre in New York, and is an alumna of the New York Drama League's Directors Program. Delicia is married to designer Jerry Sonnenberg and proud mama of August and Zoë.
IF YOU GO:
"Roz & Ray"
By Karen Kartman
Directed by Delicia Turner Sonnenberg
Cast:
Carla Harting as "Roz"
Steven Lone as "Ray"
Production Team:
John Iacovelli, Scenic Designer
Sherrice Mojgani, Lighting & Projection Designer
Shelly Williams, Costume Designer
Matthew Lescault-Wood, Sound Designer
Rachel Mink, Dramaturg
Patrice Amon, Assistant Director
Chandra R.M. Anthenill, Production Stage Manager
Previews: Thursday, September 7 - Tuesday, September 12, 2017
Opening Night: Wednesday, September 13, 2017
Closing Night: Sunday, October 1, 2017
Tickets range from $38 to $65 and can be purchased in-person at the San Diego REP Box Office, by calling 619.544.1000 or online at sdrep.org. Active military, teacher and senior discounts are available. Student tickets are available for all performances for just $20 each. Prices and dates subject to change.
Location: Lyceum Space, San Diego Repertory Theatre, 79 Horton Plaza, San Diego, CA 92101-6144
Parking is available in the Horton Plaza parking garage for $8 with validation. Enter the garage from 4th Ave just South of the Balboa Theatre. Follow entrance lanes, then turn right & continue to the 3rd level to park. Horton Plaza Parking Tickets (issued from machines at entry) may be validated in the Lyceum Theatres Lobby during your show. Validation will allow patrons to pay flat $8 rate.
Please note: if you do not validate your ticket at the theatre, Westfield Horton Plaza Parking is free for the first hour only. After this time, the current rate charged at exit is $2.00 for every 15 minutes (daily maximum charge = $48.00). Westfield Horton Plaza Parking Garage rates are subject to change at any time. For any additional ABM Parking information, contact ABM Parking at 619.233.1491.
San Diego Repertory Theatre (San Diego REP) produces intimate, exotic, provocative theatre. Founded in 1976, San Diego Repertory Theatre is downtown San Diego's resident theatre, promoting a more inclusive community through work that nourishes progressive political and social values and celebrates the multiple voices of our region. The company produces and hosts over 550 events and performances year-round on its three stages at the Lyceum Theatre. Since moving to the Lyceum, The REP has produced 45 main stage productions by Latino playwrights, and more than 40 world premieres. The company has received more than 200 awards for artistic excellence from the San Diego Theatre Critics Circle, Patté Theatre Awards, NAACP, BackStage West, Dramalogue and StageSceneLA. In 2005, the San Diego Theatre Critics Circle presented The REP with the Craig Noel Award "For 30 Years of Artistic Dedication to Downtown and Diversity." San Diego Repertory Theatre feeds the curious soul. To learn more about San Diego Repertory Theatre, to purchase tickets, or make a donation, visit www.sdrep.org. Join us on Facebook (www.facebook.com/sandiegorep) and follow us on Twitter (@SanDiegoREP)