Backstage Romance, Political Intrigue and Fast-Paced Fun Hits North Coast Rep in AT THIS EVENING'S PERFORMANCE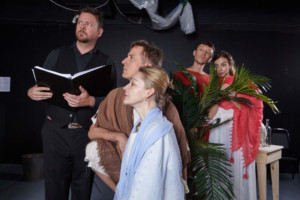 North Coast Repertory Theatre closes Season 35 with the San Diego premiere of AT THIS EVENING'S PERFORMANCE, an uproarious comedy about a bohemian theatre troupe appearing in an Eastern European police state.
However, there is more drama backstage than onstage, with romantic entanglements, political intrigue and a wildly funny climax. This laugh-a-minute farce will have audiences reveling in the merriment.
Andrew Barnicle directs Sierra Jolene, Kyle Coleridge-Krugh,* Paul Turbiak,* Bruce Turk,* Katie MacNichol,* Richard Baird,* and John Nutten.* The design team includes Marty Burnett (Scenic Design), Matthew Novotny (Lighting), Aaron Rumley (Sound), Elisa Benzoni (Costumes), and Andrea Gutierrez (Props). Aaron Rumley* is the Stage Manager.
*The actor or stage manager appears through the courtesy of Actors' Equity Association, the union of professional actors and stage managers in the United States.
AT THIS EVENING'S PERFORMANCE previews begin Wednesday, July 12 with Opening Night on Saturday, July 15, at 8pm. There will be a special talkback on Friday, July 21, with the cast and artistic director. It will play Wednesdays at 7pm, Thursdays through Saturdays at 8pm, Saturday and Sunday matinees at 2pm with Sundays at 7pm, through August 6th. North Coast Repertory Theatre is located at 987 Lomas Santa Fe Drive, Solana Beach, CA 92075. Tickets: Previews- $35, Week Nights - $46; Sat. Eve. & Sun. Mat. $50; Sat. Mat. & Sun. Night - $43. Seniors, Students, Military - $3 off admission. Call 858-481-1055 or visit www.northcoastrep.org to purchase tickets.
NCRT's summer show will be Tom Foolery (August 17- 27, 2017), written by Cameron Mackintosh and Robin Ray / Music and lyrics by Tom Lehrer. This engaging revue delves into the witty, wicked and thoroughly twisted world of famed satirical songwriter Tom Lehrer. Four actors, stools, a piano and a healthy dose of attitude are all that you need to enjoy this delightful revue. Audiences will be beside themselves with the clever lyrics and hummable tunes. Rediscover the man and the songs that have delighted and skewered the world for over forty years.
Season 36 kicks off with a rollicking Neil Simon classic, Last of the Red Hot Lovers (Sept. 6-Oct. 1, 2017). Tired of his "nice life," hapless Barney Cashman wants desperately to join the sexual revolution before it's too late. His attempts at seduction will leave audiences howling with laughter. Next up is John Steinbeck's emotional masterpiece, Of Mice and Men (Oct.18-Nov.12). George and Lenny's friendship is woven into the fabric of the country's collective imagination. Still electrifying after 80 years, this is must-see theatre. Around the World in 80 Days launches the New Year (Jan.10-Feb 4, 2018). Audiences are taken on an amazing adventure with the fearless Phineas Fogg, who encounters danger, romance and comic surprises. The West Coast premiere of This Random World follows (Feb. 21-Mar.18). Through a swirl of nearly missed connections, the play follows a series of intersecting lives. Warmly humorous and lyrically bittersweet, this play investigates what it is to love, to lose, and be touched by the serendipity of life. Next, British comic genius, Sir Alan Aycbourn, serves up a fast-paced, funny theatrical meal in How the Other Half Loves (Apr.11-May 6). His razor-sharp portrayals of three very different marriages promise to leave audiences in stitches. The much-anticipated West Coast premiere of The Father follows (May 30-June 24). A sensation in Paris, London and New York, this award-winning play follows 80-year-old Andre, who has memories of being a tap dancer or an engineer, keeps misplacing his watch, lives in Paris or maybe London, and fears he's losing control. It promises to be a profoundly moving, memorable evening of theatre. Closing out Season 36 the West Coast premiere of The Soul of Gershwin: The Musical Journey of an American Klezmer (July 11-Aug. 5). With music and lyrics by George Gershwin and Ira Gershwin, and favorites like "The Man I Love," "Summertime," "Embraceable You" and a host of others, this will be a supreme evening of spellbinding music.
ABOUT THE ARTISTS:
Nagle Jackson (Playwright) is the author of several plays, adaptations and translations which have been produced at leading theaters throughout the U.S., from American Conservatory Theater, Oregon Shakespeare Festival and Seattle Rep in the West, to the McCarter, Kennedy Center and New York's Intar Theater in the East. Several of his plays, e.g. Taking Leave, The Quick-Change Room, A Hotel on Marvin Gardens, debuted at The Denver Center,?for which theater he also created several translations from the works of Molière. His play The Elevation of Thieves was the prize winner in the Onassis Foundation International Playwriting Contest, an award presented to MR. Jackson?by the President of Greece in Athens, 1998. MR. Jackson was Artistic Director of both the Milwaukee Repertory Theater and the McCarter Theater. He continues to direct as a guest artist with theaters throughout this country and in Europe. He has been a Master Director with The Directors' Company in New York for several years. MR. Jackson resides with his wife in Princeton Junction, New Jersey.
Andrew Barnicle (Director) has now directed 12 plays for North Coast Rep, including the recent Gunmetal Blues, Who Am I This Time? and The Odd Couple. He has also acted recently at North Coast as General Sickles in Faded Glory and Alexander McKenzie in Sherlock Holmes and the Adventure of the Great Nome Gold Rush. Andrew served as artistic director of The Laguna Playhouse from 1991 through 2010, where he produced over 100 Playhouse shows and directed over 40 of them. Recent directing projects at Laguna include the world premiere of King Of The Road: The Roger Miller Story, and Lissa Levin's Sex and Education. He has directed at the Falcon Theatre, the Odyssey Theatre, the Rubicon Theatre, the Ensemble Theatre Company of Santa Barbara, San Diego's Theatre at Old Town, Michigan's Meadow Brook Theatre, and the San Jose Repertory Theatre.
SIERRA JOLENE (Saskia) spends most of her time acting in the San Francisco Bay Area and is thrilled to be performing at the North Coast Repertory Theater for the first time. Favorite Bay Area theater credits include: Jen in the Jewel Theater Company's production of The Book Play, Tamsin in the Bay Area premier of The Monster Builder at The Aurora Theater Company, as well as Malcolm in Macbeth and Lucrece in The Liar at the Santa Cruz Shakespeare Festival. She was most recently seen at South Coast Repertory Theater's Pacific Playwright's Festival as Bianca in Amy Freed's new play Shrew! Sierra is a graduate of the California Institute of the Arts with a BFA in acting. http://sierracu.wixsite.com/sierrajolene
KYLE COLERIDER-KRUGH* (Oskar) This production of At This Evening's Performance has joyfully reunited Kyle with Andy Barnicle who directed him in the Laguna Playhouse production of ART. Kyle's other credits include productions for L.A. Theatre Works, Pasadena Playhouse, Theatre Tribe of Los Angeles, The Goodman Theatre, Court Theatre, Chicago Shakespeare, Oak Park Festival, and The Second City, Chicago, Skylight Opera Theatre, Milwaukee, The Alliance, Atlanta. Some of his favorite roles are Gidger in The Violet Hour, Roderigo in Othello, Betty in Cloud 9, Merkin in Below The Belt, and Ziggy in Side Man. His television credits include "Seinfeld," "Early Edition," "Without A Trace," "ER" and "Hung." He's proud of his work in the soon to be released short film, "Garage Sale." Additionally, he adores his wife, Tracy.
Paul Turbiak* (Piers) was last seen at North Coast Rep in this season's The Illusion. He has appeared onstage all over Los Angeles and beyond-including The Geffen Playhouse, LATC, the Colony Theatre, the Bootleg, Rogue Artists Ensemble, Actors Co-op, SacRed Fools, Not Man Apart, A Noise Within, Theatre of NOTE, Son of Semele, Highways, and REDCAT. He is a company member at the Will Geer Theatricum Botanicum, including appearances in A Midsummer Night's Dream, The Three Musketeers, Hamlet, Tartuffe, The Merry Wives of Windsor, Measure for Measure, The Taming of the Shrew, and Equivocation. MFA in Acting-California Institute of the Arts, BA in Theater-Gordon College. http://www.paulturbiak.com
Bruce Turk* (Gunther Posnik) North Coast Rep credits include: Faded Glory, Freud's Last Session, Hedda Gabler, Now You See It, director. He has performed On and Off Broadway, internationally, and at major regional theatres across the country. He has been a resident member of Tadashi Suzuki's Acting Company in Japan, a Resident Artist at Hartford Stage, and a recipient of the TCG/Fox Fellowship for Distinguished Achievement. San Diego audiences have seen his work in fifteen productions of Shakespeare at the Old Globe Theatre, where he received the San Diego Critics' Craig Noel Award.?Other credits include seasons and productions at American Conservatory Theatre, Pasadena Playhouse, Seattle Repertory, McCarter Theatre, The Shakespeare Theaters in DC and Santa Cruz, La Jolla Playhouse, The Denver Center, The Goodman Theatre, and many more. Graduate of Northwestern University.
Katie MacNichol* (Hippolyta Posnik) has appeared on Broadway in The Green Bird and Two Shakespearean Actors. Off Broadway:?The Cider House Rules, King John and The Food Chain. London:?A Chaste Maid in Cheapside, Shakespeare's Globe. As a member of The Old Globe Shakespeare Repertory Company: As You Like It, Comedy of Errors, Macbeth, Winter's Tale (Craig Noel Award), Merry Wives of Windsor, Twelfth Night, and others. Regional work includes: Fallen Angels, Pasadena Playhouse & Laguna Playhouse; Good People, La Mirada; and leading roles at: Mark Taper Forum, Yale Repertory, Center Stage, McCarter, Intiman, Denver Center, Shakespeare Santa Cruz, Dallas Theater Company, ShakespeareTheatre of N.J. Westport Country Playhouse, Williamstown Theatre Festival.Film and TV: "Law and Order," "Medium," "The Practice," "Bamboozled,""Garmento," "Spooner." BFA: N.Y.U. MFA: Lesley University.
Richard Baird* (Valdez) is thrilled to return to North Coast Rep where he has appeared in eighteen productions including: Travels with My Aunt; Way Downriver; William Faulkner's 'Old Man", Betrayal, Ghosts and many more. Richard is the Founding Artistic Director of New Fortune Theatre Company where he has directed and appeared in Henry the Fifth (Craig Noel San Diego Critics Circle awards for Outstanding Direction and Lead Performance), The Birthday Party (McCann) and Les Liaisons Dangereuses (co director/Valmont). Richard has appeared in regional theatres across the country including The Old Globe, San Diego Rep, Oregon Shakespeare Festival, Chicago Shakespeare Theatre, Portland Centre Stage, Shakespeare Santa Cruz, Arizona Theatre Company, Southwest Shakespeare Company (AriZoni Best Actor for Cyrano), Kingsmen Shakespeare and has directed for Intrepid Theatre and Diversionary Theatre. He is a proud member of Actors Equity.
JOHN NUTTEN* (Pankoff) is extremely proud to be part of another excellent production with North Coast Repertory Theatre. Credits include: Unnecessary Farce, The Odd Couple, Time Stands Still, & Breaking Legs. John has also appeared in various other San Diego productions including, A Prayer for My Daughter, at 6th & Penn, Absolutely & Hyper Focus, for the San Diego Playwrights Project, 1776 & Detective Story at Lambs Theatre, Twelfth Night, with New Village Arts, Rounding Third, at Scripps Ranch Theatre and Zoot Suit at the SDRT. Please check out IMDB to see Film & TV credits. John would like to thank North Coast Rep for this opportunity, and is eternally grateful to his wonderful wife Charlene for her unwavering support!
AARON RUMLEY* (Stage Manager/Sound Design) North Coast Repertory Theatre: Travels with?My Aunt, Marjorie Prime, The Cocktail Hour, Hedda Gabler, Sherlock Holmes and the Adventure of the Great Nome Gold Rush, The Fox on the Fairway, Betrayal, Unnecessary Farce, Gunmetal Blues, Fallen Angels, Who Am I This Time?, Broken Glass, Two by Pinter: The Lover and The Dumb Waiter, THIS, The Lion in Winter, Heroes, Lend Me a Tenor,?My Name is Asher Lev, The Drawer Boy, Becky's New Car, Voice of the Prairie, Ghosts, Glorious!, Talley's Folly, Over the Tavern, Rabbit Hole, The Dresser, Don't Dress for Dinner, Madagascar, Mornings at Seven, String of Pearls, Dracula, Rashomon, Wit, A Moon for the Misbegotten, Leading Ladies, Collected Stories, Halpern & Johnson, Romeo and Juliet, The Bungler, The Chosen, A Life in the Theatre and The Rainmaker. North Carolina Theatre: Talley's Folly, Picnic, The Miser and On Golden Pond. Aaron received a B.A. in Theatre from the University of North Carolina at Wilmington, and is the production manager at the North Coast Repertory Theatre. Aaron is a member of Actors'?Equity Association.
MARTY BURNETT (Resident Scenic Designer) Marty is in his 25th season as Resident Designer/Technical Director at North Coast Rep. He has designed the last 175 shows. Other venues include Laguna Playhouse, Portland Stage Company, Drury Lane (Chicago), Claridge Hotel (Atlantic City), Union Plaza, Sahara Hotel, Hacienda in Las Vegas, Coronado Playhouse, Scripps Ranch Theater, Harrah's Lake Tahoe. Marty is a proud alumni of Creighton University in Omaha, Nebraska.
MATTHEW NOVOTNY (Light Design) is pleased to be designing another show for North Coast Rep, where he has designed close to 40 shows over the past seven years. Matthew is currently the Lighting Designer in Residence for San Diego Musical Theatre as well as North Coast Rep, and his work can be seen at a wide variety of theatres across San Diego. Matthew holds a BA in Technical Theatre from San Diego State, and a master's degree in Lighting Design from Boston University. Matthew is married to his beautiful wife Amanda, with 3 gorgeous children: Ragan, Harper and Heston.
ELISA BENZONI (Costume Design) is thrilled to be working with North Coast Rep again. Previous work with North Coast Repertory Theatre includes: The Spitfire Grill, Travels with my Aunt, The Illusion, Marjorie Prime, Laughter on the 23rd Floor, The Cocktail Hour, Hedda Gabler, Sherlock Holmes and the Adventure of the Great Nome Gold Rush, Chapatti, The Fox on the Fairway, for which she was nominated for a Craig Noel Award; Other select credits: Sex with Strangers (Geffen Playhouse), Constellations (Old Globe) Pericles, Prince of Tyre, Reckless, Much Ado About Nothing, Measure for Measure (Old Globe/USD); The Who and The What, Our Town, Tall Girls, Brahaman/I, Sam Bendrix at the Bon Soir (La Jolla Playhouse); Emilie, Sylvia, Much Ado About Nothing (New Village Arts), Snakeskin, Lifeblood Harmony, Chagall, A Man Found Wanting (Malashock Dance); The Storm, The Threepenny Opera, A Man, His Wife, and His Hat (UCSD). Assistant costume credits: Dialogues des Carmelites (Teatro Petruzzelli, Bari), Paradise Found (Menier Chocolate Factory, London), Milk Like Sugar (La Jolla Playhouse), As You Like It, A Midsummer Night's Dream (The Old Globe). Elisa holds a costume design MFA from UCSD. www.elisabenzoni.com.
ANDREA GUTIERREZ (Prop Design) has been working at North Coast Rep since 2012, beginning as the Stage Manager and Prop Master for our theatre school. She worked as backstage crew for the 32nd and the beginning of the 33rd Season, before taking over as Supervising House Manager and Volunteer Coordinator. Her previous prop credits include: The Spitfire Grill, Travels with my Aunt, The Illusion, Marjorie Prime, Laughter on the 23rd Floor, The Cocktail Hour, Ain't Misbehavin', Hedda Gabler, Way Downriver; William Faulkner's 'Old Man', Now You See It, Sherlock Holmes and the Adventure of the Great Nome Gold Rush, Chapatti, and The Fox on the Fairway, as well as two seasons as Properties Assistant at Starlight Theatre. She received her B.A. in Theatrical Design and Production from UCLA's School of Theatre, Film & Television, and a M.A. from Johns Hopkins University.
PETER HERMAN (Hair & Wig Design) has previously designed wigs for over 30?North Coast Rep productions including: The Spitfire Grill, The Illusion, Marjorie Prime, Laughter on the 23rd Floor, The Cocktail Hour, Way Downriver; William Faulkner's 'Old Man', Now You See It, Sherlock Holmes and the Adventure of the Great Nome Gold Rush, Fallen Angels, Romance Romance, Faded Glory, Mandate Memories, The School For Lies, Honky Tonk Angels, Travesties, I Love You Because, Little Women, My Name is Asher?Lev and Five Course Love. He has also designed costumes for past North Coast Rep productions: 25th Annual Putnam County Spelling Bee, The Big Bang, Madagascar, and Jacques Brel is Alive and Well and Living in Paris. Peter teaches wig and makeup design at San Diego State University. He is glad to be part of the creative team on this show.
North Coast Repertory Theatre, under the artistic leadership of David Ellenstein since 2003, is a professional Equity theatre founded in 1982 by Olive and Tom Blakistone. Currently celebrating its 35th season, North Coast Rep has received critical acclaim from media and audiences alike, and has evolved into one of the area's leading performing arts organizations. North Coast Rep prides itself on employing the majority of its actors from Actors' Equity Association for its high quality, award-winning productions, and staging works by established and emerging playwrights. Throughout its history, North Coast Rep has created a platform where artist and audience thrive through the intimacy of live theatre, recognizing the power of theatre to challenge complacency, revitalize the imagination, nurture the unexpected, and embrace the variety and diversity in our lives.
Related Articles View More San Diego

Stories

Shows
More Hot Stories For You