SCERA Presents Utah Premiere Of THE BEST CHRISTMAS PAGEANT: THE MUSICAL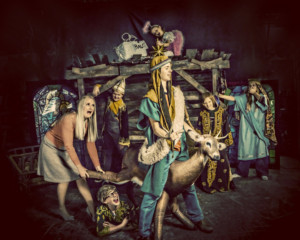 The horrible Herdmans are arguably the worst children in the world, but these six delinquent outsiders who create mayhem when they try out for their community's annual Christmas pageant also create a classic story that has charmed audiences for more than four decades.
The 1971 book, "The Best Christmas Pageant Ever" by Barbara Robinson, became a popular play beginning in 1982, but veteran director Michael Carrasco says that when it opened as a musical at the end of 2016, it achieved new heights.
"The snappy and memorable music really sets it apart, and I am thrilled to direct the Utah premiere," he says. "If you like the book-and I do-you will find the musical even more engaging-as I do."
"The Best Christmas Pageant Ever" will be SCERA's holiday production and will play Mondays, Wednesdays, Thursdays, Fridays and Saturdays from Nov. 30 to Dec. 15 at 7:30pm at the SCERA Center for the Arts, 745 S. State St., Orem. And at less than 90 minutes including intermission, it's the perfect length for families of all ages.
Tickets are available at www.scera.org, by calling 801-225-ARTS, in person from 10am-6pm weekdays at SCERA Center main office, or at the door 30 minutes prior to each show. All seats are reserved at $14 for adults and $12 for children 3-11 and seniors 65 and older. Non-profit organizations and official church activities in groups of 20 or more may purchase tickets in advance for $6.
Carrasco had directed four of the SCERA's holiday plays, and says he is honored to be entrusted with the seasonal productions. "Adam Robertson (SCERA President & CEO) tells me he likes the spirit I bring to the center during the holidays, for which I am honored. This show is funny and contains a very good message. I consider it a great break from holiday madness, even if there is madness onstage."
While the Herdmans get much of the attention, Carrasco believes the heart of the play lies with Grace Bradley, who steps in as the replacement Christmas pageant director.
"The character of Grace is the heart of the show and helps the audience understand that it is not always outside appearances that count, but rather those on the inside," Carrasco adds. "Grace is ideally played by Julia Jolley, someone I have worked with many times."
Another key player is Garrett Smit as Grace's husband Bob. "He brings warmth, charm and humor to the role and actually participates in the pageant," Carrasco explains. When he is not onstage wearing a bathrobe and a towel to be part of the Wise Men, Garrett's full-time job is as the Scene Shop Manager at SCERA.
The director's challenge and joy are the musical's cast of children. "We have a cast of 36, and children comprise two-thirds of the players. Working with kids has its challenges, but it comes with contagious fun that makes what's happening on stage very real and sincere."
But make no mistake, says Carrasco, the kids are incredibly talented, with theatrical experience and training that would rival most adults. They bring humor to songs like "Die Herrod Die!" and warmth to the sweet finale number "Let There Be Joy." Ralph Herdman is ELI HACKWORTH, Imogene Herdman is ANNA KOCHERHANS, Leroy Herdman is TIMOTHY J. QUESENBERRY, Claude Herdman is CALEB RIDING, Ollie Herdman is Malcolm Smith, and Gladys Herdman is EMME CHAFFIN.
The director and other cast members say they can't hold back the tears in rehearsal when the Herdmans and the whole town finally see the Christmas story through new eyes. Silent Night? Not a chance. But sometimes a little joyful noise is just what is needed to ring in the true spirit of the season.
Also assisting Carrasco are Brandalee Bluth Streeter as music director, Shawn Mortensen as scenic designer, Deborah Bowman as costume designer, and Elizabeth Griffiths as lighting designer. Carrasco selected Brodee Ripple as choreographer, who is the choreographer for SCERA's nationally award-winning high school company, Acting UP. The set includes a beautiful crèche and stained glass windows.
Related Articles View More Salt Lake City

Stories

Shows
More Hot Stories For You