B Street Theatre's Family Series Presents ROBIN HOOD by Playwright Greg Banks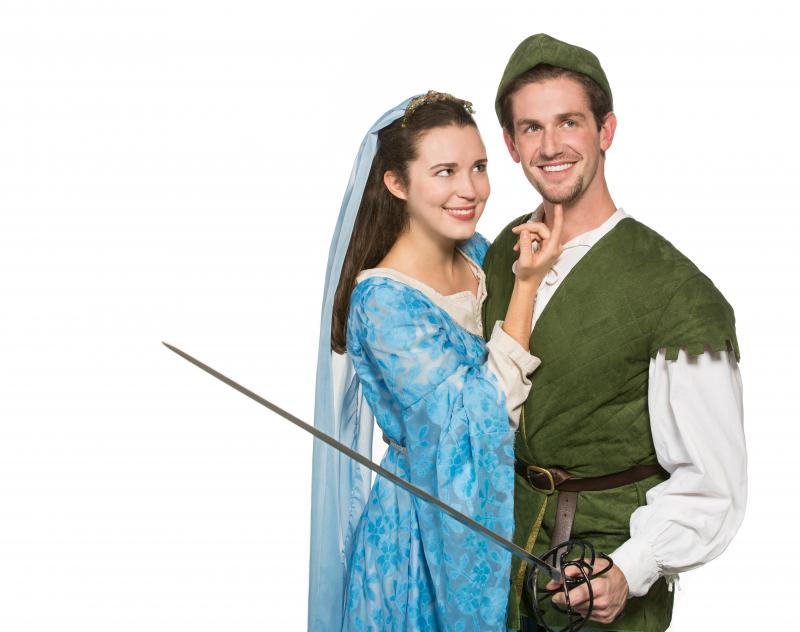 The legendary Robin Hood of yore comes to life on the B Street stage with plenty of sword fighting, wordplay and physical comedy.
Greg Bank's Robin Hood received its World Premiere at The Children's Theatre Company in their 2010 - 2011 Season. Subsequent productions at nationally acclaimed children's theatres South Coast Repertory and Seattle Children's Theatre have been sell-out hits, delighting audiences across the country.
Bank's stage adaptation will astound children and adults as five cast members embody countless characters and skillfully make their way through the classic tales of Robin Hood.
Following Y York's The Garden of Rikki Tikki Tavi, we are excited to mesmerize audiences with one of literature's greatest adventure stories. For those who loved B Street's Three Musketeers, you don't want to miss watching Robin Hood and his band of Merry Men steal from the rich and give to the poor. In typical B Street fashion, five actors will leap, dance and fight their way through countless characters and scenes. This exciting, fast-paced production is one that can't be missed this Holiday Season.
The Playwright - Greg Banks
Greg Banks' work as an actor, writer and director has taken him all over the world from Singapore to Seattle via the Arctic Circle. Greg's plays include Tir Na N'og (Travelling Light/West End, Broadway,Touring/ Winner of Samuel Beckett Award/TMA nominee for best play for young people 1998), Why The Whales Came (Plymouth Theatre Royal/ Theatre Alibi/West End) DorIan Grey (American Drama Group/International touring) Too Many Cooks( Travelling Light) Huck Finn, Pinnochio, Robin Hood, Antigone (Minneapolis Children's Theatre) Me and My Shadow (Theatre Alibi) Snow Queen (Norden farm) Arabian Nights, Hansel and Gretel, Keep on Moving, (Fair Game Theatre) He has directed for many companies including The Bristol Old Vic (Endgame), The Unicorn Children's Theatre London (The Wizard of Oz), Minneapolis Children's Theatre (Romeo and Juliet. Winner of the 2009 Ivey award for Direction and voted best play of 2009 by Twin Cities.com, Antigone, Huck Finn, Pinnochio, Robin Hood) Vedogon Theatre, Moscow (Comedy Of Errors) American Drama Group (The Great Gatsby)The Birmingham Stage Company (Kensukes Kingdom; nominated for a 2006 T.M.A. award, Treasure Island, Why The Whales Came),Polka Children's Theatre, (Just So by Jamila Gavin)New Perspectives,Travelling Light (Stones, Tir Na N'og, Too Many Cooks), M6 Theatre Company (Forever, Peacemaker, Trouble), 1157 Performance Company,Seattle Children's Theatre and The New York State Theatre (Tempest, King of Shadows by Adrian Mitchell). He is currently writing an adaptation of The Jungle Book for the The Minneapolis Children's Theatre.
The Director - Jerry Montoya
Jerry has been the Associate Producer for the B Street for the past fourteen years. He has directed Five Songs: An Evening with Jack Gallagher, A Skull in Connemara, What the Butler Saw, The Seafarer and Red among others. His play Love And Baseball was recently produced by B Street Theatre. His adaptations and original works for the Family Series include Mary Shelley's Frankenstein, The Flying Machine, The Conductor: Harriet Tubman and the Underground Railroad, The Gift of The Magi, Treasure Island and The Adventures of Sherlock Holmes.
The Setting: Medieval Nottingham
The Cast:
Robin Hood & Marian's Dad: Darek Riley - Darek is thrilled to be making his B St. debut back home in Sacramento after a long hiatus. He has performed regionally with theatre companies such as: The Nevada Conservatory Theatre, The Oregon Shakespeare Festival, Santa Cruz Shakespeare, Richmond Shakespeare Festival and others; you may have recently seen him in To Kill a Mockingbird at STC. Favorite roles have included Alcippe in The Liar, Wilmore in The Rover, Antipholus of Syracuse in Comedy of Errors, Cornwall in King Lear, Dogberry in Much Ado About Nothing, and Bobby in Company. Darek holds a BFA in Acting/Performance from Southern Oregon University as well as an MFA in Acting/Performance from University of Nevada, Las Vegas.
Ensemble (Various): Stephanie Altholz - Stephanie was seen most recently in Speed-the-Plow, Alice in Wonderland, Mary Shelley's Frankenstein, Handle With Care, 5 Lesbians Eating a Quiche, The Explorers Club, Snow White and Rose Red, and Elemeno Pea. Other B Street credits include Gift of the Magi, Seminar, RX, Aliens with Extraordinary Skills, The Snow Queen, Extraordinary Things: Through the Eyes of Ann Frank, Cinderella, Junie B. Jones, Jingle Bells, Batman Smells, I Am a Camera, The Almost Perfect Party, Swiss Family Robinson and A Christmas Carol. Stephanie has been seen at Capital Stage in Reasons to be Pretty, Erratica and Clybourne Park. She has also performed in online videos with Dutchwest, College Humor and Smosh.
Ensemble (Various): Fiona Robberson - Fiona is a December 2015 graduate of the BFA Acting program at NYU Tisch School of the Arts, having studied at The Meisner Studio, Stonestreet Studios, and the Royal Academy of Dramatic Art, London. Recent credits include: Chessman (B Street Theatre) The Bacchae (La MaMa, NYC); Only A Paper Moon (FringeNYC); The Tribe (ABC Sanctuary); Shakespeare Dallas' Romeo and Juliet (Juliet, dir. Rene Moreno); the U.S. premiere of Lars Von Trier's Dogville (dir. Robert O'Hara); Trojan Women: A Love Story (dir. Vicki Hart); Unity: 1918 (dir. Gigi Buffington). She is a recipient of the Dallas Fort Worth Critics' Forum award, a recipient of the Tisch 2016 Achievement Scholarship, and a Dean's Scholar. When she's not acting, Fiona is also the Co-Artistic Director and Company Manager of Shout Alone Theater Company in New York City. She is originally from Dallas, Texas.
Ensemble (Various): Winston Koone - Winston is thrilled to be back at B Street after finishing his internship with the 2014-2015 intern class. B Street Credits: Buyer & Cellar, The Explorers Club. Other Theatre: Angels in America, Much Ado About Nothing. Winston lives in New York City where he studies improv with the Upright Citizens Brigade. He is a proud graduate of Elon University where he received his BFA in Acting.
Ensemble (Various): Sean Nill - Sean Nill is thrilled to join the 2016-2017 internship at B Street. His plays have been produced by CSU Sacramento (Children of Yorick), Dramatists Guild's San Francisco Footlight Series (Children of Yorick), Seattle based Podcast 'UnPublished' (Emotional Collapse (Over an Admired Stranger)), Manhattan Repertory Theatre in New York City (Hair of the Dog), and is currently commissioned by the Sacramento Theatre Company for a full-length play. As an actor, he has performed at the B Street Theatre, Sacramento Theatre Company, Capital Stage, Livermore Shakespeare Festival, Pacific Repertory Theatre, Kingsmen Shakespeare Festival, Sierra Repertory Theatre, SacImpulse Theatre, and the Kennedy Center for the Performing Arts in Washington D.C. Beyond grateful to Lyndsay and Buck for this opportunity, and to my family for the love and support. BA CSU Sacramento.
Scenic Designer: Samantha Reno - Originally from Cincinnati, Ohio, Sam has designed and painted for the Cincinnati Opera, Children's Theatre of Cincinnati and Town Hall Theatre, among many others. Sam has taught scenic artistry at the high school level. Her B Street credits include Boom!, Jenny Chow, Love Child, Hound of the Baskervilles, Grounded, Bars and Measures, Frankenstein, 5 Lesbians Eating a Quiche, Echo Location and Masterpiece of Comic...Timing. She earned two bachelor of fine arts degrees from Northern Kentucky University in both set design and graphic design.
Photo Credit: Rudy Meyers Photography
The B Street Theatre's Family Series is California's only fully professional, resident theater for children. Operating under a Theatre for Young Audience agreement with Actors Equity Association, the Family Series' mission is to introduce children to the wonder of professional theatre through the production of original plays, and original adaptations of contemporary novels and classic works of literature. Since its premiere season in 2003, the Family Series has presented over 50 professional plays for approximately 300,000 children and families of the Sacramento region.
More about B Street Theatre: B Street Theatre is a non-profit, professional theatre company producing primarily new work for adults, families and children. The two-theatre playhouse on B Street in Midtown Sacramento is home to the Mainstage Series, B3 Series and Family Series, each created to feature intimate, quality theatre for audiences year-round. Recognized as one of the nation's top professional theatres, B Street Theatre has produced more than 100 new plays, 60 of which are world, national, West Coast or regional premieres.
B Street Theatre was originally founded in 1986 for the purpose of bringing the excitement of live performance to children through the B Street Theatre School Tour. This educational outreach program serves over 200,000 students in Northern California annually.
Other B Street Theatre programs include the B Street Theatre Family Series and Family Series Student Matinees (for school field trips), the B3 Series, B Street Acting Conservatory and Studio for Young People, and the B Street Theatre Internship program for pre-professional and post-college training.
B Street Theatre has produced over 250 professional productions since 1986.
More information at www.bstreettheatre.org.
The mission of B Street Theatre is to promote education and literacy, social interaction, and cultural enrichment by engaging children and adults in the highest quality theatre arts and playwriting.