SMALL MOUTH SOUNDS By Bess Wohl At Artists Rep Begins 10/7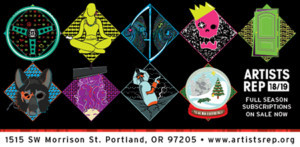 Starting October 7, Artists Repertory Theatre presents Bess Wohl's Small Mouth Sounds, directed by Shawn Lee. Artists Rep's 2016/17 season featured Wohl's American Hero, which was also directed by Lee. Small Mouth Sounds runs from October 7 through November 4 on the Alder Stage.
In 2015, Wohl received the Sam Norkin special Drama Desk Award for "establishing herself as an important voice in New York theatre, and having a breakthrough year." Small Mouth Sounds was a 2016 Critics' Pick in The New York Times, New York Magazine, and Time Out New York, and was selected for the 2015 Kilroy List.
Tired of not living their 'best life,' six broken individuals gather at a wellness center in the middle of the woods for a weeklong silent retreat to breathe and reset. As the voice from an omniscient guru drones on in broken self-help speech, the attendees struggle to find their inner calm while awkwardly combating their mental and physical desires. Over the course of five days, the group inexpertly attempts to navigate through hurt feelings, crippling faux pas, and exposed vulnerabilities to reach enlightenment. Absurdly funny and profoundly poignant, Small Mouth Sounds encourages us all to put down the phone and just be in the moment.
"Unplug and make a connection-that's at the root of this play," said director Shawn Lee. "Each character attending the silent retreat in Small Mouth Sounds has very little dialogue to express a whole lot of angst, desire, and heart. Our talented and brave actors have to reach deep within their physicality to portray a range of emotion with just an eye roll or a smile or a sly glance. It's exciting to see what gets uncovered when you take away speech."
"I'm thrilled to bring Bess Wohl's work back to Portland with this bold, funny, and quietly moving play," said Artistic Director Dámaso Rodríguez. "Wohl audaciously places her characters in a silent retreat and unlike most plays which communicate character and back story with language, Small Mouth Sounds mirrors real-life encounters where we are left to infer intention and often never learn the sources of joy or pain that friends, co-workers, and strangers carry with them."
ABOUT THE PLAYWRIGHT
Bess Wohl began her career as an actress, earning an MFA from Yale, and has since become a writer for the stage, motion pictures, and television. She is currently at work on a family drama about the meat business for HBO. She is also working on an original musical about the adult entertainment business which is a recent commission from the Center Theatre Group in Los Angeles. Her first play, Cats Talk Back, had its world premiere at the Yale Cabaret while she was a student at Yale. It was subsequently performed at the Williamstown Theatre Festival, and finally at the NYC International Fringe Festival where it won the award for Best Overall Production. Her play, Touch(ed), had its world premiere at the Pioneer Theatre Company earlier this year. Barcelona was recently workshopped at Ojai Playwrights Conference. Her plays have been produced or developed at The Vineyard Theatre, The Pittsburgh Public Theater, The Northlight Theatre, TheatreWorks New Works Festival, and The Geffen Playhouse. Her work has also been supported by the MacDowell Colony, where she was recently a fellow. In 2011, her play In, premiered at the Pioneer Theatre Company. The screenplay adaptation of her play In was included on Hollywood's Black List of best feature scripts. She has also developed for network television, and recently wrote an original pilot for Twentieth Century Fox Television/FBC. As an actress, Bess has appeared onstage in New York, regionally and at Williamstown Theater Festival (five summers) and in numerous films and TV shows, where she has given birth, solved crimes, committed crimes, been wrongly accused, and come back from the dead. She is a graduate of Harvard, magna cum laude, where she was awarded the Rona Jaffe Writing Prize, and the Tennessee Williams Scholarship. At the Yale School of Drama, she was a recipient of the Rebecca West Scholarship. Wohl won the 2015 Drama Desk Sam Norkin Off-Broadway Award that recognizes excellence and significant contributions to the theater for establishing herself as an important voice in New York theatre, and having a breakthrough year with the eclectic American Hero, Pretty Filthy, and Small Mouth Sounds. She is originally from Brooklyn, New York, and divides her time between New York and Los Angeles.
www.besswohl.com | www.smallmouthsounds.com
ABOUT THE DIRECTOR
This is Shawn Lee's second time directing a play by Bess Wohl for Artists Rep; with the first being 2016's American Hero. In 2017, he directed Christopher Chen's Caught, a multi-media theatre/art installation and collaboration with Portland visual artist Horatio Law. He directed and co-produced the international tour of E.M. Lewis' The Gun Show starring Artists Rep Resident Artist Vin Shambry which premiered in CoHo Productions' 21st season. After a sold-out run, The Gun Show was remounted at Artists Rep before touring to the Logan Festival of Solo Performance at 1st Stage in Virginia, the 2017 Edinburgh Fringe Festival in Scotland, Portland Public Schools, and Willamette University. Shawn is the Producing Director at Artists Rep, and is now in his fifth season.
In 2001, he co-founded the Furious Theatre Company in Los Angeles where he served as co-Artistic Director before moving to Portland in 2014. With Furious Theatre Company, he has produced over 25 productions including the award-winning rolling U.S. Premiere of Foxfinder with Artists Rep and The Pain and the Itch with The Theatre@Boston Court. In 2010, Furious Theatre Company was named to LA Weekly's list of "Best Theatres of the Decade." He is a co-creator of the YouTube video series Real Found Footage with Matt Pelfrey (Skins on MTV, Facebook Series Turnt) and directed the short film The Foodie by Kirk Pynchon, She and several episodes of the web series A.G.A.N.G. As an actor, he is a recipient of the Los Angeles Drama Critics Circle Award, the Back Stage Garland Award, LA Weekly Theatre Award, LA Stage Alliance Ovation Award, and the Pasadena Arts Council's Gold Crown Award.
Artists Rep participates in Arts for All and the Multnomah County Library's Discovery Pass Program. Buy Tickets: 503.241.1278 or www.artistsrep.org