Photo Flash: Lakewood Theatre Company Continues 66th Season With INHERIT THE WIND
Lakewood Theatre Company continues its 66th season of live theatre with Inherit the Wind, an enduring courtroom drama by Jerome Lawrence and Robert E. Lee (Auntie Mame, The First Monday in October). Based on the real-life 1925 Tennessee case known as the Scopes "monkey" trial, two famed attorneys, based on William Jennings Bryan and Clarence Darrow, go head to head in a small town courtroom. In an era where politicians and community leaders still clash over the separation of church and state in the classroom, this timely production shows us what can happen when courage takes the stand.
Performances begin Friday, November 2 and continue Thursday, Friday, and Saturday nights at 7:30 PM, two Wednesday performances at 7:30 PM (November 14 and December 5), Sunday matinees at 2:00 PM (November 4, 11, 25, and December 2, 9) and Sunday evenings at 7:00 PM (November 18 and December 2). Ticket prices are $34/adults and $32/seniors. Discounts are available for students and groups. For additional information and tickets, call the Lakewood Box Office at (503) 635-3901 or order online at www.lakewood-center.org. The title sponsor for Inherit the Wind is Bill & Barbara Warner. The directorial sponsor is Nicoletta's Table & Marketplace.
Special note: On Wednesday, November 14 and December 5, the theatre continues its program called Wine on Wednesday (WOW). For people ages 25-35, tickets are priced at $25 each. On November 14, one hour prior to the performance, there will be a complimentary wine tasting hosted by World Class Wines. On December 5, one hour before performance, there will be a complimentary whiskey tasting hosted by Trail Distilling. Come enjoy WOW paired with discounted show tickets. OLCC rules apply!
The Story: In a small Southern town, school teacher Bertram Cates (Jim Vadala) has violated a state law and prepares to stand trial. His offense? Introducing the theory of evolution and the teachings of Charles Darwin into his high school classroom. This act has led to his condemnation by local leaders, including the Reverend Jeremiah Brown (David Sikking), whose daughter Rachel (Olivia Weiss) is engaged to Cates.
The town buzzes with excitement as Cates' trial date draws closer and brings with it Matthew Harrison Brady (Todd Van Voris), a three-time presidential candidate, Biblical scholar and staunch opposer of evolution who is appearing for the prosecution. Meanwhile, news reporter E.K. Hornbeck (Ian Goodrich) has convinced the equally famous Henry Drummond (Allen Nause), Brady's long-standing acquaintance and adversary, and one of the most controversial legal minds in America, to defend Cates. By getting Drummond to appear in court, Hornbeck has ensured that the case will be news-worthy, and that his newspaper, the Baltimore Herald, will have full coverage of the trial.
The townspeople settle in for the landmark trial of the century as two well-respected men and leaders argue for the freedom of beliefs from different sides of the stand.
LTC's production of Inherit the Wind is directed by Antonio Sonera, the stage manager is Heather Taylor, scenic design is by John Gerth, music and sound design is by Rodolfo Ortega, lighting design is by Alexz Eccles, costume design is by Margaret Chapman, the assistant stage manager is Dietrich Burmester. The assistant director is Sarah Andrews and producer is Steve Knox.
Photo Credit: Triumph Photography.


Allen Nause and Todd Van Voris

Allen Nause and Todd Van Voris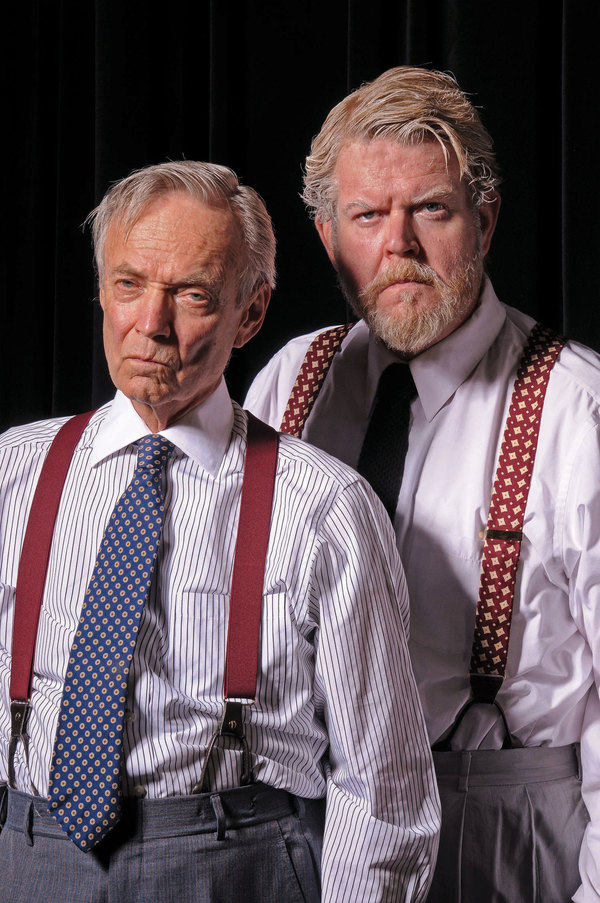 Allen Nause and Todd Van Voris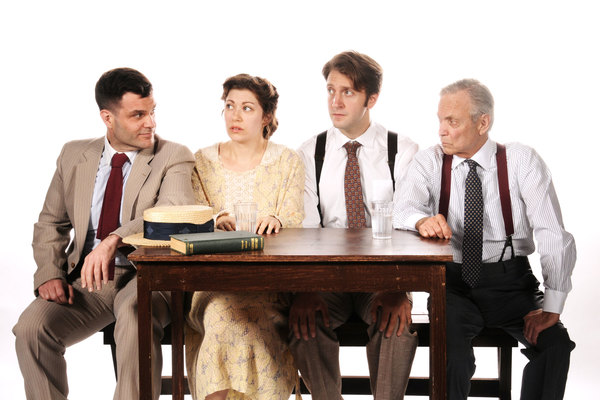 The Cast of INHERIT THE WIND
Related Articles View More Portland

Stories

Shows
More Hot Stories For You