Review: Fertile Ground: THE UNDERTAKING and ART OF AGING PROJECT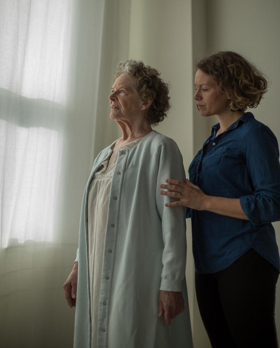 We can learn a lot about living from those who've been doing it the longest. And death -- will we ever be prepared for it, whether it's coming for us or someone we love?
These are a few of the themes in THE UNDERTAKING and ART OF AGING PROJECT, two new pieces now in performance together as part of the 10th Anniversary Fertile Ground Festival. The pieces seek to spark a new conversation around aging and death, as well as provide space for seniors' voices. If you haven't completely filled your Fertile Ground schedule yet, I highly recommend you see them.
This show is presented by Many Hats Collaboration as part of their new 5 in 5 Initiative, an ambitious challenge to create five new works in five years, all of which engage the community and elevate unrepresented voices. For this first work, Many Hats co-founder Jessica Wallenfels teamed up with the Northwest Piano Trio and actor/director/deviser Camille Smicker to create a multi-genre exploration of what happens as we near the end of life.
The first piece, ART OF AGING PROJECT, created by Camille Smicker and performed by Wolfie Beacham, Jane Fellows, Joe Healy, and Julet Lindo, is a reading based on interviews of people over the age of 65 about their journey toward and experience of getting older -- what they've learned, what they've lost, and what they've gained. Smicker has compiled the interviews into a choral recitation. It runs a little long, but there's a lot of wisdom there (like work less -- and don't feel guilty about it, be more compassionate and less judgmental, and when you get a chance to do something, take it!). It's also a call to action to us as a society to take better care of our elders, who often feel lonely and isolated. It's one of those laugh-cry-laugh-cry kinds of things.
THE UNDERTAKING is a theatre-music-dance performance conceived by Wallenfells and the Northwest Piano Trio's Hannah Hillebrand. For both of them, it's personal. Wallenfells recently spent a year and a half as a caregiver for her dying mother, while Hillebrand is an ICU nurse, who encounters death on a near-daily basis.
The performance unfolds in four parts, mirroring the structure of Shostakovich's Piano Trio No. 2, an anguished piece the composer wrote in memory of a close friend who had died suddenly and also for the Jewish people persecuted during World War II. Each part has a short scene between a mother (Joann Johnson) and her daughter (Beth Thompson), followed by a dance to a movement of the music. The final movement is a danse macabre, aka a dance of death.
Under Wallenfels' direction (and expressive choreography) Johnson and Thompson do an incredible job of illustrating the complex relationship between parent and child, especially when the parent nears the end of life, as well as one's struggle with one's own mortality. It's painful and beautiful.
I left THE UNDERTAKING wondering why we don't see more multi-genre pieces like this -- the live music was spectacular, and, combined with the theatre and the dance, did a better job of piercing you right in the heart than any of the elements could have individually. The whole is definitely greater than its parts.
THE UNDERTAKING and ART OF AGING PROJECT runs through the weekend: Feb 2 @ 7:30pm; Feb 3 @ 2pm. Details and tickets here. Go see it. Also, call your mother.
Photo credit: Gary Norman