BWW Review: Broadway Rose Extends Its Winning Streak with GUYS AND DOLLS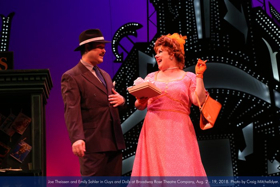 "What's playing at Broadway Rose? I'll tell you what's playing at Broadway Rose. A GUYS AND DOLLS so good that it gets a standing ovation from everyone who goes. That's what's playing at Broadway Rose."
Okay, so I'm no Frank Loesser. But I couldn't resist! Fortunately, you still have one weekend to see the real thing.
I've written on a couple of occasions that every show I see at Broadway Rose is better than the last. GUYS AND DOLLS continues that trend and hits a new high. The talent and resources they've compiled -- from some of our best local musical theatre performers to the rented costumes and sets -- put this production on par with anything I've seen anywhere. Sue me, sue me, what can you do me? I loved it.
Set in a technicolor version of 1950s New York City, GUYS AND DOLLS is story of two incorrigible gamblers and the women who love them. With some high rollers in town, Nathan Detroit (Joe Theissen) is under pressure to find a location for his floating crap game and also to finally tie the knot with Adelaide (Emily Sahler), his fiance of 14 years. Meanwhile, Sky Masterson (Ryan Reilly), who's known for making crazy bets, makes the craziest one of his life to win the heart of pious missionary Sarah Brown (Dru Rutledge). Nothing goes as planned, but everything goes just exactly right.
GUYS AND DOLLS is a big flashy musical, and Broadway Rose does it right -- big cast, big band, big song and dance numbers, with flashy costumes and a flashy set. It's a visual feast complete with all of the songs you know and love ("I've Never Been in Love Before," "Luck Be a Lady"). But ultimately it's a human story of the power of love to help us overcome our fears, see past our differences, and discover joy in unlikely places.
Under Sharon Maroney's direction, the production emphasizes this human story. Thanks to Theissen and Sahler, Nathan and Adelaide aren't just a funny bickering couple -- they truly love each other. And Reilly and Rutledge do an excellent job of making Sky and Sarah's lightning-fast romance seem a lot less crazy than it normally does. The supporting cast contributes some standout performances as well, especially Brandon B. Weaver, who, as Nicely-Nicely Johnson, takes the helm for the showstopper "Sit Down, You're Rockin' the Boat," and Margo Schembre, who brings an unexpected verve to General Cartwright.
The only downside to GUYS AND DOLLS is that it's a limited run. That means you only have one more weekend to see it. I highly recommend you do -- it's a probable 12 to 7 that you're going to love it too.
GUYS AND DOLLS runs through August 19. Details and tickets here.
Photo credit: Craig Mitchelldyer