DON KICHOT Comes to Teatr Wielki This Week
Performances run through 18 September.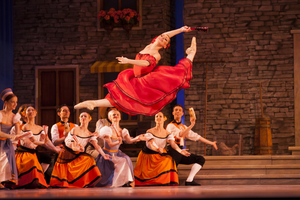 Jeden z najważniejszych baletów wielkiego francuskiego choreografa Mariusa Petipy, który zyskał sobie miano ojca baletu klasycznego. Stworzył on Don Kichota w 1869 roku dla moskiewskiego Teatru Bolszoj i dwa lata później wystawił go w nowej wersji dla petersburskiego Teatru Maryjskiego. Sięgnął w nim do epizodu ze słynnej powieści Miguela de Cervantesa i skorzystał z bogatej, ponad stuletniej tradycji tego tematu na europejskich scenach baletowych. Nową muzykę skomponował według wytycznych choreografia związany przez wiele lat z Rosją austriacki skrzypek i kompozytor baletowy Ludwig Minkus. Dzieło Petipy wzbogacił w 1900 roku o nowe tańce moskiewski choreograf Aleksandr Gorski. Dlatego dziś autorstwo baletu oddaje się obu tym choreografom.
Powieść europejska u swego zarania oddawała się gawędzie bez granic, tworząc świat uniwersalny, obejmujący całość ludzkiego doświadczenia. Przemyślny szlachcic Don Kichot z Manczy Miguela de Cervantesa z 1605 roku to epos prosty i wyrafinowany zarazem, w którym kolejne przygody błędnego rycerza przechodzą naturalnie i organicznie jedna w drugą. Przenieść to uniwersum na język innej sztuki nie sposób, ale czerpać z niej poszczególne wątki można bez końca.
Don Kichot był jednym z najbardziej udanych efektów współpracy Petipy z Minkusem (podobnie jak ich wspólna Bajadera). Z eposu rycerskiego o charakterze heroikomicznym, jakim jest powieść Cervantesa, w balecie zostało jednak niewiele. Choreograf i zarazem autor libretta wybrał z niej wątek poboczny - miłosne perypetie córki oberżysty Kitri i cyrulika Basilia. Zgodnie z oczekiwaniami publiczności i prawami gatunku, które w tamtych czasach nakazywały, aby widowisko baletowe było przede wszystkim źródłem dobrej rozrywki, Don Kichot nabrał cech widowiskowych i komediowych. Błędny rycerz i jego sługa Sancho Panza są w nim spoiwem pomiędzy cieszącymi oko scenami, a te stały się istną feerią choreograficznych pomysłów Petipy, efektownej hiszpańskiej ornamentyki ruchowej i różnorodnych popisów tanecznych.
W 2014 roku Polski Balet Narodowy przygotował nową, niezwykle barwną i dynamiczną wersję choreograficzną Don Kichota zrealizowaną przez zamieszkałego obecnie w Finlandii słynnego rosyjskiego tancerza i baletmistrza Alexeia Fadeyecheva oraz pod kierownictwem muzycznym wybitnego ukraińskiego dyrygenta Alexeia Baklana. Po kilku latach przerwy balet powrócił teraz do repertuaru Teatru Wielkiego - Opery Narodowej w tym opracowaniu, ale także pod batutą Marty Kluczyńskiej.