Review: KASTA LA VISTA at Teatr Polski
The humor is so natural that even a small discreet scene, the exchange of sentences is a source of laugh and intelligence.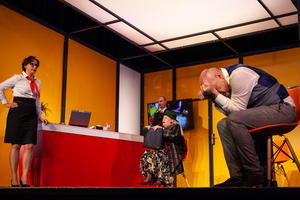 Kasta La Vista is a comical spectacle but with a bitter aftertaste. French author Sébastien Thiery made sure that his text was absurd, funny but also scary and all this mixture makes the show so special.
The play on which the show is based is French and you have to know the French reality to enjoy this play even more. Banks are quite old school there, still 10 years ago check was a common form of payment (much more popular than credit card) and to make a wire transfer I had to fill out a lot of paperwork and wait for days for agency approval - true story. If you know all of this, seeing a guy struggling with bureaucratic procedures to get his own money makes you glad it wasn't you, for those who have been going to France for a while, we've all been there. It's even more funny when you realize that this bank is now in Indian hands and that corporate environment has become part of everyday life. People who work in big companies know what this means, different cultures are sometimes difficult to combine, especially when the rules are so strict like Indian kastas. The bank finds out that a European has broken Indian law and locks him in the building so that an investigation can be carried out. The poor guy has no choice and has to explain himself how he made his life better that his parents. Obviously I'm not good at describing the atmosphere of this story, but the client played by Mariusz Kiljan is just hilarious. You will laugh a lot!
The humor is so natural that even a small discreet scene, the exchange of sentences is a source of laugh and intelligence. What an explosion! Mariusz leads the story with a tremendous dose of power and energy which is remarkable. Barbara (Agata Skowronska) is a real volcano, the cashier (Jakub Giel) is distinctive and therefore unforgettable, he is a personification of the callous, repetitive system, asking stupid, illogical questions, subject to corporate rules, unified and unfortunately ignoring a living human. This part is a bit difficult to deal with because as our world is getting more and more serious, the impact of distant societies that are not related to our world at any level and yet deciding on us is getting bigger and bigger. I hope we don't get trapped one day because of this.
The original title is "Cochon d'Inde", the translation literally is "Indian Pig" but it means guinea pig. It is the genius of the author: a guinea pig (in France Indian pig) is a small animal which can turn in a pivoting wheel representing a hard but useless work and it is the clue. Are we also running?
Photo Jarek Kusmierski