Photo Flash: Limelight Performing Arts Brings the Comedic Antics of THE DROWSY CHAPERONE
Limelight Performing Arts, in partnership with Studio 3 Performing Arts, will give audiences a taste of American musical comedy in the Roaring 20's with a youth production of The Drowsy Chaperone, which runs April 21 through May 7 at Studio 3's Artspace Theatre in Gilbert. Check out photos from the show below!
The story follows a middle-aged, unsociable musical theatre fanatic as he plays the record of his favorite musical, the (fictional) 1928 hit The Drowsy Chaperone. While the needle moves across the vinyl, he brings the story, characters and music to life - and brings the audience along with him.
"Audience participation is built right into the story, making it extra fun and memorable," said Don Crosby, longtime actor and director of The Drowsy Chaperone. "It's one of my favorite shows to direct. It is an over the top, melodramatic, slapstick musical. Our cast is full of the Valley's most talented teenagers. Audiences will feel like they're watching a full-scale, professional production. The cast is creative, fun and truly loves what they're doing. The cast brings so much joy to their roles making this musical not just a show but an experience."
Winner of five Tony Awards and hailed by the New York Times as "the perfect Broadway Musical," The Drowsy Chaperone pokes fun at all of the clichés that characterize the musical theatre genre. When showgirl Janet Van De Graff makes plans to leave her career to marry oil tycoon Robert Martin, Follies producer Mr. Feldzeig is forced by a pair of gangsters disguised as pastry chefs to sabotage the wedding. Meanwhile, best man George tries to help the would-be groom keep his nerves in check, and Janet's drowsy chaperone imparts her own brand of wisdom.
In true Limelight fashion, our production of The Drowsy Chaperone features one show-stopping song and dance number after another," said Emma England, Studio 3 owner and Drowsy artistic director. "We've also worked hard to design a set that goes far beyond the typical theater production to draw audiences in from the moment they take their seats."
In keeping with Limelight's, commitment to provide as many opportunities for youth as possible, this production has a double-cast for many featured roles to allow more actors to shine.
Tickets start at $13 and may be purchased online at limelight.ticketleap.com/drowsy. Guests are advised to pay close attention to seating options, as some seats include a special dessert and interaction with the cast.
The Drowsy Chaperone, music & lyrics by Lisa Lambert and Greg Morrison, book by Bob Martin and Don McKellar. Original Broadway production of The Drowsy Chaperone, produced by Kevin McCollum, Roy Miller, Bob Boyett, Stephanie McClelland, Barbara Freitag and Jill Furman. The Drowsy Chaperone, presented through special arrangement with Music Theatre International (MTI). All authorized performance materials are also supplied by MTI. www.MTIShows.com.
Photos courtesy of Kris Padjen

Woman in Chair (Shayna Padjen)
Aldolpho (Connor Brigola), Woman in Chair (Shayna Padjen), Mr. Feldzieg (Nicolas Caglia), Kitty (Kendall Kingdeski), Mrs. Tottendale (Ryann Neubauer), and Underling (Sarah Golden)
Mr. Feldzieg (Nicolas Caglia)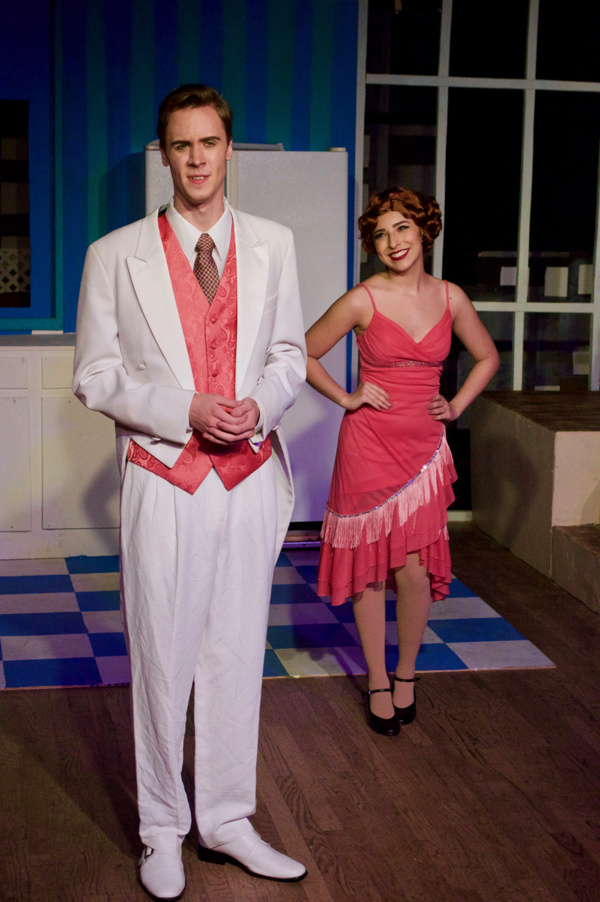 Robert (Aaron J. Brown) and
Janet Van De Graaff
(Paige Gagliardi)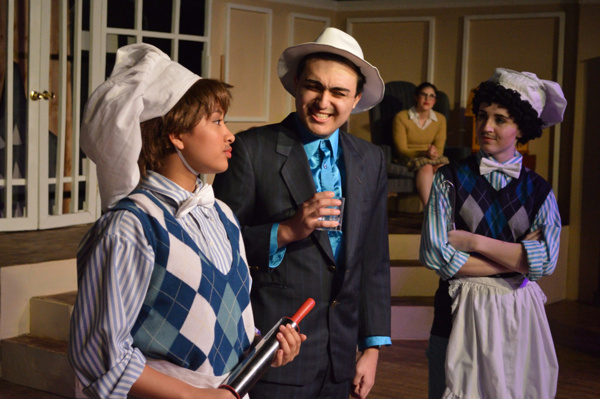 Gangster 2 (Hannah Ngov), Mr. Feldzieg (Nicolas Caglia), Woman in Chair (Shayna Padjen), and Gangster 1 (Alyssa Granger)
Ensemble (Mia Tarwater), Kitty (Hailey Gates), and Ensemble (Karis Puckett)