Phoenix Chorale to Tour A CHORALE CHRISTMAS Around the Valley This December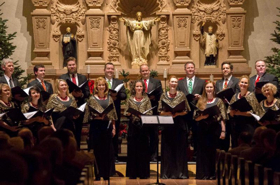 The Grammy Award-winning Phoenix Chorale brings its delightful annual holiday concerts, "A Chorale Christmas," around the Valley December 15-19 (see detailed performance schedule below).
Tickets start at $38 for Adults, $33 for Seniors & active Military, and $18 for Students. (Please note: tickets are $5 more on the day of the concert). Tickets may be purchased by calling 602-253-2224 or online at phoenixchorale.org.
Gathering friends and family together at Christmas is a special joyous time, bringing heartwarming memories old and new. We invite you to celebrate the season with us as we perform a sparkling array of traditional and popular holiday favorites from the Huron Carol To Winter Wonderland and more!
The Phoenix Chorale's holiday concerts have become a tradition for Valley residents -- proving 'it just isn't Christmas until you've heard us sing!' Other highlights of "A Chorale Christmas" include Adeste Fideles, I Saw Three Ships, I'm Dreaming of a White Christmas, and much more!
Now in its 59th year, audiences experience the exquisite artistry that has made the Phoenix Chorale an international sensation, and a favorite of music lovers worldwide. The 28-member group of singers brings a precision and passion to their performances that is unmatched.
---
A CHORALE CHRISTMAS PERFORMANCE SCHEDULE:
WEST VALLEY
Friday, Dec. 15 at 7:30 p.m.
American Lutheran Church
17200 Del Webb Blvd., Sun City
CENTRAL PHOENIX
Saturday, Dec. 16 at 7:30 p.m.
Trinity Episcopal Cathedral
100 W. Roosevelt St., Phoenix
SCOTTSDALE/PARADISE VALLEY
Sunday, Dec. 17 at 3 p.m.
Camelback Bible Church
3900 E. Stanford, Paradise Valley
CENTRAL PHOENIX
Monday, Dec. 18 at 7:30 p.m.
Brophy Chapel
4701 N. Central Ave., Phoenix
CENTRAL PHOENIX
Tuesday, Dec 19 at 7:30 p.m.
Brophy Chapel
4701 N. Central Ave., Phoenix
Tickets start at $35 with discounts for Seniors, active Military and Students. Tickets $5 more on day of show. Tickets to "A Chorale Christmas" start at an be purchased by calling 602-253-2224 or online at phoenixchorale.org.
---
The GRAMMY-winning Phoenix Chorale is regarded as one of the finest choral ensembles in North America. What began in 1958 as a small study group of singers became a fully professional choir in 1992 made up of Arizona residents: highly educated and trained singers, teachers and professionals. In 2004, the Phoenix Chorale became the first North American choir to record for the U.K.'s prestigious Chandos Records and since then, the Chorale's recordings have earned a total of ten GRAMMY nominations and three GRAMMY wins. The Phoenix Chorale is ensemble in residence at Trinity Episcopal Cathedral in downtown Phoenix and is sponsored in parth through grants and funding from the Arizona Commission on the Arts and Phoenix Office of Arts and Culture.