Local Dance Company Uses High School Theme To Bring Awareness To Suicide Crisis, Donates Proceeds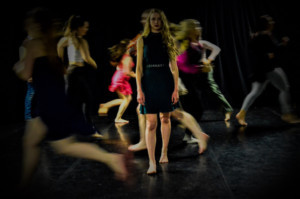 CaZo Dance Company and Artistic Director Bridgette Borzillo are pleased to announce You Are Not Alone, a brand-new full-length dance production based on the high school experiences of Borzillo and several CaZo dancers.
Have you ever felt alone in a crowd or wondered if anyone would miss you if you simply didn't show up? You're not alone. According to a 2018 loneliness index prepared by Cigna, 46% of Americans, mostly younger individuals, feel lonely, isolated or left out. Whether dealing with bullies, peer pressure, coming out, thoughts of suicide or wearing a mask to fit in, everyone has struggled to find their place at one point or another, even if it feels you're the only one.
"I was involved in countless activities in High School: Softball, Soccer, Cheerleading, Dance team, Black Student Union, Student Body; but I never felt like I truly belonged anywhere," Borzillo says of her high school experience, which doubles as the through-line for the production. "I was always the friend everyone asked for help and many times it was never reciprocated. It felt very lonely at times."
Borzillo's decision to utilize the experiences of her dancers came about after hearing a few of their personal stories. "It was amazing to find out how closely related to one another we all were," Borzillo said, "based solely on the experiences we all had in high school. The moment I heard some of these stories, I knew I wanted to find a way to perform them on stage to create dialogue."
You Are Not Alone will be performed live in the Nesbitt-Elliott Playhouse at the Mesa Arts Center (1 East Main St. Mesa, Arizona 85201) on Friday, April 19 at 7:30 pm and Saturday, April 20 at 2 pm and 7:30 pm. Tickets are on sale now at www.cazodance.com or on CaZo Dance Company's official Facebook Page. Prices are $26 for general audiences, $21 for students, and $45 for VIP (limited quantities).
Doors open 45 minutes prior to the top of show and will include a pre-show performed by CaZo's pre-professional and Apprentice companies. Portions of all proceeds will be donated to The Jem Foundation to provide services to those in need. Heart Spoke Clothing will also be on hand selling items from their clothing line, with proceeds donated to NAMI-Southern Arizona.
Revisit the struggles of being a teenager in the age of social media with this incredibly emotional journey that will hopefully lead to discussions with those you love and admire the most about your own personal battles.
Related Articles View More Phoenix

Stories

Shows
More Hot Stories For You