BWW Interview: HARVEY Is Coming To the Valley of the Sun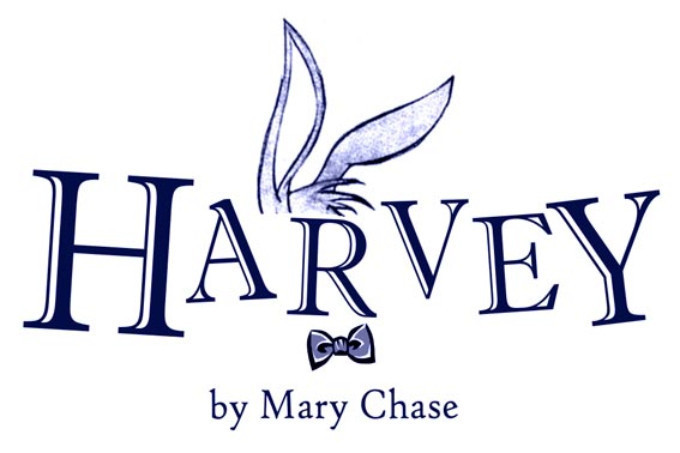 HARVEY, Mary Chase's 1945 Pulitzer Prize winning comedy, is slated to hop into the Don Bluth Front Row Theatre in Scottsdale on January 12th through February 24th.
In its multiple adaptations, most notably the 1950 film with Jimmy Stewart, the tale of Elwood P. Dowd and his imaginary "pooka" has always been a source of amusement and inspiration. As Elwood's eccentricities become a source of consternation and embarrassment, primarily to his sister Veta and niece Myrtle Mae, measures are under way to alter his personality, to change him into "a perfectly normal human being." The play's wit and charm are ultimately compelling as the conventional notion of normalcy is challenged.
Lee Cooley plays the role of Elwood, joined by Petey Swartz as Veta, Emily McAtee Bowlby as Myrtle Mae and an ensemble including local talents Joy Strimple, Hillary Low, Frank Aaron, Jeff Jones, Don Crosby, KatiBelle Collins, Hal Bliss, and Malcolm Hooper.
(Note: FRT is the creation of Don Bluth, one of the most notable geniuses of animation ~ first at Disney and then on his own with such stellar and groundbreaking productions as The Secret of NIMH.)
In advance of the production, I sat down with Lee Cooley over Chinese food to get a rabbit's-eye preview of the show ~ and, betwixt and between bites of kung pao chicken, to get some perspective on the actor himself. (Disclaimer: Lee's also a BroadwayWorld.com contributor.)
Paine: Where did you first get the bug for acting?
Cooley: My college roommate in Florida convinced me to play an ugly step-sister in Cinderella. The last show we did together was The Rainmaker - which was my first show in Arizona, 21 years later.
Paine: Well, you've made quite a leap from an ugly step-sister! Now, you must be excited about your upcoming role as Elwood P. Dowd. It has been much coveted and has had some great names associated with it. Why are you drawn to it?
Cooley: I could easily identify with Elwood. He had an imaginary friend, and when I was a kid so did I!
Paine: Really?
Cooley: Yeah. Mine wasn't a rabbit, but ... my brothers did too, both of my brothers. I don't know what it was, something in the water. But, seriously, I've been attracted to the role of Elwood ever since I read it in high school. Matter of fact, memorized! There's a monologue where Elwood's friend Ed "needed conveying" in a cab because he "was spiffed." [Just prior to Elwood's meeting the pooka.] I remember memorizing that and using that as a demo when people would ask me to act on the spot, which I don't typically like to do.
Paine: So, what's going to be distinctive about this particular production?
Cooley: Well, this is probably the first time that a former Disney animator has worked with an invisible rabbit.
Paine: And that animator is...
Cooley: Don Bluth, who decided after a successful career in long-form animation to open a theater, a live theater.
Paine: And, what are you hoping will be distinctive about your portrayal of Elwood?
Cooley: Most recently on Broadway, Jim Parsons played Elwood for a short run. I didn't see it, but I imagine it was very similar to his character Sheldon. Of course, most famously was Jimmy Stewart, who picked up the role, in the original Broadway production, after Frank Fay left. Then he also went on to do the movie in 1950.
I do a couple of salutes to Stewart in the play but I make no effort to imitate him. But, actually, when I was reading the script, I kept seeing these segues, a lot of non sequiturs that for some reason remind me of James Spader. In the Blacklist, he's on task and driven one minute, and then, the next minute he's off on something totally different. To me, that's what Elwood's character is all about. He'll switch channels faster than a remote control. Having been raised on television myself and had it as basically a babysitter for several hours a week as a kid, I think I just got used to that whole channel switching idea and can identify with it.
Paine: This is your third production in-a-row with the Don Bluth Front Row Theater. What's drawn you to it?
Cooley: Don Bluth. He's one of the most energetic, engaging and charismatic producer-directors I've ever met. He always reminds his actors that we're helping audiences forget their woes for a couple of hours. But, I also do it for Don - he's got a great laugh!
Paine: Who's directing the play?
Cooley: Katie Murillo. She's worked with Don before -- did The Lion King Jr last summer and has directed other youth and adult productions in the Valley.
Paine: Lee, you're joined by some of the finest actors in the Valley...
Cooley: Yeah, it's a great cast, a good cross-section of folks with a variety of experience. Some have been involved with Don for several shows. Others are first timers. I guess I fall somewhere in the middle. Whether you recognize the cast that's there or not, I think you'll really enjoy them. We support each other. Although, I guess Elwood is the main character, I don't really feel like the star of the show. We are an ensemble! We're very open and giving when it comes to not stepping on each other and giving everybody their due.
Paine: What have been some of the wardrobe and make-up challenges for Harvey?
Cooley: Our costumer, Corinne Hawkins, said it was tough to find a hat that fit him.
Paine: I imagine you've grown rather fond of Harvey?
Cooley: What's funny is ~ at least I think it's funny or it's a serious case of mental illness ~ that I see Harvey!
Paine: Well, on that fascinating note, thank you, Lee. And, uh, break a leg! Or, a rabbit's foot, perhaps?