Photo Flash: Fil-Am Teener Jon Viktor Corpuz Makes His Broadway Debut
"Being on GODSPELL's stage and singing with the amazing cast, the fantastic band –with all the flawless lights and sound – and the amazing audience, nothing can describe that electrifying feeling of being up there. It's definitely something I'll never forget." – Jon Viktor Corpuz
New York, June 13, 2012 – It was no mere stroke of luck for Jon Viktor Corpuz, a 15-year-old Filipino-American stage actor who hails from South Tampa, Florida, to be landing one of the 10 coveted slots for "Godspell" on Broadway Cast of 2032 – a crowd-pleasing group of kids and teens who performed a special encore medley for one night only at "Godspell's" Circle in the Square Theatre last month. Like any other grown-up stage artist in the big city, Corpuz has worked his heart out – unceasingly trained, and performed in numerous school and regional productions – prior to facing producer Ken Davenport and director Daniel Goldstein; and competing with more than 500 aspirants for his first Broadway audition. 
For Corpuz's introductory stint on Broadway, Davenport and Goldstein have given him the role of the young Telly Leung, one of the most sought-after Asian actors on Broadway today, who sings "All Good Gifts," a power ballad from the Stephen Schwartz and Michael Tebelak rock musical.  "It's funny because Telly and I both love riffing; and we both have played Angel Dumott Schunard in the musical "Rent." And I also got to sing 'All Good Gifts' in a 'Godspell' production back home.  By the way, my costume in 'Godspell' [Broadway] was an exact replica of Telly's," said Corpuz. 
"Telly's such a nice guy. He had the best advice for me, and reminded me to always work and study hard to get to where I want to go. I'll definitely be taking his advice to heart. We're staying in touch," Corpuz, a consistent straight-A student at Howard W. Blake School of the Arts, added.
It is known among Filipino communities in the United States that the current revival production of "Godspell," its first ever after 40 years, also marks the Broadway debuts of Filipino-American actors George Salazar (who is also from Florida) and Anna Maria Perez de Tagle – having Corpuz sharing the stage with Salazar and de Tagle for one night was a triple triumph for Filipinos who choose to work in the highly competitive theater industry in New York. 
"George thinks that Filipino-Americans are taking over [Broadway]! Haha! Which I definitely agree with, and have no complaints about! George and Anna Maria are both so awesome, and are both such kind souls. Not to mention that they're both amazing performers. It was awesome getting a chance to meet and work with them," he said. 
"'Godspell' is probably my favorite musical of all time because (1) it's so much fun; (2) the music is absolutely incredible; and (3) the message is so near and dear to my heart. The musical is not only about keeping God close in your life, but also abouT Loving and accepting anyone and everyone. And contrary to popular belief, it's not just for Christians - anyone can enjoy it - which is something so unique about it, which I love. Even people who aren't religious are able to get something out of what Jesus is saying because ultimately every parable in the show is a really valuable life lesson. 'Godspell' teaches audiences to deal with people from all walks of life with a kind, open heart. 'Godspell' is absolutely life-changing! Go check it out at the Circle in the Square Theatre if you haven't already. You won't be disappointed," he added.
After nine months since its premiere last year, and an appearance at the Tony Awards last Sunday, the Broadway revival of "Godspell" is closing on Sunday, June 24.  However, "Godspell" on Broadway Cast of 2032 will still perform at the Broadway Comedy Club in Times Square on Saturday, July 14.   The group also recently filmed a Youtube video with American comedian, actress, and singer Colleen Ballinger as Miranda Sings: https://www.youtube.com/watch?v=nuAyXxvcy-4.
For more videos featuring Corpuz, visit https://www.youtube.com/JonAndKristinCorpuz.
Photos by Virginia Corpuz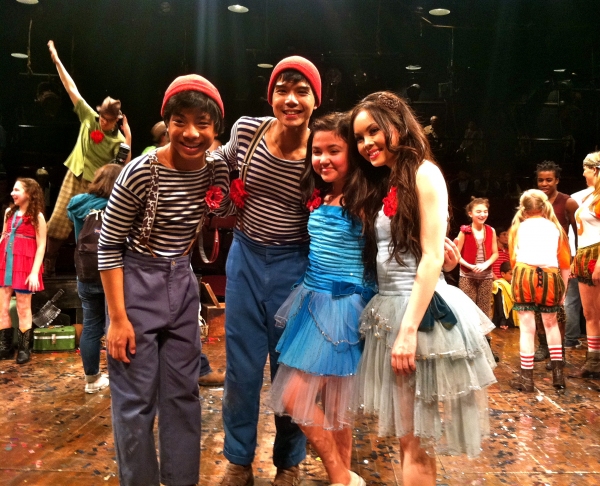 Jon Viktor Corpuz, Telly Leung, Montana Byrne (young Anna Maria), Anna Maria Perez de Tagle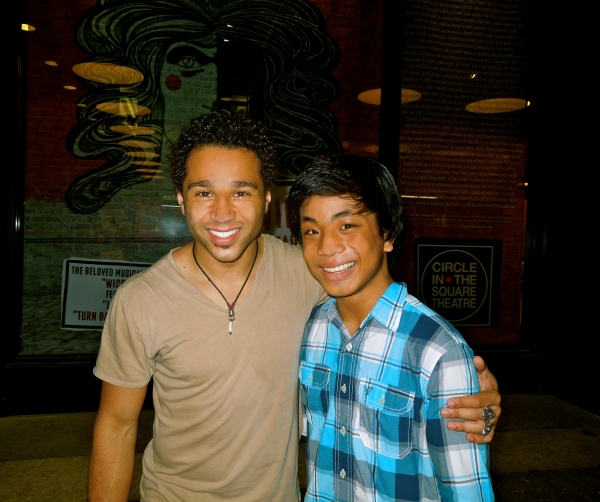 Corbin Bleu (currently plays Jesus), Jon Viktor Corpuz
Telly Leung, Jon Viktor Corpuz
Ryan Lambert (Jon Viktor's friend), Kristin Corpuz (Jon Viktor's sister), Anna Maria Perez de Tagle, Jon Viktor Corpuz, Amber Hoffmeister (Jon Viktor's friend)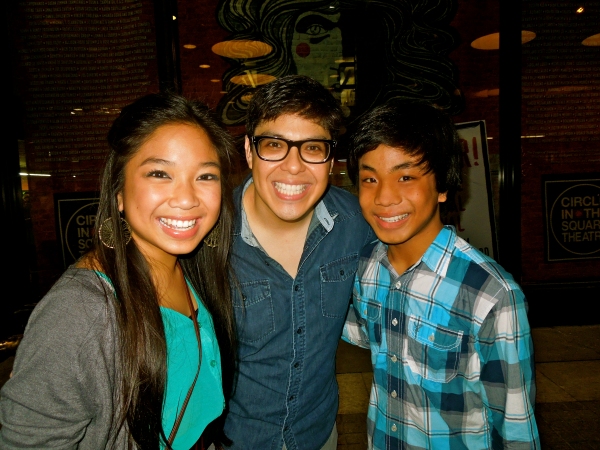 Kristin Corpuz, George Salazar, Jon Viktor Corpuz