Godspell - 2011 - Broadway
Stephen Schwartz's much-loved musical celebrating the life and teachings of Jesus returns to Broadway.
The Gospel according to St. Matthew, 1970s style. As Jesus taught with parables and storytelling Godspell utilizes clowning, pantomime, charades, acrobatics and vaudeville to tell the story of Christ's passion. Familiar songs include "Day by Day," "Turn Back, O Man" and "Bless the Lord."
Video preview
Photo preview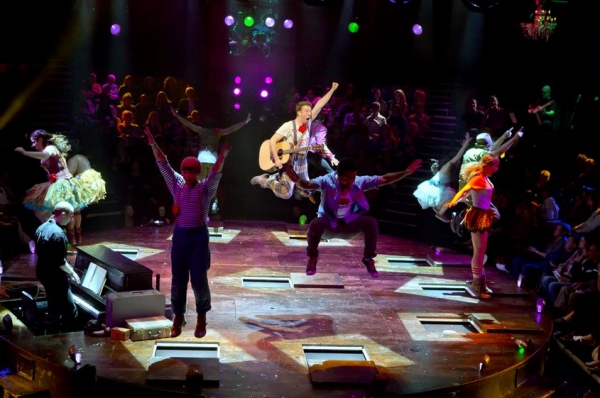 Featured Reviews For Godspell
Theater review: 'Godspell' - NorthJersey.com
The show's songs, including "Day By Day" (warmly sung by Anna Maria Perez de Tagle), "Learn Your Lessons Well," "By My Side" and "All for the Best," are well-served by Michael Holland's dynamic orchestrations...It's clever, but the message intended by the parable gets lost. That's the evening's biggest problem: Instead of the show's style enhancing the delivery of its substance, it often obscures it.
Broadway's 'Godspell' revival a lively affair - Associated Press
"Godspell," which has long been a standard show put on in colleges and high schools, captures the best of the old and embraces the new: At intermission, some cast members stay on stage for the traditional boogie with the audience - yes, free wine is handed out - and yet this new version has the parable about Tribute to Caesar illustrated by Jesus putting a coin in a tip jar. Costumes by Miranda Hoffman remain true to that dynamic, with the use of multicolored pants and suspenders as a nod to the hippy past, and prom dresses, sneakers, a bowling shirt and leopard prints a sign of the new. It all ends badly, of course - for Jesus, not the show. The second act is a bummer, though Jesus' death is sensitively handled. But as his followers carry his body away - their faces glisten with sweat and they are visibly moved - it's clear that "Godspell" has anointed a new group of Broadway stars and we are the richer for it.