Photo Coverage: RWM's SOUTH PACIFIC In Concert Meets the Press
Manila, Philippines--Resorts World Manila's (RWM) upcoming concert staging of Rodgers and Hammerstein's SOUTH PACIFIC cast members Joanna Ampil (Nellie Forbush), Jon Meer Vera Perez (Emile de Becque), Ana Andres (Liat), and Mark Bautista (Lieutenant Joseph Cable) recently met the press.
According to Menchu Lauchengco Yulo, the show's director, "[It's going to be] about the music with a hint of costumes as far as the chorus is concerned. [There will be] no set except the orchestra on stage and video projections."
Lauchengco Yulo added the concert version will follow the same script as that of the 1949 Broadway production, 1958 film adaptation, and 2010 Broadway revival, but it is abridged because it's a concert. It is presented like a concert with lines so the audience can follow the story, [such as in the] "Les Miserables" concert.
At the press event, two of the stars, Ampil and Vera Perez, revealed they're very inspired with the most popular song in the show, "Some Enchanted Evening."
Ampil said, "This is the song which can be sung in different ways with different subtexts and approaches. This has been one of the memorable songs in the show and now it has become even more meaningful [to me]."
"This happened to have been my grandfather Attorney Antonio Malvar Meer's favorite song, and was one of the last songs he sang before he passed away. I believe it is actually by grace or his intercession that I am now performing this role of Emile de Becque, in which I get to bring to life my Lolo's favorite music," Vera Perez shared. "My grandfather was a man who lived life to the fullest; a genuine romantic, one who 'felt' the message of this song in every fiber of his being."
20 of the country's finest musical talents, including Michael Williams, Red Concepcion, Hans Eckstein, and Raymund Concepcion, accompanied by the music of the Manila Philharmonic Orchestra under the baton of Maestro Rodel Colmenar, will join the outstanding leads.
SOUTH PACIFIC in concert will play Resort World Manila's Newport Performing Arts Theatre on September 12 and 19 at 8 p.m.
For tickets, call TicketWorld at (632)891-9999 or visit ticketworld.com.ph.
Photos: Erickson Dela Cruz


Jon Meer Vera Perez, Joanna Ampil, Menchu Lauchengco Yulo, Ana Andres, Mark Bautista

Mark Bautista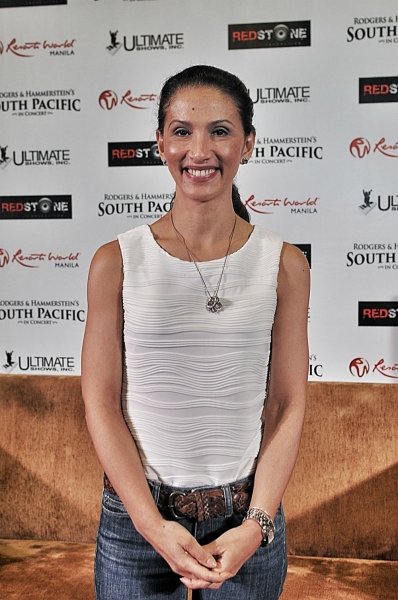 Menchu Lauchengco Yulo

Joanna Ampil

Ana Andres
Jon Meer Vera Perez