BWW Interview: Broadway Producer Jhett Tolentino Talks M. BUTTERFLY Philippine Tour, LINGUA FRANCA & HERE LIES LOVE on Broadway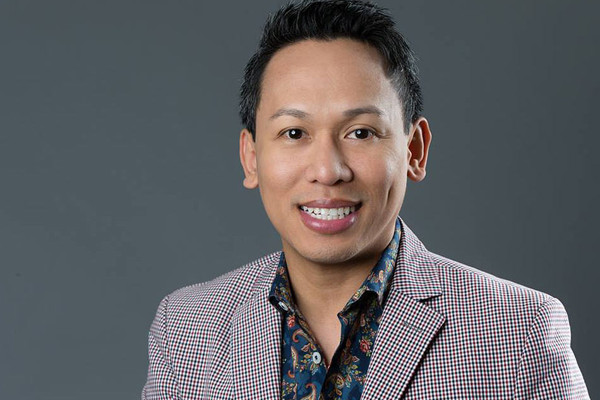 Manila, Philippines--If diligence is the mother of good luck, it makes sense that good karma succeeds right action.
Accordingly, Jhett Tolentino personifies the insight of Benjamin Franklin's instructive aphorism. The Grammy and three-time Tony Award-winning Broadway producer ("A Gentleman's Guide to Love And Murder," "A Raisin In the Sun") is unflagging in his pursuit of excellence. His inspirational career ("behind the scenes," as he likes to point out) anchors on the abiding tenet of managing opportunity with painstaking research.
To say that he's lucky to generate a network in high places is misleading. What appears effortless is a product of focused preparation and old-fashioned hard work.
Indeed, a subdued wakefulness characterizes Tolentino's perspective on goal setting and achievement. His calm visage betrays his ravenous tenacity, and he speaks with a timbre that relieves the most anxious discourse.
He seems to linger above the fray, even as he mounts his first big production away from his familiar hub in the Big Apple. Surveying the restraints of his new playground, Tolentino takes everything in stride and makes the best of it, trite as it sounds.
No testament affirms Tolentino's improbable odyssey than his own documentary, "Life is What You Make It," a guileless and moving account of his rise from the dire, provincial slums to eminent Broadway acclaim. The film, which he also directed and produced, has garnered numerous awards in far-flung settings for Best Documentary.

Barely recovered from jet lag in the aftermath of his umpteenth trip to Manila from New York City, Tolentino settles down for an interview to discuss his latest adventure, which includes an upcoming national tour of "M. Butterfly" and a second film in the making, "Lingua Franca."


BWW: Roughly two years ago, we had our first interview in which you laid out your mission for launching a theater company in Manila, bringing your invaluable experience and creative resources from New York City. Is the collaboration with RS Francisco and Frontrow Entertainment on M. Butterfly the genesis of that endeavor?
JT: Well, I would say that I've already reached that (phase) because the M. Butterfly Manila run was a first-class production. (And of course, we won the three ALIW awards.) In terms of moving forward, I'm in constant discussion with Frontrow Entertainment for partnership. As to what that would be, we're still in development.
BWW: What is the main impetus for the tour? Is it specific to M. Butterfly as a social commentary, or is it specific to the mission of Jhett Tolentino Productions? Will we expect to see future Manila runs of other shows to go on the road as well?
JT: The tour is a mix of reasons. One is...for the production to go to the cities. Again, personally, I've been mentioning this: the audience development in this country. And we should also consider those with natural-born talents. There's so much talent everywhere. When I saw my first Broadway production, it changed my life. So with this production--not all, but somehow a few people--can be inspired that there's something beyond [for] what they can do with their talent.
BWW: I agree with you about the amount of natural talent in the country.
JT: If I may add, I'm so glad that the theater industry here in Manila is thriving. You know, the last time I got the numbers, back in 2016... from Gawad Buhay organization, there are 35,000 theater goers in Metro Manila. Not all 35,000 are active. And some of them are families and they can only afford to see a show in a quarter. So if you take a family of four to, say, "Matilda," right away that's 12,000 pesos. Not everybody can afford that. And most Filipinos don't go to plays they're not familiar with--that's the other challenge. But [still] it's just so alive everywhere. And I can see shows now being advertised on EDSA [a major highway in Metro Manila].
BWW: So in your case, two years ago, were you at all challenged by the fact that you were arriving in Manila at a time when the city is being saturated by companies vying for the same audiences you speak of?
JT: No, I didn't even think about that. To me, I just wanted to impart my experience on Broadway. I'm not trying to be professorial here or coming in like somebody who's "been there." It's also trying to learn how they do it here. I guess it goes both ways.
BWW: And you missed home, right? That has to be a part of it. As a balikbayan myself, I have that emotional piece tied to my work here.
JT: Yes, exactly. And I missed the humidity and the traffic.
BWW: People will recognize M. Butterfly from the sheer power of advertising; you have a truly visible marketing campaign. In terms of the entity that puts it all together, how do you want the public to remember the producers--as Jhett Tolentino Productions or as Frontrow Entertainment?
JT: I'm personally happy to be--well, I always say "behind the scenes." I mean, this is all possible because of Frontrow. It so happened that all my projects were tied to...had my name in the front. I'm happy to do it on the sidelines. But the main thing is for Frontrow Entertainment to be known as a new company.
BWW: So can we make the assumption that this is just the first of many theater productions to come?
JT: Not just theater. Films, concerts...not just plays.
BWW: Your film, "Life is What You Make It," did extremely well internationally. How can local audiences access it?
JT: It already premiered in the Philippines, in CINEMALAYA.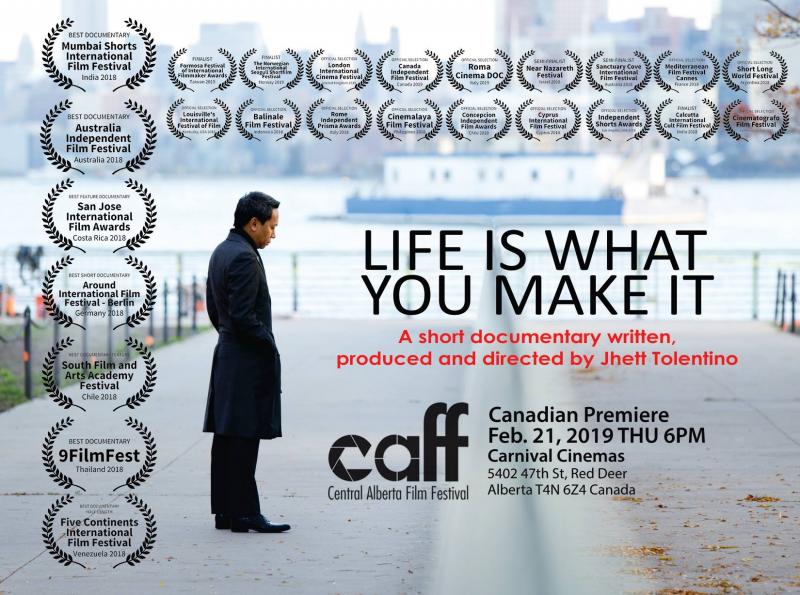 BWW: Yes, I saw it there and really enjoyed it. But it's such a good story that speaks to the heart of living in two different worlds. It deserves to be told to a much wider audience.
JT: I have a sales agent in the US. The plan is to pitch it to Netflix, because that's the goal. I want to be able to recover, you know, some of it (expense). Again, it all depends. The networks have already seen it, and they've been asking. But I have to prioritize the global release. That's just commercial producing. Lucky if I can be on Netflix, but if not, maybe I'll start selling rights per territory. So yeah, I'm done. My last entry for the film festival is September this year.
BWW: Tell us about "Lingua Franca."
JT: "Lingua Franca" is the first film in the world written and directed by a transwoman (Isabel Sandoval). And she just happens to be Filipino. It's actually a love story between a Russian immigrant and an undocumented Filipino caregiver...the struggle is that they fall in love, which should be easy, but the transwoman is conflicted whether to tell him that she used to be a man. His struggle is that--is he falling in love with her? Or is he also gay for loving someone who used to be a man?
BWW: So it's not a documentary like the first film.
JT: No, it's full length--an arthouse film.
BWW: And Frontrow is part of that?
JT: Yes, Frontrow is one of the producers.
[For updated information on the film, visit www.linguafranca.com. The following is the official synopsis of the film:
Olivia, an undocumented Filipino transwoman, works as a caregiver to Olga, an elderly Russian woman, in Brighton Beach, Brooklyn. When Olivia runs out of options to attain legal status in the US, she becomes romantically involved with Alex, Olga's adult grandson, in the pursuit of a marriage-based green card.]
BWW: Any immediate plans for a Broadway production?
JT: Not at the moment. I'm only going back for "Here Lies Love." Let it be known that I'm taking a hiatus from Broadway...Broadway producing has gotten so out of control. The way I look at budgets right now--I mean, my God! For example, "Frozen" has a $32 million budget. "Mean Girls" is $21 million. "Pretty Woman," I heard, is also in the 20s (million).
I've been attached to over 30 shows on Broadway. So when someone pitches to me--what kind, which theatre (because I know the seating charts), what's the budget, who do you have...those are the equations...For example, for a $10 million budget, in order for that company to recoup, they should have at least 52 weeks of 70 percent capacity. So it's tough. The way I see it, everything now is being licensed from, like, all these big movies. It's eating a lot in the budget because of the licensing of rights.
BWW: So what would you do about "Here Lies Love"?
JT: "Here Lies Love" is too personal for me because it's going to be the very first show on Broadway about the Philippines. We've never had a show on Broadway about the Philippines. Never. And just because I was a part of the Off-Broadway (production), I want to be able to continue and take it to the home run. I don't want to take credit for this, but being the only Filipino producer on Broadway, it seems like it's my duty--more like a responsibility--to take us to the home run.
BWW: That Off-Broadway production had such a unique staging design. How do you plan to replicate it in a proscenium setting?
JT. It's the same. As you know, we did an experimentation in London, at the National Theatre.
BWW: Was it a proscenium stage?
JT: No, London wasn't. The proscenium was in Seattle.
BWW: How did that one translate?
JT: When we did it in Seattle we'd locked in all the mechanics. So you only have to get rid of the entire orchestra seats.
BWW: Wow, there's a real challenge.
JT: But on Broadway--Shubert, who owns 21 theatres on Broadway, would never allow any of their theatres to be dismantled. It's tough. There's one particular theatre we're lined up for; I can't tell you which one yet. There's just two or three shows ahead of us. So I'm projecting that, hopefully, we'll be there by 2020.
BWW: Fall of 2020?
JT: That would be ideal, actually, because that would mean we'll be there for the Tony's 2021. The fall would be the 500th anniversary of the discovery of the Philippines.
BWW: Wow, talk about timely.
JT: Let's see. So I think that's the only show that would take me back to Broadway. I know it in my heart. I know it in my sleep.
BWW: How big is the cast?
JT: 21-22. The key is to keep the budget down.
BWW: This is good. Do you have anything you'd like to add?
JT: Yes. To all theater lovers in the Philippines, I hope that you watch out for our tour. We're kicking it off in my hometown (Iloilo)--on Valentine's Day, in the City of Love. Stars are aligned!
The Philippine tour of "M. Butterfly" plays in Iloilo (Feb. 14-17), Dumaguete (Feb. 28-Mar. 3), Cebu (Mar 14-17), Davao (Mar 28-31), Manila (May 8-19), and Baguio (May 30-Jun 2). Buy tickets from SMTickets.com.
Photos: Jhett Tolentino, Frontrow Entertainment, Here Lies Love