Walnut Street Theatre Continues 209th Season with ANNIE Next Month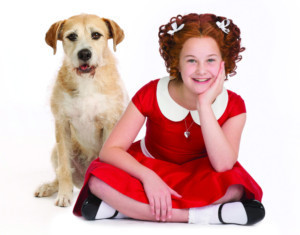 Walnut Street Theatre continues its landmark 209th season with Broadway's classic musical, perfect for the entire family, ANNIE. Directed by Glenn Casale, with choreography by Michelle Gaudette, ANNIE begins previews on November 7th, opens on November 15th and runs through January 7th on the Walnut's Mainstage.
Celebrate the holiday season with one of the world's best-loved musicals. ANNIE is a spunky orphan in 1930s New York City determined to find her parents. In one fun-filled adventure after another, ANNIE foils Miss Hannigan's evil schemes, befriends President Roosevelt and finds a new home with billionaire Oliver Warbucks, his personal secretary Grace and a lovable mutt named Sandy. This Tony Award-winning Best Musical for the entire family features some of the greatest musical theatre hits ever written including "It's the Hard Knock Life," "Easy Street," "I Don't Need Anything But You," plus the eternal anthem of optimism, "Tomorrow."
Based on the Harold Gray comic strip Little Orphan Annie, musical ANNIE with book by Thomas Meehan, music by Charles Strouse and lyrics by Martin Charnin had its Broadway debut in 1977. The show was a great success, receiving seven Tony Awards, including Best Musical, Best Book of a Musical and Best Original Score; the New York Drama Critics Award for Best Musical; and seven Drama Desk Awards, including Best Musical. The show also received a Grammy Award for Best Cast Show Album. There have since been two Broadway revivals, four National Tours and numerous International productions. In 1982 Columbia Pictures release a film adaptation with a cast including Carol Burnett, Albert Finney, Ann Reinking, Tim Curry and Bernadette Peters. Walt Disney produced a movie version in 1999 with Kathy Bates, Victor Garber, Audra McDonald, Alan Cumming and Kristin Chenoweth. A third film was released in 2014 by Columbia Pictures with a cast including Jamie Foxx, Rose Byrne and Cameron Diaz. The show remains wildly popular and continues to be produced by regional theatres across the country.
Glenn Casale returns to direct ANNIE, after directing last year's production of Wizard of Oz. His work includes the 1999 Broadway revival of Peter Pan, which received a Tony nomination for Best Revival of a Musical, as well as the National Tour of Peter Pan and the A&E television production. He also directed Dragapella! at Studio 54, which was nominated for a Drama Desk and two Lucille Lortel Awards, and the National Tour of Dr. Dolittle. Casale is the Artistic Director of California Musical Theatre, a position he's held since 2008. Michelle Gaudette joins Casale as choreographer. Gaudette has choreographed numerous productions for the Walnut, including South Pacific, Music Man, In the Heights and Fiddler on the Roof. John Daniels returns as Music and Vocal Director. Daniels' Walnut credits include A Funny Thing Happened on the Way to the Forum, The Buddy Holly Story and South Pacific.
The title role of Annie will be shared by Tahlia Ellie of Short Hills, NJ and Jenna Seasholtz of Coopersburg, PA. Ellie was recently seen as an orphan in Annie at the Westchester Broadway Theatre. This production marks her Walnut debut. Seasholtz returns to the Walnut after her performance as a munchkin in last season's production of Wizard of Oz. Joining Ellie and Seasholtz on their adventure to find a family are Ellie Biron of Philadelphia, PA and Ivy Cordle of Princeton, NJ sharing the role of Molly; Tyrah Skye Odoms of Maple Shade, NJ and Portia Murphy of Newtown, PA sharing the role of Pepper; Samantha Marley of Gladwyne, PA (Wizard of Oz) and Anna Shea Safran (Wizard of Oz) of Doylestown, PA sharing the role of Duffy; Olivia Reitz of Pottstown, PA (Wizard of Oz) and Courtney Chu (South Pacific) of Mount Laurel, NJ sharing the role of July; Sadie Lock of Wenonah, NJ (Wizard of Oz) and Alanna Stein (A Christmas Story) of Voorhees, NJ sharing the role of Tessie ; and Annabelle Corigliano (Wizard of Oz) of Washington Township, NJ and Camiel Warren-Taylor (Wizard of Oz) of Sharon Hill, PA sharing the role of Kate.
Mary Martello will play the infamous matron of the orphanage, Miss Hannigan. Walnut audiences will remember Martello from her performances in shows including Forum, 9 to 5 and Arsenic and Old Lace. Paul Schoeffler returns to the Walnut, having recently performed in Broadway's revival of Sunset Boulevard. Schoeffler will join the cast as the confident millionaire Oliver Warbucks. His Walnut credits include South Pacific, 9 to 5 and Dirty Rotten Scoundrels. His sophisticated secretary, Grace Farrell, will be played by Rebecca Robbins. Robbins moves to the Walnut's Mainstage after performing as the title character in Souvenir, A Fantasia on the life of Florence Foster Jenkins earlier this season in Walnut's Independence Studio on 3.
Christopher Sutton and his wife Lyn Philistine will play Rooster Hannigan and Lily. With their dynamic and engaging personalities, this duo has previously performed opposite of each other in the Walnut's productions of A Christmas Story, The Buddy Holly Story and I Love You, You're Perfect, Now Change. Fran Prisco (Forum) will play radio announcer Bert Healy and Scott Langdon (A Christmas Story) will play the Bundles McCloskey, the orphanage laundryman. Dan Schiff (High Society) returns to the Walnut as F.D.R., Melissa Joy Hart (Sister Act) as Mrs. Pugh and Kathryn Miller (Saturday Night Fever) as a Star-to Be.
The ensemble includes Don Daniels (A Christmas Story), Ben Dibble (Forum), Melissa Joy Hart (Sister Act), Scott Langdon (Wizard of Oz), Barbara McCulloh (Jerry's Girls), Cary Michele Miller (Elf), Kathryn Miller (Saturday Night Fever), Fran Prisco (Forum), Tara Tagliaferro (Sister Act) and Bill Van Horn (Forum). Luke Bradt, Elisa Matthews and Dallas Padoven will make their Walnut debut in this production. Ensemble members Rochelle Smith (Wizard of Oz) and Billy D. Hart (Forum) will also take on roles behind-the-scenes as Dog Handler and Dance Captain, respectively.
The children's ensemble includes Sophia Henkel (Mary Poppins) and Ethan Jih-Cook (South Pacific) of Philadelphia, PA; Scott Keller Angelides (Honk Jr.) of Paoli, PA; Naomi Rose Serrano (Wizard of Oz) of Marlton, NJ; Quinn Wood (Wizard of Oz) of Cherry Hill, NJ; Miranda Zeno (Wizard of Oz) of Mickleton, NJ; and Shannon O'Sullivan (Wizard of Oz) of Wilmington, DE. Lauren McAlee of West Chester, PA; Wallis Schriver of Meadowbrook, PA; Melania Zalipsky of Huntingdon Valley, PA; Myra'Cal H. West of Burlington, NJ; and Mia James Bompensa of Haddonfield, NJ will all make their Walnut debut in the children's ensemble. The youngest members of the cast are all local to the Philadelphia area and students of The Theatre School at Walnut Street Theatre.
Creating a Depression Era New York, from the orphanage for little girls to the mansion of millionaire Oliver Warbucks, Robert Andrew Kovach (Forum, South Pacific) is the Set Designer for ANNIE. Kovach is joined by Costume Designer Mary Folino (Forum, Peter and the Starcatcher), Lighting Designer Paul Black (Forum, South Pacific) and Sound Designer Ed Chapman (Wizard of Oz, Mary Poppins). William Berloni is the Animal Trainer for the production, with Sunny playing the role of Sandy. Berloni adopted Sunny in the Spring of 2012 from the Houston, TX Animal Control the day before she was to be put to sleep. Since then, Sunny was the subject of the NBC special Annie's Search for Sandy, she's performed the role on Broadway and the National Tour.
ANNIE runs at the Walnut November 7 through January 7. Open captioning will be available for the Sunday, December 3, 7pm performance. The Tuesday, December 19 performance will be ASL interpreted and Audio Described. This production is sponsored by Stradley Ronon. Media Partners are NBC 10, 101.1 MORE FM and Metro Philadelphia. For tickets and information, call 215-574-3550 or 800-982-2787. Tickets are also available online 24/7 by visiting www.WalnutStreetTheatre.org or Ticketmaster.