Photos: Lantern Theater Company's NEW JERUSALEM
Due to high demand, Lantern Theater Company announces a one-week extension for the Philadelphia premiere of New Jerusalem, The Interrogation of Baruch de Spinoza at Talmud Torah Congregation: Amsterdam, July 27, 1656 by award-winning playwright David Ives. New Jerusalem has earned the largest pre-sale in the Lantern's 18-year history. With 8 performances already sold out and 75% of all seats sold prior to opening night, the play will now run through November 6. The following performances have been added:
Wednesday, November 2 at 12:00 p.m. & 7:00 p.m.
Thursday, November 3 at 7:00 p.m.
Friday, November 4 at 8:00 p.m.
Saturday, November 5 at 8:00 p.m.
Sunday, November 6 at 2:00 p.m.
As the Inquisition bears down on them, a small Jewish community flees Portugal to find a tenuous peace in seemingly liberal Amsterdam. But Spinoza, a favorite son of the community and the rabbi's heir apparent, is a revolutionary thinker. When the boldness of his ideas strains the bounds of Amsterdam's professed tolerance, it leads to a dangerous confrontation between powerful political forces and his own beloved community. Well-liked, and considered to be a brilliant religious student, Spinoza is accused of atheism for his radical new ideas and risks excommunication from the Jewish faith, including complete social isolation.
Directed by the Lantern's Artistic Director Charles McMahon, New Jerusalem runs October 6 - November 6, 2011. Tickets are $20 - $36 and are available online at lanterntheater.org or by calling the Lantern Box Office at (215) 829-0395. $10 student rush tickets are available 10 minutes before curtain with valid ID; cash only. Additional discounts are available for seniors and groups of 10 or more. Lantern Theater Company is located at St. Stephen's Theater, 10th & Ludlow Streets in Center City Philadelphia.
New Jerusalem, The Interrogation of Baruch de Spinoza at Talmud Torah Congregation: Amsterdam, July 27, 1656
Philadelphia Premiere
By
David Ives
Directed by Charles McMahon
Now through November 6, 2011
Photo Credit: Mark Garvin


Sam Henderson (Baruch de Spinoza), David Bardeen (Rabbi Mortera), Seth Reichgott (Valkenburgh)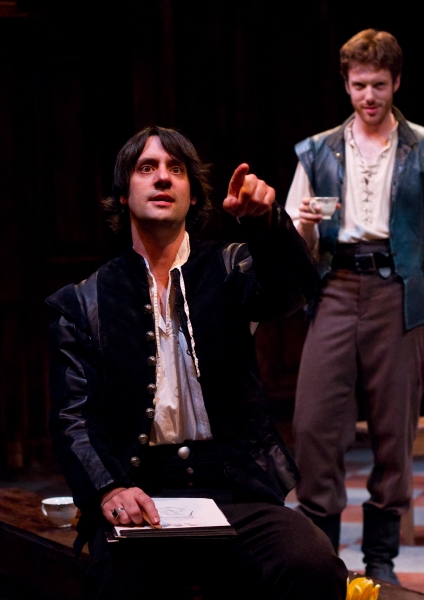 Sam Henderson (Baruch de Spinoza), Jake Blouch (Simon de Vries)

Sam Henderson (Baruch de Spinoza), Mary Tuomanen (Clara van den Eden)