NYC Nightlife Stars Flock To Bucks County Playhouse To Entertain Eager Audiences
Mason, Maroulis, Mayes and more follow Natalie Douglas' lead all the way to Pennsylvania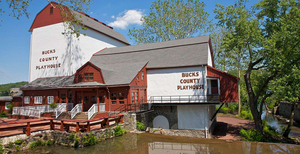 Two days ago, cabaret and concert superstar Natalie Douglas opened the SPOTLIGHT CONCERT SERIES at Bucks County Playhouse in New Hope, Pennsylvania.
The award winner played the highly respected regional theater for two nights with her Roberta Flack tribute show, introducing audiences to what will, surely, be a most glamorous and entertaining summer of entertainment that will feature some of the brightest lights from the stages of Broadway and Manhattan nightlife. Of the experience, Ms. Douglas said, "As we slowly come out of these unusual pandemic times, I can think of no better way than to share Roberta Flack's music with the Bucks County Playhouse audience. Ms. Flack sings and plays with such artistry and integrity, but even more importantly, such joy!"
The series, new to the playhouse, was curated by Douglas' friend and colleague, charter member of Natalie's Birdland family, Jim Caruso, who lined up Karen Mason, Constantine Maroulis, Sally Mayes, Andrew Polec, Melissa Errico, Christy Altomare, and Billy Stritch. "I was over-the-moon when the kind and talented people at Bucks County Playhouse asked me to help curate a concert series," says Mr. Caruso. "To invite some of my favorite performers to cavort on one of the most historic stages in the country was a dream come true. Culture brings people together, and if this isn't a time for some good-spirited, socially distanced togetherness, I don't know what is! May the extraordinary music, energy, and joy help invigorate the Playhouse community as we all look forward to 'opening up' again!"
Below, please see details and statements from all of the stars of the series, as well as all applicable links to tickets
Equally at home on both Broadway and concert stages, Karen Mason is champing at the bit to sing on the Bucks County Playhouse stage May 20 and 21. "I have been waiting for this moment for a year and a half....to sing in a theatre! And what better place than one of the most beautiful and legendary theatres in America? I am so excited to be on the Bucks County Playhouse stage...and to be surrounded by all those spirits of productions past. I sure hope they like the show!" For information and tickets, please click HERE
"I know people have come to know me as the rocker from "American Idol" and certainly Rock of Ages but my love for the classical musical theater goes back to my earliest of memories," Tony-nominated Constantine Maroulis told us. "The Bucks County Playhouse is an iconic venue. Our community has been through so much during the shutdown of the last year and a half, and I'm so excited and humbled to get back on stage and perform," said Constantine Maroulis. "I can't wait to share my passion for the theater at this iconic theatre May 22 and 23 in a new songbook show, "Don't Stop Believing," which celebrates our resilience as a community and all the great shows that made me who I am today. I'll also include my brand of pop covers and original music as well! Joshua Stephen Cardis is perhaps the finest accompanist working today and he alone is worth the price of admission! See you in New Hope, one of my favorite towns!" For information and tickets, please click HERE
Sally Mayes, another Tony nominee (She Loves Me), is equally excited to return to the stage. "I love telling stories and singing a lot of different kinds of music," she said. "That makes this kind of evening a delight for me. Plus, I adore New Hope and am thrilled to be coming back to celebrate a rebirth of the arts on May 27 and 28." For information and tickets, please click HERE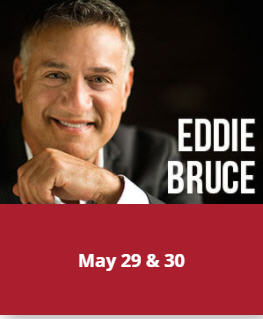 Cabaret artist and bandleader Eddie Bruce has entertained four generations of music lovers at theaters, nightclubs, hotel/casinos, and at just about every major gala in the region and beyond. His celebrations of Anthony Newley, Frank Sinatra, Tony Bennett, and the best of Broadway have been presented on the stages of the Kimmel Center with the Philly Pops, Prince Musical Theater, Suzanne Roberts Theater, Birdland Theater, World Cafe' Live, Milton Theater, and Ambler Act II Theatre, among many others. This acclaimed salute to the iconic Tony Bennett marks Eddie Bruce's return to live performing after a one-year hiatus.
Tony-nominee Melissa Errico will appear in concert on June 3 and 4. Nominated for Best Actress for the musical "Amour," Errico starred in My Fair Lady, High Society, Dracula, Les Miserables, and others. She's also starred in several productions with Irish Repertory Theatre and has six Drama Desk nominations. As a singer, Melissa has made five solo studio CDs and has performed with most of the major symphonies in America and the UK. Her latest album "Sondheim Sublime" was recently released to critical acclaim, with The Wall Street Journal calling it "The best all-Sondheim album ever recorded." In the past two years, she has performed numerous sold-out Sondheim concerts in New York City, Chicago at The Ravinia Festival, DC, and London. Her connection to Sondheim's work began when she played Dot in Sunday in the Park with George at The Kennedy Center, she then went on to star in Passion at Classic Stage Company and Do I Hear a Waltz? at New York City Center. For information and tickets, please click HERE
Andrew Polec, who earned raves and won the Joe Allen Best West End Debut Award for his performance as Strat in Bat Out Of Hell: The Musical, says "Throughout the pandemic, the Bucks County Playhouse has been there as a strong support beam for the community and myself by thinking outside the box and allowing the human-to-human aspect of art to stay alive in a safe way. Being a native of this area, I'm proud to call this theatre home and the true embodiment of the tenacity of the arts. Art will always be there for you! We refuse to go away and will continue to infuse our love into your daily lives! I couldn't be more grateful for this theatre, its wonderful team, and its leadership." Andrew will storm the Bucks County Playhouse stage on June 5 and 6. For information and tickets, please click HERE
Christy Altomare originated the role of Anya in the Broadway production of Anastasia, which opened at the Broadhurst Theater in 2017. Christy, a native of Yardley, PA, is especially excited to perform in her backyard on June 10 and 11!
"Since I was a little girl, I have always wanted to perform at the Bucks County Playhouse," she told us. "I grew up in Yardley and developed a deep passion for musical theatre at a young age. Many teachers and family members here inspired me to keep my dreams alive. In high school the Bucks Country Playhouse hosted competition plays for all the surrounding high schools. I will never forget the thrill of performing my one-act from The Children's Hour. That day I earned the award for best-supporting actress and was a day I will never forget. I went on to make performing my profession. At some point, every professional artist dreams of the day that they will get to perform their musical theatre solo concert...telling stories and putting together musical theatre songs to create a show. In college, there are entire units dedicated to this. I couldn't be more excited to have my first live solo concert at the Bucks County Playhouse...the place that helped cultivate this young girl's heart to dream. Since my high school years, I have been lucky enough to tour the country with a first national tour, perform two leading roles on Broadway, and be a part of two original cast recordings. I am also a singer/songwriter and released my fourth album of original music this April. My solo concert will be a mix of musical theatre classics I love and some of my own original work. I will be accompanied by the great Benjamin Rauhala. Having my first live musical theatre solo concert in my hometown feels like a serendipitous dream. If you would like, please come and join me to enjoy the beauty of the summer in Bucks County and listen to some beautiful music!"
For information and tickets, please click HERE
Grammy-winning composer, vocalist, and jazz pianist Billy Stritch brings an enormous body of work to our stage. He's been musical director and pianist for Liza Minnelli and Tony Bennett, among many others, but his concerts and successful runs in the world's most prestigious music rooms have helped shape the award-winning performer that he is. "I'm delighted to turn the stage of the Bucks County Playhouse into 'Billy's Place' for two shows only on June 12 and 13," he said. "Please join me for a lively concert of great standards, jazzy tunes, some Broadway numbers, great stories, and much more. I can't wait to perform at this iconic and beloved theatre, and I can't wait to see you there!" For information and tickets, please click HERE
Bucks County Playhouse has developed rigorous safety protocols to protect those working backstage and front-of-house, including virus testing, mask requirements for all those inside the Playhouse, frequent cleaning, Merv 15-rated HVAC filters, and restricted access backstage. A list of protocols can be found on the Playhouse website BucksCountyPlayhouse.org or by calling 215-862-2121.