Monty Python's SPAMALOT Is Coming To The State Theatre For Two Shows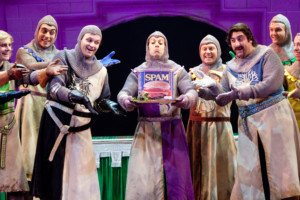 The Tony Award-winning Best Musical Monty Python's Spamalot, will arrive in Easton to play the State Theatre on Wednesday, November 28 and Thursday, November 29th.
Show times are 7:00 PM for each night. Tickets are $65/$59 and can be purchased by visiting the State Theatre Box Office, 453 Northampton Street, Easton, by calling 1-800-999-STATE, 610.252.3132 or online at www.statetheatre.org. Sponsored by RCN, Adams Outdoor Advertising, Viamedia and 99.9 The Hawk.
This outrageous musical comedy is lovingly ripped off from the film classic "Monty Python and the Holy Grail." Monty Python's Spamalot tells the legendary tale of King Arthur and The Knights of the Round Table, and their quest for the Holy Grail, Monty Python's Spamalot features a chorus line of dancing divas, flying cows, killer rabbits, taunting Frenchmen, and show-stopping musical numbers!
Directed and Choreographed by Sam Viverito, Monty Python's Spamalot features a book by Eric Idle, based on the screenplay of Monty Python and the Holy Grail by Monty Python creators Graham Chapman, John Cleese, Terry Gilliam, Eric Idle, Terry Jones and Michael Palin, with music and lyrics by the Grammy Award-winning team of Mr. Idle and John Du Prez.
Monty Python isn't a person, but a group of British actors and writers (and one American) that performed their famous comedy show Monty Python's Flying Circus on the BBC from 1969 to 1974, with subsequent international fame and success.
Monty Python's Spamalot is produced by Phoenix Entertainment.