Matt Pfieffer Reimagines GODSPELL with Gender-Blind Cast at Villanova Theatre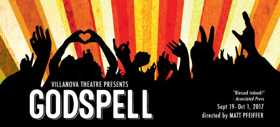 Villanova Theatre will kick off the 2017-2018 season with the iconic musical Godspell, directed by Philadelphia favorite Matt Pfeiffer, who took home the Barrymore Award for Best Direction of a Play two years in a row.
Audiences will be "blessed indeed!" (Associated Press) by this beloved show by John-Michael Tebelak and Stephen Schwartz, which brings to life the Gospel According to Matthew through parables, song, and dance. Villanova's production showcases a diverse cast of versatile performers - including two talented women in the roles of Jesus and John the Baptist/Judas. Performances run September 19 - October 1, 2017.
Pfeiffer's concept for this inventive and energetic Godspell arises from the idea of a group of performers coming together in an empty theatre to retell and rediscover this timeless story as vividly and immediately as possible. First-year graduate acting scholar Mina Kawahara takes on the role of Jesus with second-year acting scholar Megan Slater as her counterpart in the role of John/Judas. This unusual, gender-blind casting choice highlights the universality of Jesus's message of kindness, tolerance and love, and invites audiences to see and hear a familiar story with fresh eyes and ears.
Academy, Tony, and Grammy Award-winning composer Stephen Schwartz captured the hearts of musical lovers in 1971 with Godspell's sensational pop-rock score. From heartfelt ballads to quick-witted, tongue-twisting lyrics, Schwartz's lively and resonant score stirs the spirit and comforts the soul. Rejoice in simplicity, celebrate community, and prepare ye for a show that "never stops bopping, bouncing, bounding" (The New York Times).
Beyond its ability to entertain, Godspell allows collaborators and audiences alike to explore questions at the heart of Christianity and humanity through its playful, poetic parables. Director Matt Pfeiffer adds, "The piece has the capacity to transcend religious denomination, to engage in the ways in which stories have the power to uplift and inspire all walks of life.There is a corruption of the spirit right now, a corruption of human core beliefs that leads to conflict and ruin. If we can get at what makes this story human and universal, then I think we're getting somewhere."
Pfeiffer's Godspell lifts the musical out of its specific origins in the early 1970s to focus on the timeless value of community building. The production retains the revolutionary, transitional feeling of its original time period, as the cast builds a world that will speak to today's audiences. In his work with classical texts, Pfeiffer's goal has been "not to do a period piece or a museum piece, but rather to evoke the way in which the actors and the playwright approached the play. I've always felt Shakespeare's poetry allows for this approach, and I am interested in similar aesthetics on this project. Whenever I'm asked, 'What are you going to do with this play?' I always respond by saying, 'I want to find out what it's going to do to me.'"
Pfeiffer and music director Peter Hilliard foster a uniquely fluid arrangement of actors and orchestra, with actors playing instruments on certain songs, and musicians incorporated into the onstage action. The production conveys the feeling of a found space, as if these actors are performing for the very first time, making every night a unique and personal experience. "What attracts me to the play is the way it allows us to boil down to theater essentials," Pfeiffer says. "Theater was born out of religious ceremony, and Godspell has always felt like an irreverent and inventive approach to that kind of spiritual theater."
Godspell's inspired design team includes scenic designer Michael Lambui, whose austere, stripped-down set fulfills Pfeiffer's vision for a spare, ceremonial space. Jerry Forsyth's lighting includes the use of actor-operated lighting instruments placed around the stage, providing a "playground" for the eclectic and colorful costumes designed by Jennifer Povish. Choreographer Nikki Cousineau's work will highlight the storytelling power of movement and dance. Sound Designer John Stovicek completes the team, balancing actors, musicians, and actor-musicians to deliver Schwartz's powerful score.
The cast includes acting scholars Mina Kawahara (Jesus), Megan Slater (John the Baptist/ Judas), Kara Krichman (Joanne), and Walter Tucker (Lamar); second-year graduate assistants Leo Bond (Jeffrey) and Sisi Wright (Peggy); theatre graduate students Marissa Kennedy (Robin), Heather Lemos (Gilmer), Galen Blanzaco (Sonia), and Mark Wheeler (Ensemble); English graduate student Stephen Reaugh (Herb); and Temple University undergraduate Katie Horner (Joanne u.s., Ensemble).
Godspell runs at Villanova Theatre in Vasey Hall from September 19th- October 1st, 2017.Speaker's Night, immediately following the performance on Thursday, September 28th, will feature commentary from Villanova University Professor of Theology and Religious Studies Dr. Paul Danove (see full biographical information below). Vasey Hall is located on Villanova's main campus at the intersection of Lancaster & Ithan Avenues. Performances will be held Tuesdays - Saturdays at 8 pm and Sundays at 2 pm. Tickets run $21-$25, with discounts available for seniors, students, MA in Theatre alumni, and groups. Tickets may be purchased at the Villanova Theatre Box Office (M-S, 12-5 pm) in person, by phone: (610) 519-7474, or online at www.villanovatheatre.org.
ABOUT THE DIRECTOR
Matt Pfeiffer is a Philadelphia-born actor and director who is thrilled to be working with Villanova Theatre for the first time. Recentcredits include; A Midsummer Nights Dream (Arden Theatre Company), Hand to God(Philadelphia Theatre Company), Buzzer (Theatre Exile) and Constellations (Gulfshore Playhouse). Other Credits: InterAct Theatre Company, Walnut Street Theatre, 1812 Productions, Lantern Theatre Company, Delaware Theatre Company, Orlando Shakespeare Theatre, University of the Arts, University of Pennsylvania's Mask and Wig, and 19 seasons with the Pennsylvania Shakespeare Festival. Matt is a twelve-time Barrymore nominee and two-time winner, for his direction of The Whale and The Invisible Hand both with Theatre Exile. He's also a recipient of the F. Otto Haas Award for an Emerging Theatre Artist. Matt is a proud graduate of DeSales University.
ABOUT THE COMPOSER
Stephen Schwartz was born in New York City on March 6, 1948. He studied piano and composition at the Juilliard School of Music while in high school and graduated from Carnegie Mellon University in 1968 with a B.F.A. in Drama. Upon coming back to live in New York City, he went to work as a producer for RCA Records, but shortly thereafter began to work in the Broadway theatre. His first major credit was the title song for the play BUTTERFLIES ARE FREE; the song was eventually used in the movie version as well. In 1971, he wrote the music and new lyrics for GODSPELL, for which he won several awards including two Grammys. This was followed by the English texts, in collaboration with Leonard Bernstein, for Bernstein's MASS, which opened the Kennedy Center for the Performing Arts in Washington, D.C. The following year, he wrote the music and lyrics for PIPPIN and two years later, THE MAGIC SHOW. At one point, GODSPELL, PIPPIN, and THE MAGIC SHOW were all running on Broadway simultaneously. He next wrote the music and lyrics for THE BAKER'S WIFE, followed by a musical version of Studs Terkel's WORKING, to which he contributed four songs, and which he also adapted and directed, winning the Drama Desk Award as best director. He also co-directed the television production, which was presented as part of the PBS "American Playhouse" series. Next came songs for a one-act musical for children, CAPTAIN LOUIE, and a children's book, THE PERFECT PEACH. He then wrote music for three of the songs in the Off-Broadway revue, PERSONALS, lyrics to Charles Strouse's music for RAGS, and music and lyrics for CHILDREN OF EDEN. He then began working in film, collaborating with composer Alan Menken on the scores for the Disney animated features POCAHONTAS, for which he received two Academy Awards and another Grammy, and THE HUNCHBACK OF NOTRE DAME. He also provided songs for DreamWorks' first animated feature, THE PRINCE OF EGYPT, for which he won another Academy Award for the song "When You Believe". He most recently collaborated with Alan Menken on the songs for Disney's ENCHANTED. Mr. Schwartz provided music and lyrics for the original television musical, GEPPETTO, seen on The Wonderful World of Disney and recently adapted for the stage as GEPPETTO & SON. He has released two CDs on which he sings new songs, entitled RELUCTANT PILGRIM and UNCHARTED TERRITORY. Mr. Schwartz's most recent musical, WICKED, opened in the fall of 2003 and is currently running on Broadway and in several other productions around the United States and the world. In 2008, WICKED reached its 1900th performance on Broadway, making Mr. Schwartz the only songwriter in Broadway history ever to have three shows run more than 1900 performances. A book about his career, Defying Gravity, has recently been released by Applause Books. Under the auspices of the ASCAP Foundation, he runs musical theatre workshops in New York and Los Angeles, and serves on the ASCAP board; he is also currently the President of the Dramatists' Guild.
ABOUT THE WRITER
John-Michael Tebelak wrote Godspell as his Masters Thesis project at Carnegie-Mellon in 1971. Subsequently, he directed productions of Godspell at La MaMa Theatre, the Cherry Lane Theatre, the Promenade Theatre, and on Broadway. He received the 1971 Drama Desk award for Most Promising Director. In 1972, Mr. Tebelak directed the play, Elizabeth I on Broadway, and off-Broadway staged The Glorious One in 1975 and Ka-Boom in 1980. He is also co-writer of the 1973 film of Godspell with David Greene. He was dramaturg for the Cathedral Church of St. John the Divine in New York and staged liturgical drama there, and the church's theatre bears his name. John-Michael Tebelak died April 2, 1985 of a heart attack in New York City.
ABOUT SPEAKER'S NIGHT
Dr. Paul Danove joined the Villanova faculty on August 1994 and is professor of New Testament Studies in the Department of Theology and Religious Studies. He teaches graduate courses on the Gospel of Mark, Synoptic Gospels, and Johannine Literature and undergraduate courses on the New Testament Gospels, Letters of John and the Book of Revelation. Paul has published five books and three dozen articles on topics ranging from the study of characterizations in the Gospel of Mark to the grammar of the Greek text of the Bible. He is the recipient of Villanova University's Outstanding Faculty Reach Award for 2017.
ABOUT VILLANOVA THEATRE
Villanova Theatre is a community of artist-scholars committed to transforming hearts and minds through the visionary production of classical, modern, and contemporary dramatic literature. Our work is fueled by the imaginative striving common to Villanova's accomplished faculty, versatile staff, and energetic graduate students. Together, we are devoted to creating a vibrant theatre enriched by and overflowing with the ideas explored in our classrooms. In all of our endeavors, we aim to share the dynamic experience of collaborative learning with our audiences in order to engage the intellect and stir the soul. As a facet of Villanova University, Villanova Theatre serves the campus community as well as thousands of theatre-goers from the Main Line and the Greater Philadelphia area.
ABOUT VILLANOVA UNIVERSITY
Since 1842, Villanova University's Augustinian Catholic intellectual tradition has been the cornerstone of an academic community in which students learn to think critically, act compassionately and succeed while serving others. There are more than 10,000 undergraduate, graduate and law students in the University's six colleges - the College of Liberal Arts and Sciences, the Villanova School of Business, the College of Engineering, the College of Nursing, the College of Professional Studies and the Charles Widger School of Law. As students grow intellectually, Villanova prepares them to become ethical leaders who create positive change everywhere life takes them.