KATE: THE UNEXAMINED LIFE Opens Next Week at Walnut Street Theatre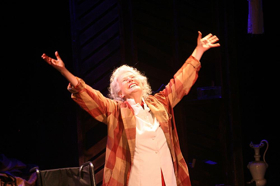 Walnut Street Theatre's 2018-19 Independence Studio on 3 season continues with an intimate portrait of Katharine Hepburn inKATE THE UNEXAMINED LIFE. Written by Rick Foster and directed by Peter Sander, the production begins previews on March 5, opens March 7, and continues through April 7.
From stunning ingénue who once graced the Walnut stage, to "box office poison," to silver screen royalty, no actress commanded the stage, screen, and the public's attention quite like Katharine Hepburn. Join Kate on New Year's Eve 1999 as she prepares for her next project, shares intimate details of her life and loves, and ponders-at age 92-what the future holds. A gracefully funny, witty, and poignant look at one of our nation's greatest stars.
Katharine Hepburn made her only appearance at the Walnut in a new play by Philip Barry called Without Love, which opened March 23, 1942. Hepburn had previously collaborated with Barry on The Philadelphia Story, a defining career moment for her. The stage production of The Philadelphia Story toured the United States before receiving a Broadway and Hollywood film production. The film provided Hepburn a much-needed comeback after she was deemed "box office poison" in the early 1930s.
Known for her fierce independence and feisty personality, Katharine Hepburn had a tight hold on Hollywood for more than 60 years, appearing in a range of films from The African Queen to The Philadelphia Story. Award-winning film director Frank Capra once remarked, "There are women and there are women - and then there is Kate. There are actresses and actresses - then there is Hepburn."
Playwright Rick Foster takes that quote to heart in his one-woman tribute to the actress deemed the "greatest female star of Classic Hollywood Cinema" by the America Film Institute. His show, written especially for actress Janis Stevens, premiered in Sacramento in 2014. The show, set in 1999, features a 92-year-old Katharine Hepburn ("Kate" to her friends) looking back on her life at the end of "her" century.
Foster is an award-winning playwright whose plays, translations and adaptations have been produced across the nation. He was a founding member of the Bay Area Theater Critics Circle, a frequent panelist for the California Arts Council, New Plays Director at the Asian American Theater Company, and dramaturg at the Lorraine Hansberry Theatre, Idaho Shakespeare Festival, and Sierra Repertory Theater. His 1997 one-woman play Vivien, earned rave reviews at its Sonora premiere and has gone on to productions across California, including San Francisco where the production won three Dean Goodman Choice Awards.
About his decision to write KATE THE UNEXAMINED LIFE with Janis Stevens in mind, Foster noted, "Janis is a great actor with the charisma needed to carry a one-person show. The wide range of emotions she has at her command allows her to create, and make believable, characters of great complexity. That's why I keep coming back to her."
Stevens was last seen at the Walnut's Independence Studio on 3 in her 2006 Drama Desk nominated portrayal of Vivien Leigh in Vivien, a show penned by Rick Foster about the life of Vivien Leigh, the actress who originated the roles of Blanche Dubois and Scarlett O'Hara. Stevens began her career at The Old Globe in San Diego and has since worked with Vienna's English Theatre, the International Theatre, Theater at Monmouth, Idaho Shakespeare Festival, and TheatreWorks. Stevens will return to American Stage Company in St. Petersburg this summer to play Mary Tyrone in A Long Day's Journey into Night. She is currently an Associate Artist with Sacramento's Capital Stage. She has been performing the role of Katharine Hepburn for over five years and has been lauded as "convincing and irresistible" and "the indomitable star" after her performance in the Sacramento premiere in 2014.
Peter Sandler returns to the Independence Studio on 3 to direct KATE THE UNEXAMINED LIFE. Sandler was last at the Walnut in 2007, when he directed Janis Stevens in Vivien. Outside of the Walnut, Sandler had worked as the resident dramaturg for Cleveland Play House and has received the 2017 Albert Nelson Marquis Lifetime Achievement Award and the P.E.N. - Goethe House translation prize.
The Walnut's Independence Studio on 3 will be transformed into an attic cluttered with worn antique furnishing and piles of memorabilia in every corner. This "attic of Kate's mind," as the stage directions read, will be designed by Scenic Designer Laura Revelt in her Studio 3 design debut. Revelt has designed for several WST for Kids' shows including Aladdin Jr., Junie B. Jones: The Musical and Garfield, the Musical with Cattitude. Costume Designer Gail Russell will join the production team, after creating the costumes for the original production of KATE THE UNEXAMINED LIFE in 2014. Revelt and Russell will be joined by Shon Causer (Comedy of Tenors, The Humans, Elf) and Damien Figueras (It's A Wonderful Life, Oleanna) complete the team as lighting and sound designers, respectively.
The 2018-19 sponsor for the Independence Studio on 3 season is the Independence Foundation. KATE THE UNEXAMINED LIFE will be sponsored by Ramona Gwynn. Media season sponsors are Philly Weekly and WRTI Radio. Tickets are $35 and are now available at 215-574-3550 or 800-982-2787. Tickets are also available at walnutstreettheatre.org or Ticketmaster.com.
More Hot Stories For You