A Reconstructed ROMEO AND JULIET Comes to People's Light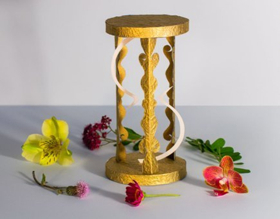 People's Light proudly presents an inventive, intimate version of one of Shakespeare's most timeless plays. In Romeo & Juliet: A Requiem, the parents, Friar, and Nurse recreate the passion and recklessness of their star-crossed children to face their culpability and seek redemption. Conceived for six veteran actors by Resident Director Samantha Reading (I and You, Richard III) and Producing Director Zak Berkman (The Harassment of Iris Malloy), this classic tale of balconies and battlegrounds becomes an inspiring act of truth and reconciliation. Romeo & Juliet: A Requiem plays on the Leonard C. Haas Stage in Malvern from April 25 to May 27, 2018.
Co-conceivers Berkman and Reading craft a unique entry into a well-known tale by picking up the story a year after the death of the titular lovers. As the violent feud has continued to rage, an official edict commands the parent generation to recount the tragic events of their children, and older characters are compelled to portray the younger. Director Reading says, "By playing their own children, the parents get a chance to truly understand what the young people felt, and how they made their most shocking decisions. The older characters receive a gift that any parent would cherish-the opportunity to bridge the generation gap and see the world through their children's eyes.
"I hope audiences will share in the joy the parents feel as they embody their smart, vibrant kids falling in love for the first time," she says. "And I hope audiences will connect with the parents' struggle as well, as they assess their part in the horrific events that ended their children's lives.
"The parents have so many questions at the close of Shakespeare's play," says Reading. "They need to process it all, re-examine what they've done, take responsibility for their actions, and figure out how to change the system so their tragedy will never happen to anyone else.
"In our production, their reckoning becomes an inspiring public event in which the entire audience takes part."
The production features a mix of veteran company members and favorite guests. Resident artist Stephen Novelli (Morning's at Seven, The Matchmaker) and returnee Jeanne Sakata (A Single Shard) play Juliet's parents Lord and Lady Capulet. Frequent visitor Brian Anthony Wilson (The Diary of Anne Frank, All My Sons) and company staple Teri Lamm (Morning's at Seven, The Matchmaker) play Romeo's parents Lord and Lady Montague. Long-time ensemble members Marcia Saunders (Moon Over Buffalo, The Matchmaker) and Graham Smith (The Matchmaker, A Single Shard) play the Nurse and the Friar respectively.
People's Light's Resident Director Samantha Reading helms the production, which she conceived with Producing Director Zak Berkman. Director of Design James F. Pyne, Jr. (Aladdin: A Musical Panto, The Road: My Life with John Denver) designs the set, and resident artist Marla J. Jurglanis (Moon Over Buffalo, Morning's at Seven) creates costumes. First-time guest Deborah Constantine designs lights, and returnee Christopher Colucci (I Will Not Go Gently, Morning's at Seven) designs sound. Resident artist Gina Pisasale acts as dramaturg, and long-time company member Kate McSorley Fossner stage manages.
The National Endowment for the Arts in partnership with Arts Midwest presents Shakespeare in American Communities. People's Light is one of 40 professional theater companies selected to participate in bringing the finest productions of Shakespeare to middle- and high-school students in communities across the United States.
TICKET INFORMATION
Romeo & Juliet: A Requiem previews begin on Wednesday, April 25 at 7:30pm and run through Friday, April 27. The play opens on Saturday, April 28 at 8pm and runs through Sunday, May 27.
Standard single tickets start at $39. For tickets, call the Box Office at 610.644.3500. Special discounts are available for groups of 10 or more. For more information or to purchase group tickets, call 610.647.1900 x111 or email benedict@peopleslight.org.
$29 Community Night tickets are available for the Wednesday, Thursday, and Friday preview performances on April 25, 26, and 27 at 7:30pm.
Pick Subscriptions and People's Passes are flexible and affordable ways to see multiple plays. Choose 3 productions and enjoy savings along with many of our full subscriber benefits. Or, purchase a set of 6 People's Passes, redeemable for any production of the season, in any combination. Remaining 2017-18 productions include Romeo and Juliet: A Requiem (April 25 - May 27, 2018), Skeleton Crew (June 13 - July 8, 2018), and Woody Sez: The Life and Music of Woody Guthrie (August 1 - 26, 2018). Pick Subscriptions start at $102 and a set of People's Passes starts at $222. Visit www.peopleslight.org or call 610-644-3500 to order.
Actors, prices, productions, performance dates and times are subject to change. Additional service charges will apply. Contact the Box Office for more details.
BIOS
Samantha Reading Director, Adapter, & Co-Conceiver
Company Member since 2010. People's Light: Director: I and You, Richard III, Biloxi Blues, Pride & Prejudice, Stargirl, Beautiful Boy, A Wrinkle in Time, Kidnapped. Selected Choreographer/Fight Director credits: The Cherry Orchard, Noises Off, The Winter's Tale, Bach at Leipzig. Playwright: Co-Author Musical Pantos Sleeping Beauty, Arthur and the Tale of the Red Dragon, and Aladdin. Theatre Includes: Passage Theatre, McCarter Theatre, 1812 Productions, Arden Theatre Company, Lantern Theatre, Delaware Theatre Company, Delaware Shakespeare Festival, Act II Playhouse, and Villanova Theatre. Co-founded Dancing with The Students, a non-profit organization that offers ballroom dance instruction to 5th - 8th grade students in North Philadelphia, is a nine-time Barrymore Nominee, and received the 2014 & 2015 Barrymore Award for Outstanding Choreography/Movement.
Zak Berkman Co-Conceiver
Zak is the Producing Director at People's Light. His plays include The Harassment of Iris Malloy, Beauty on the Vine, A Breath Short of Breathing, A Splendid Isolation, as well as numerous short works. Beauty on the Vine was produced Off-Broadway by Epic Theatre Ensemble featuring Olivia Wilde and David Strathairn. The play was subsequently produced in Chicago, published by Dramatist Play Service, and optioned by Dirty Rice Pictures to be turned into a film. The Harassment of Iris Malloy received its World Premiere at People's Light and was later produced at Detroit Public Theatre in Spring 2017. It previously was a finalist for the Smith Prize. Zak is a co-author and composer for Such Things As Vampires, which will premiere at People's Light in Fall 2018. He is a former writer for NBC's daytime drama Days Of Our Lives.
Teri Lamm Lady Montague
Company Member since 2015. People's Light: Myrtle Brown in Morning's at Seven, Mrs. Molloy in The Matchmaker, Cydney Malloy in The Harassment of Iris Malloy, Fanny Dashwood/Charlotte Palmer in Sense and Sensibility, Annalee in Auctioning the Ainsleys, Varya in The Cherry Orchard, Leah in Row After Row, Jessie Mae in The Trip to Bountiful, Caroline Bingley in Pride and Prejudice. Theatre Includes: The Iceman Cometh (Broadway), Cyrano de Bergerac (Roundabout), Palace of the End, Hannah and Martin, Habitat, Little Eyolf, Time and the Conways (Epic Theater Ensemble), Midsummer, Equus, Flea in Her Ear, Devil's Disciple (The Alley Theater), How I Learned to Drive (Dallas Theater Center). Film/Television Includes: Law and Order, Law and Order SVU, Third Watch, Trifling With Fate. Training: MFA, NYU.
Stephen Novelli Lord Capulet
Company Member since 1974. People's Light: Artistic Associate; Co-Artistic Director 1993-1997; Associate Artistic Director 1997-2009. Actor: Hamlet, Sister Carrie, A Christmas Carol, Julius Caesar, Six Characters in Search of an Author, Legacy of Light, King Lear, The Winter's Tale, How to Write a New Book for the Bible, Richard III, The Matchmaker, and Morning's at Seven. Director: Dutchman, Glengarry Glen Ross, Valley Song, Measure for Measure, Camping With Henry And Tom, Tuesdays with Morrie, The Mystery of Sherlock Holmes. Theatre Includes: The Beaux Stratagem (Barter Theatre), Philadelphia, Here I Come (Soho Rep), Rumors (Walnut Street Theatre), The Tempest (Arden Theatre), A Skull in Connemara (Lantern Theatre), Eurydice and Angels in America (Wilma Theater), Inherit The Wind (Bristol Riverside Theatre).
Jeanne Sakata Lady Capulet
People's Light: A Single Shard. Theatre Includes: Public Theater, Lincoln Center Theater, Kennedy Center, Mark Taper Forum, South Coast Rep, ACT San Francisco, La Jolla Playhouse, Intiman Theatre, Berkeley Rep, ACT Seattle, Geffen Playhouse, People's Light, Sundance Theatre Institute. Special Honors: Los Angeles Ovation Award, Best Lead Actress, Chay Yew's Red at East West Players. Film/Television Includes: Big Hero 6, Dr. Ken, Advantageous (2016 Film Independent Spirit Award Nomination), The Babymakers, Bravo's True Fiction, NCIS Angeles, NUMB3RS, Tyler Perry's Meet the Browns, Desperate Housewives, Presidio Med, ER, Threat Matrix, Line of Fire, American Family, John Riley's I Got You, Hiroshima, and Sex and Marriage (Justin Lin's YOMYOMF). Jeanne is also the playwright of the nationally acclaimed solo play Hold These Truths (2013 Drama Desk Nomination, Outstanding Solo Performance). Websites: holdthesetruths.info, jeannesakata.com.
Marcia Saunders Nurse
Company member since 1976. People's Light: Over 85 productions including Cora in Morning's at Seven, Stella in Stella and Lou, Mrs. Bennet in Pride & Prejudice, Dotty in Noises Off, Nurse Ratched in One Flew Over The Cuckoo's Nest, Amanda in The Glass Menagerie, Lady Macbeth in Macbeth, Skin of our Teeth, My Mother Said I Never Should, Abelard & Heloise, Memory of Water. Theatre Includes: Recently My Fair Lady (Quintessence Theatre), The Gin Game (Montgomery Theater), Paige in HIR (Simpatico Theatre), directed Steel Magnolias (Candlelight Theatre). Off Broadway: The Intelligent Design of Jenny Chow (Atlantic Theatre Co.) Regional: Wilma Theater, Arden Theatre, Two River Theater. A Delicate Balance garnered Marcia a Best Supporting Actress award, and she has received numerous Barrymore nominations including Best Actress for Stella and Lou and A Man from Nebraska. Training: Graduate Program, LAMDA.
Graham Smith Friar
Company Member since 1999. People's Light: Morning's at Seven, The Matchmaker, A Single Shard, The Cherry Orchard, King Lear, Dividing the Estate, The Rainmaker, Shipwrecked, Valley Song, A Delicate Balance, Camping With Henry and Tom, The Miser, The Crucible, Twelfth Night. Theatre Includes: Romeo and Juliet, The Tempest, Oedipus, A Man for All Seasons (NC Shakespeare), As You Like It, The Tempest, Dracula, Humanafest (Actors Theatre Louisville), Proof, Misanthrope, Angels in America, The Substance of Fire (Charlotte Repertory), Someone Who'll Watch Over Me, Red (Riverside Theatre in Vero Beach), Best of Enemies, The Seafarer, 12 Angry Men, Camping With Henry and Tom, Vanya and Sonia and Masha and Spike (Florida Rep). Training: 13 tours with family vaudeville-magic show, Saucy Sorcery; BA, Davidson College; MFA, Hilberry Classic Theatre.
Brian Anthony Wilson Lord Montague
People's Light: The Diary of Anne Frank, All My Sons, Fences, Seven Guitars, Nathan the Wise, Eggs, and Les Trois Dumas. Theatre Includes: Thurgood (Olney Theatre Center), Fences (Woodstock Theatre, VT), The Last Jimmy (Adrienne Arsht Center, Miami), Titus Andronicus (Rowan University). Film/Television Includes: Ocean's 8, Creed, How to Get Girls, Title VII, Crooked and Narrow, Limitless, 6 Souls, Jersey Justice, Keeping the Faith, The Postman / Siren, Dietland, Bull, Bloodline, Gothan, The Jim Gaffigan Show, Blue Bloods, Broad City, Unforgettable, Law & Order SVU, The Sopranos, and The Wire. For my family and in memory of my Dad, Timothy Wilson.
---
Join Team BroadwayWorld
Are you an avid theatergoer in Philadelphia? We're looking for people like you to share your thoughts and insights with our readers. Team BroadwayWorld members get access to shows to review, conduct interviews with artists, and the opportunity to meet and network with fellow theatre lovers and arts workers.
Interested? Learn more here.
---