Latest News on Liam Forde
Stage Credits
Much Ado About Nothing
  [Off-Broadway]
Theatre for a New Audience Production, 2013
Performer
Liam Forde News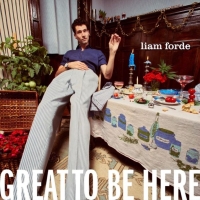 Album Review: Liam Forde Reminds Us All, With His Debut CD Release, That It's GREAT TO BE HERE
by Bobby Patrick - Oct 21, 2022
Every bit of GREAT TO BE HERE is so VERY New York City from start to finish that Bobby has no choice but to grant this fab jazz outing his full… 5 Out Of 5 Rainbows
Photos: October 4th THE LINEUP WITH SUSIE MOSHER at Birdland Theater, As Photo'd By Matt Baker
by Stephen Mosher - Oct 10, 2022
Susie Mosher works hard to bring the best talent to the stage and Matt Baker works hard to make sure Broadway World readers get to see the action.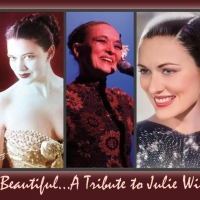 Sue Matsuki To Present BUT BEAUTIFUL... A TRIBUTE TO JULIE WILSON at The Green Room 42
by Stephen Mosher - Sep 27, 2022
The OG Julie Wilson Award recipient, Sue Matsuki, has gathered together a group of other artists who have taken home the award to present an evening in tribute of the late cabaret great.
Monumental Theatre Will Present Liam Forde in Concert Next Month
by Stephi Wild - Jun 21, 2022
Monumental Theatre Company will present Liam Forde in Concert on July 22, 2022. Monumental patrons are encouraged to attend Liam Forde in Concert and stick around for a late night showing of the mainstage production, tick, tick… BOOM! at 10pm.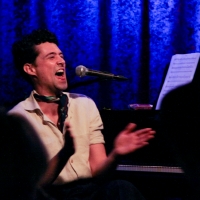 BWW Review: Liam Forde Brought Singing & Chatting & Chatting & Singing To Tell All That It's GREAT TO BE HERE At The Birdland Theater
by Bobby Patrick - Jun 15, 2022
The music heard on Monday night in the Birdland Theater was of the highest caliber, sung and played by Forde and his instrumental cohorts in ways that were such real jazz magic making this young man one to watch for, as we predict a bright, BRIGHT future is headed his way.
Linda Lavin to Celebrate New Album LOVE NOTES With Billy Stritch at Birdland
by Chloe Rabinowitz - Jun 1, 2022
BIRDLAND JAZZ CLUB will present Tony Award winner Linda Lavin in a special concert celebrating her most recent solo album, Love Notes, on Monday, June 27 at 7:00 PM. Ms. Lavin will be joined on stage (as on the album) by her longtime collaborator, pianist and singer Billy Stritch.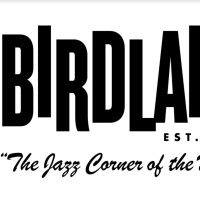 BIRDLAND Announces Programming Through June 30th
by Marissa Tomeo - May 29, 2022
Birdland Jazz Club and Birdland Theater are proudly open this June with a full slate of nightly performances! At Birdland Jazz Club, catch the Liebman, Brecker, Copland Quintet, Greg Ruvolo Big Band, Yellowjackets, Terraza Big Band, Anita Gillette and Lee Roy Reams, Frank Catalano Quartet, Danilo Perez & His Global Messengers, New London Big Band, Stacey Kent, Ron Aprea Big Band, Linda Lavin and Tuck & Patti.
Photos: Jim Caruso's Cast Party Remains A NYC Talent Goldmine!
by A.A. Cristi - May 26, 2022
Every single Monday for the past eighteen years, host Caruso, along with the Cast Party Symphony Orchestra led by Billy Stritch (Daniel Glass on drums and Steve Doyle on bass) hosts Jim Caruso's Cast Party shining a spotlight on an awe-inspiring variety of talent.
Anita Gillette and Lee Roy Reams to Perform at Birdland Jazz Club
by Chloe Rabinowitz - May 23, 2022
BIRDLAND JAZZ CLUB will present a historic evening with two legendary Broadway stars Anita Gillette and Lee Roy Reams for the first time on Monday, June 13 at 7:00 PM.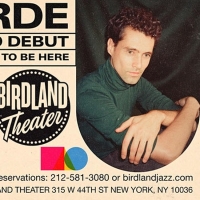 Liam Forde to Celebrate Debut Album GREAT TO BE HERE at Birdland
by Chloe Rabinowitz - May 16, 2022
BIRDLAND THEATER will present pop/jazz vocalist and songwriter Liam Forde – celebrating the release of his first album Great to Be Here – on Monday, June 13 at 8:30 PM.
Liam Forde Videos
VIDEO: Watch Highlights and 'Lily's Eyes' Scene from THE SECRET GARDEN at Denver Center
by Stage Tube - May 12, 2017
The Secret Garden has book & lyrics by Marsha Norman, music by Lucy Simon, and is based on the novel by Frances Hodgson Burnett. The production runs now through May 28, 2017 at the Stage Theatre at the Denver Center for the Performing Arts. BroadwayWorld is excited to share highlights and a clip of the song 'Lily's Eyes' from the production below!