Latest News on Chris Davey
Latest News on Chris Davey
Stage Credits
Productions
[West End, 2021]
Lighting
[Chicago, 2020]
Lighting Designer
[West End, 2019]
Lighting Designer
Stage
Productions
[West End, 2021]
Lighting
[Chicago, 2020]
Lighting Designer
[West End, 2019]
Lighting Designer
Chris Davey News
Booking Period Extends To April 2023 For Agatha Christie's WITNESS FOR THE PROSECUTION
by Stephi Wild - May 11, 2022
Eleanor Lloyd Productions and Rebecca Stafford Productions have announced an extension for Agatha Christie's Witness for the Prosecution. Audiences can now watch the trial of Leonard Vole at the magnificent London County Hall until 16th April 2023.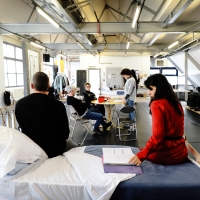 Photos: Inside the Rehearsal Room for MAGGIE MAY at Leeds Playhouse
by A.A. Cristi - Apr 27, 2022
See first look images of the Maggie May rehearsal room show the cast coming together as a family, with all the love, laughter, tears and kitchen singalongs that entails.
BWW Review: CATCH ME IF YOU CAN, Richmond Theatre
by Aliya Al-Hassan - Apr 12, 2022
Not to be confused with the 2002 film of the same name, Catch Me If You Can is a small ensemble thriller that debuted on Broadway in 1965. Based on a French play by Robert Thomas, this American version, written by Jack Weinstock and Willie Gilbert, is a potentially entertaining evening, but fails to captivate and excite.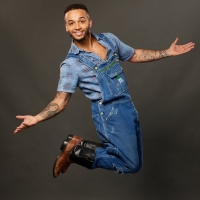 Aston Merrygold to Star as Willard in FOOTLOOSE THE MUSICAL UK Tour
by Chloe Rabinowitz - Apr 7, 2022
Selladoor Worldwide has announced that Aston Merrygold will join the cast of Footloose the Musical to perform in the role of Willard in Aberdeen, Glasgow and Wimbledon from 25 July.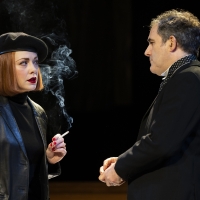 Photos: Check Out All New Photos From WITNESS FOR THE PROSECUTION at London's County Hall
by Stephi Wild - Apr 6, 2022
The new cast includes Joshua Glenister as the accused, Leonard Vole, opposite Lauren O'Neil as Romaine. Owen Oakeshott will play Sir Wilfrid Robarts QC. He is joined by Peter Landi as Mr Mayhew, Richard Teverson as Mr Myers QC, and James Hayes as Mr Justice Wainwright.
Cast Announced For Matthew Bourne's THE CAR MAN At The Royal Albert Hall
by Stephi Wild - Apr 6, 2022
New Adventures and the Royal Albert Hall have announced casting for Matthew Bourne's "THE CAR MAN" reimagined in a spectacular new staging for the Royal Albert Hall's 150th Anniversary.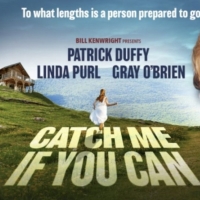 CATCH ME IF YOU CAN Heads To Milton Keynes
by Stephi Wild - Mar 9, 2022
Dallas legend Patrick Duffy (The Man from Atlantis; Step by Step) and Linda Purl (Happy Days; Homeland) fly in from Hollywood to star alongside Gray O' Brien (Peak Practice; Coronation Street), leading the cast in this exciting new production of the classic Broadway thriller.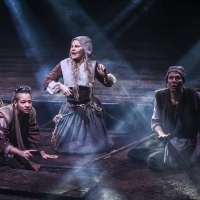 Photos: First Look at MACBETH at Leeds Playhouse
by Stephi Wild - Mar 1, 2022
New production images have been released for Macbeth – an epic production in an epic space at Leeds Playhouse.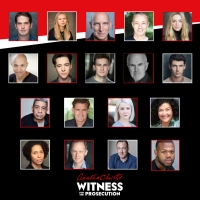 Seventh Cast Announced For Agatha Christie's WITNESS FOR THE PROSECUTION
by Stephi Wild - Mar 1, 2022
The seventh cast has been announced for Agatha Christie's Witness for the Prosecution which is now booking until September 2022 at the London County Hall.
FOOTLOOSE THE MUSICAL Bursts Onto Stage At Theatre Royal Brighton Next Month, 21 - 26 February
by A.A. Cristi - Jan 20, 2022
Following two critically acclaimed tours and huge popular demand, Footloose The Musical is back and better than ever! The musical which was postponed in 2020 bursts back onto the stage this year and will visit Theatre Royal Brighton from Monday 21 to Saturday 26 February 2022. .
Chris Davey Videos
STAGE TUBE Exclusive: Watch New Clip from Matthew Bourne's THE CAR MAN, Coming Soon to UK Cinemas
by Stage Tube - Feb 24, 2016
Recently knighted and internationally acclaimed choreographer Matthew Bourne's stunning dance thriller, The Car Man, will be released in cinemas across the UK from 1 March 2016. Performed by Matthew Bourne's Dance Company, New Adventures, the award-winning The Car Man is loosely based on Bizet's popular opera (CARMEN) and has one of the most thrilling and instantly recognisable scores in classical music, brilliantly arranged by Terry Davies. Below, BroadwayWorld brings you an exclusive clip!