Latest News on Andrew Duncan
Stage Credits
  [Off-Broadway]
Original Off-Broadway Production, 1962
Performer
  [Off-Broadway]
Original Off-Broadway Production, 1962
Performer
  [Broadway]
Original Broadway Production, 1961
Performer
"Football Comes to the U. of C." performer
"Great Books" performer
"I Got Blues" performer
"Interview: Louisiana" performer
"Laos" performer
"Minstrel Show" performer
"Mountain Climbing" performer
"The Hoboken Story" performer
Stage
Performances
  [Off-Broadway]
Original Off-Broadway Production, 1962
Performer
  [Off-Broadway]
Original Off-Broadway Production, 1962
Performer
  [Broadway]
Original Broadway Production, 1961
Performer
"Football Comes to the U. of C." performer
"Great Books" performer
"I Got Blues" performer
"Interview: Louisiana" performer
"Laos" performer
"Minstrel Show" performer
"Mountain Climbing" performer
"The Hoboken Story" performer
Andrew Duncan News
A GENTLEMAN'S GUIDE TO LOVE AND MURDER to be Presented at The Lyric Stage Company of Boston
by Chloe Rabinowitz - Mar 21, 2022
A Gentleman's Guide to Love and Murder with Music and Lyrics by Steven Lutvak and Book and Lyrics by Robert L. Freedman will find its way to the Lyric Stage Company of Boston after originally scheduled to open on May 15, 2020.
ONCE ON THIS ISLAND Comes to SpeakEasy Stage This Month
by Stephi Wild - Mar 1, 2022
From March 11 to April 16, 2022, SpeakEasy Stage Company will proudly present a rousing new production of ONCE ON THIS ISLAND, one of the most beloved musicals in Broadway history.
THE LAST FIVE YEARS Will Be Performed at Lyric Stage Company of Boston Next Month
by Stephi Wild - Oct 22, 2021
The Lyric Stage Company of Boston presents its first musical since Little Shop of Horrors in October 2019 with Jason Robert Brown's intimate portrait of young romance in The Last Five Years. Performances begin Friday, November 12 and run through Sunday, December 12.  Press Performance is Sunday, November 14 at 3pm.
THE 39 STEPS Opens Season 22 Mainstage Programming at GBSC
by Stephi Wild - Aug 31, 2021
Live theatre returns to Greater Boston Stage Company! The raucous The 39 Steps kicks off the 2021-2022 mainstage season on September 23rd as GBSC presents this fast-paced whodunit for anyone who loves the magic of theatre. This two-time Tony (R) and Drama Desk Award-winning treat is packed with laughs, a slew of characters, a plane crash, handcuffs, missing fingers, and some good old-fashioned romance.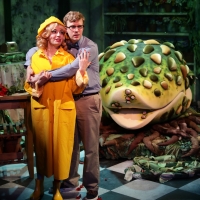 BWW Review: LITTLE SHOP OF HORRORS: This Plant's No Shrinking Violet
by Nancy Grossman - Sep 5, 2019
Rachel Bertone has set the bar high for the 45th anniversary season of the Lyric Stage Company with her pitch perfect production of LITTLE SHOP OF HORRORS. Assuming the mantle of both director and choreographer, with the dependable Dan Rodriguez as music director by her side, Bertone and her design team capture the grit and the innocence of the story set in the early 1960s, while finding ways to punctuate it with flashes of contemporary pizzazz. Puppet designer Cameron McEachern has crafted an Audrey II without gender bias on its menu, and despite being voiced by a woman (Yewande Odetoyinbo), the plant is no shrinking violet.
Cast & Creative Announced For LITTLE SHOP OF HORRORS At The Lyric Stage
by A.A. Cristi - Jul 24, 2019
Casting has been announced for LITTLE SHOP OF HORRORS. Based on the film by Roger Corman, Screenplay by Charles Griffith. Directed and Choreographed by Rachel Bertone.

FUN HOME Returns To SpeakEasy Stage
by Stephi Wild - Jun 4, 2019
Due to popular demand, SpeakEasy Stage will proudly remount its acclaimed production of the Tony Award-winning musical FUN HOME for four weeks, June 8-30, 2019.

BWW Review: PACIFIC OVERTURES: Lyric Stage's Sondheim Finale
by Nancy Grossman - May 15, 2019
Over the course of the last twenty years, Producing Artistic Director Spiro Veloudos has been a man with a mission. During that time period, he has systematically presented the works of composer Stephen Sondheim at the Lyric Stage Company, beginning with ASSASSINS in the 1998-1999 season, and concluding with PACIFIC OVERTURES to wrap up the 2018-2019 season. In spite of the daunting nature of the undertaking, Veloudos has tackled it with gusto and proven himself to be a meritorious interpreter of the Sondheim canon. Collaborating with Music Director Jonathan Goldberg, Choreographer Micheline Wu, and his familiar roster of designers, Veloudos recreates the musical in his own vision, downsizing what originated as a behemoth show to fit the parameters of the Lyric's thrust stage.

PACIFIC OVERTURES At The Lyric Stage. Cast & Creative Team Announced
by A.A. Cristi - Apr 11, 2019
Cast & creative team announced for Pacific Overtures at the Lyric Stage

BWW Review: ONCE: Guy and Girl Extend Their Stay at SpeakEasy Stage
by Nancy Grossman - Mar 7, 2019
Once upon a time, a guy and a girl meet on the streets of Dublin, bond over their shared passion for music, enrich each other's lives, and find the way forward to the separate paths that their lives were meant to follow. With its current homegrown production of ONCE, SpeakEasy Stage Company demonstrates once again its penchant for capturing the essence of an award-winning musical and successfully molding it to fit the expectations of their audience and the parameters of the Roberts Studio Theatre at the Boston Center for the Arts. It was announced today that the run is extended for an additional week due to overwhelming demand.
Andrew Duncan Frequently Asked Questions
How many Broadway shows has Andrew Duncan been in?
Andrew Duncan has appeared on Broadway in 1 shows.
How many West End shows has Andrew Duncan been in?
Andrew Duncan has not appeared in the West End