Photo Flash: First Look at Mad Cow's TWELVE ANGRY MEN
Mad Cow Theatre presents Twelve Angry Men by Reginald Rose, running August 3 through August 26, 2012, in downtown Orlando. Twelve Angry Men is produced as part of The Gary and Maureen Fries Modern Classics Series. Get a first look at the production in the photos below!
On a sweltering August night in New York City, the jury files into the deliberation room. The door is locked behind them. Now twelve nameless men from twelve varied backgrounds must decide the fate of a young man accused of killing his father. Faced with playing the executioner, these dozen men must first face themselves, their biases, and their own sense of justice. Based on the 1954 teleplay by Reginald Rose, this American classic will have audiences on The Edge of their seat until the finAl Verdict is announced.
Twelve Angry Men will feature Ray Alger, John Bateman, Rod Cathey, Josh Geohagen, Jesse Huffman, Ron McDuffie, Philip Nolen, Eric Nutting, Terry Olson, T. Robert Pigott, Joe Reed, Roger Scott, and David Shipman. Veteran Mad Cow Collaborator Stephan Jones will direct. The production team includes Cindy White, Scenic Designer; Corinne Walsh, Costume Designer; John Hemphill, Lighting Designer; Kurt Wagner, Sound Designer; and Kate Louise Marchewka, Stage Manager.
Twelve Angry Men runs from August 3 to August 26 at Mad Cow Theatre, 105 S. Magnolia Ave. in Downtown Orlando. This is the final production in Mad Cow's Stage Right Theatre before moving to 54 West Church Street in October, 2012. Tickets are available online at madcowtheatre.com and by calling the Mad Cow Theatre box office at 407.297.8788 x1.
Photo credit: Tom Hurst


Terry Olson, T. Robert Pigott, Philip Nolen, David Shipman

T. Robert Pigott, Philip Nolen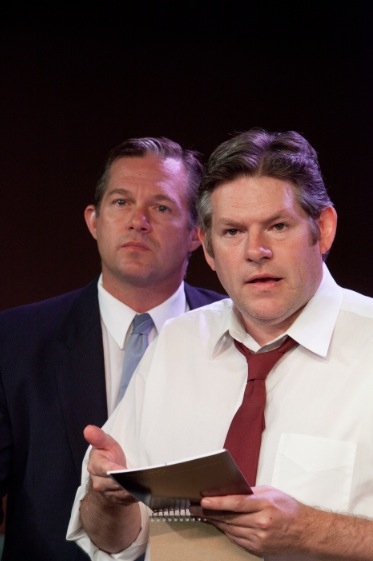 T. Robert Pigott, Philip Nolen