Local Acting Elite Star in Neil Simon's THE ODD COUPLE at Garden Theatre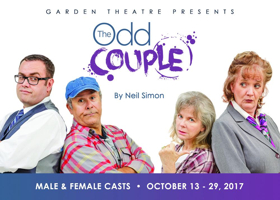 The Garden Theatre (160 W Plant St.) is proud to present both the male and female versions of Neil Simon's award-winning comedy, The Odd Couple, showing October 13 - 29, 2017.
The show will be performed in rep with both male and female versions on opening weekend, and alternating weekends thereafter. The Odd Couple is supported by Dr. P. Phillips Charities, Outdoor Living Products and Toole's Ace Hardware.
Local actors Mark Ferrera and Stephen Lima take the stage in the male version of the show, playing Oscar and Felix, respectively, while Marty Stonerock and Peg O'Keef lead the female version as Olive and Florence. Well known throughout the Central Florida theatre landscape and beyond, these actors have all appeared in various productions on the Garden stage in the past: Mark Ferrera (Ben Hecht in Jester Theater Company's Moonlight & Magnolias), Stephen Lima (Schindler in Beth Marshall Presents' 33 Variations, Ernesto del Rio in Destiny of Desire), Marty Stonerock (Truvy Jones in The Vine Theatre's Steel Magnolias (2008), Dotty Otley in Jester Theater Company's Noises Off (2010), and Norma Henshaw in The Diviners (2011)), and Peg O'Keef (Beverly Coyle in Parallel Lives (2009 & 2010) and Katherine in Beth Marshall Presents' 33 Variations (2014)).
Members of the ensemble include Vera Varlamov, Brandon Lopez and Thomas Muniz in both the male and female versions; Stacy Fulford (Gretchen in Boeing Boeing (2015), Mara in Miracle on 34th Street (2015)), Mark Sherlock and Timmy Walczak in the male version; and Laura Cooper, Jade Jones and Laura Mansoori in the female version.
American playwright Neil Simon wrote the original version of the story, set in the 1960s, about two men who become mismatched roommates after one of them is thrown out by his wife. Simon often drew upon experiences from his own life when writing - including the autobiographical Brighton Beach Memoirs, Biloxi Blues, Broadway Bound, and Lost in Yonkers. It is believed that the story for The Odd Couple was started by his older brother Danny after he himself had divorced and moved in with another divorced man. When he experienced writer's block, he handed it off to Simon. The brothers had worked together as a comedy writing team in the early 1950s, joining the writing team for the Sid Caesar television series Your Show of Shows. Neil Simon began writing for the stage, and his first real success was 1963's Barefoot in the Park. He has received the Tony Award for The Odd Couple (1965), Biloxi Blues (1985) and Lost in Yonkers (1991). He also received a special Tony in 1975 for his contributions to theater. In 1983, he became the first living playwright to have a Broadway theater named in his honor. In 1985, he revised the script for The Odd Couple, writing it for female leads in a contemporary setting.
It is said that Neil Simon's real genius is his skill in writing real characters that have flaws. He was once warned not to mix comedy with drama. But, Simon's theory has been "...if it's mixed in life, why can't you do it in a play?"
The Garden's production will be unique in that two directors have taken on the task of creating the different versions, which take place in different decades yet share the same set and some members of the ensemble cast. Katrina Ploof will direct the male version, while Keith Smith will direct the female version. Smith is a veteran actor and director for the Garden, and Ploof, while new to the Garden, has been a director and choreographer for over 40 years throughout the U.S. and Canada.
When asked about the benefits or challenges of directing the version that features the opposite sex, Smith explained, "This is something that I discussed with my cast. As the director, I provide the framework for the actors in terms of relationships, movement, comedic elements and interactions. I have asked my cast to keep me honest in terms of the lens that a female would have in the situations that are presented in the show.The creative process often requires one to walk in the shoes of others, and most time it is individuals who you may not know or even understand."
"While the female version is less well known than the male version," Smith continues, "the story line is similar and the brilliance of Neil Simon carries through in the characters. By placing a focus on ensuring the characters are represented as real people, I think the audience can relate to the personalities and relationships that are seen in the show."
Director Katrina Ploof loves a quote by Robin Williams, "Comedy is acting out optimism."
"Finding the humor in humans, in the crazy way we maneuver through the challenges that life throws at us, I think that is the well from which all great comedies are drawn," says Ploof, "And The Odd Couple is a great comedy. We might be slightly embarrassed at Oscar and Felix and their quirks and eccentricities, but privately we can admit we are just as much of a mess as they are. Laughing at them helps us laugh at ourselves. And if we can laugh, we can do anything."
Tickets for The Odd Couple are $29 for adults and $25 for seniors and students, with special pricing of $26 for adults and $22 for seniors and students for opening night, Wednesday and Thursday performances. Show times are Wednesdays, Thursdays and Fridays at 8pm, Saturdays at 2pm and 8pm, and Sundays at 2pm. Patrons may receive $5 off of each performance ticket if both the male and female shows are purchased at the same time with code ODD5OFF. There will be two Industry Night performances on Monday, October 16th and Monday, October 23rd at 8pm with $18 tickets. The show contains mature themes due to adult language, smoking, drinking and gambling; suitable for most audiences.
For tickets, visit gardentheatre.org or contact the Box Office at 407-877-GRDN (4736). Groups of 10 or more are eligible for discounts of up to 25% by contacting group sales manager Jana Goupil at 407-877-4736 x208.
Located in the heart of historic downtown Winter Garden on Plant Street, the Garden Theatre is a nonprofit organization committed to enriching, engaging and entertaining through creative experiences. The 299-seat theatre, which re-opened in 2008, is a historic, atmospheric, professional performing arts venue in a Mediterranean Revival style. The Garden Theatre hosts live plays, concerts, movies and more to the residents of and visitors to the city of Winter Garden. For tickets or additional information, contact the Garden Theatre Box Office at 407-877-GRDN (4736) or visit gardentheatre.org.
Related Articles View More Orlando

Stories

Shows
More Hot Stories For You