KING CENTER announces Space Coast Ballet - Celebration Of Dance and Classic Albums Live Season Ticket Packages
Mark your calendar for Sunday April 30th at 7 PM as Space Coast Ballet presents Celebration of Dance.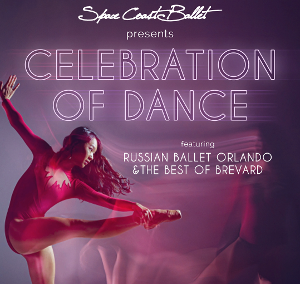 Space Coast Ballet will bring Celebration of Dance to the King Center for the Performing Arts, featuring Russian Ballet Orlando and the Best of Brevard on Sunday, April 30th at 7 PM. This is a unique opportunity where attendees will be able to see a professional company and talent from the community perform together on the same stage!
Russian Ballet Orlando is a professional ballet company under the direction of Katerina Fedotova. She is a 4th generation ballet dancer and the daughter of Principal Dancers and Artistic Directors, Vadim Fedotov and Irina Depler. She was born and raised in Ukraine, Kiev, and began her professional training at the age of 9 at the Kiev Ballet Conservatory. In 1997, her family moved to the United States and she earned a principal title at the age of 17. She has toured around the world, performing in over 35 countries. She has also choreographed her own versions of Swan Lake, Carmen, Esmeralda, La Bayadere, The Nutcracker, Toy Show, Mermaid, Beauty and the Beast, and restaged Coppelia, Snow White and Cinderella.
For Celebration of Dance, Russian Ballet Orlando will be performing excerpts from Don Quixote and the Best of Brevard will present original choreography from featuring premier dancers & performances from six local dance studios. Performance studios include Dance Arts Centre, The Dance Zone, Dance by Holly Rock, Heather's Dance Studio Palm Bay & Beachside, The Raw Dance Center and Viera Music Dance Theatre Conservatory of the Performing Arts. It will be an exciting evening of diversity in dance!
Mark your calendar for Sunday April 30th at 7 PM as Space Coast Ballet presents Celebration of Dance. Tickets on sale Friday February 3rd at the King Center box office 321-242-2219 and online at kingcenter.com
Additionally, the 2023 Season is upon us and marks the 20th year of Classic Albums Live at the King Center and season ticket packages are now on sale to public!
The 20th year of Classic Albums Live at the King Center promises to be one of the biggest and best year yet, lock in your seats today for six unique concert experiences by Classic Albums Live, performed live on the King Center's L3Harris Technologies Theatre stage, note for note, cut for cut just as intended by the original artists!
Founded in 2003 by Craig Martin, Classic Albums Live takes the greatest albums and recreates them live on stage - note for note, cut for cut, using the world's best musicians. "Think of it as a recital," says Martin, "these albums are historic and stand the test of time." Forgoing costumes and impersonations, Classic Albums Live has found success in concentrating solely on the music. "We don't dress up or wear any sort of costume. We just stand there and play. All of our energy is put into the music. We want the performance to sound exactly like the album," says Martin.
The upcoming season in 2023 marks 20 years of touring Classic Albums Live! "We are so excited to come back to Florida this year and celebrate with both longtime fans and new ones at the King Center, one of our favorite places to perform!" With 100+ shows a year across North America, Classic Albums Live has seen massive success in performing arts centres and theatres. Fans in Texas, Las Vegas, Florida, New York and central and east coast Canada have all continued to support the series and make it a sustaining, successful show. "We grew while others withdrew," says Martin, commenting on the decline of concert ticket sales, "We created something that endures and connects. These albums are sacred to people. We deliver exactly what we promote - 'note for note, cut for cut' accuracy." It's this type of accountability that works for the series.
"We are honored to host 'Classic Albums Live' which, over the years, has become the centerpiece of our summer event programming at the King Center. We are looking forward to each of the six classic albums to be recreated live on stage for all the dedicated fans on the Space Coast." - Bob Papke, G.M. King Center, V.P. Theatres ASM Global.
Classic Albums Live season ticket packages are now available for purchase at the King Center Ticket Office, online at KingCenter.com or by calling 321-242-2219 during normal Ticket Office hours Monday Through Friday Noon - 6 PM.