BWW Review: Riverside's MAMMA MIA! is Absolutely Absurd, but Giddily Entertaining
I have a confession to make. Though I have seen hundreds of plays and musicals since MAMMA MIA! premiered on Broadway in 2000, until I saw Riverside Theatre's giddily silly, yet oddly emotional production-running now through April 29- I had never seen this polarizing jukebox musical; neither on stage, nor screen.
However, it would have been impossible for anyone with even a passing interest in theatre or pop culture to not have heard countless opinions about the show, both good and bad, over the years.
Having now experienced the musical, in all of the grandeur of Riverside's production, is MAMMA MIA! hokey? Yes, it is. Does it have plot holes large enough that you could scuba through? In spades. Nearly two decades after it premiered in London, does it already feel even more dated than its disco-era music would lead you to believe? Absolutely. But, if you go in knowing and accepting MAMMA MIA! for what it is, then it is also an absolutely transportively entertaining night at the theatre.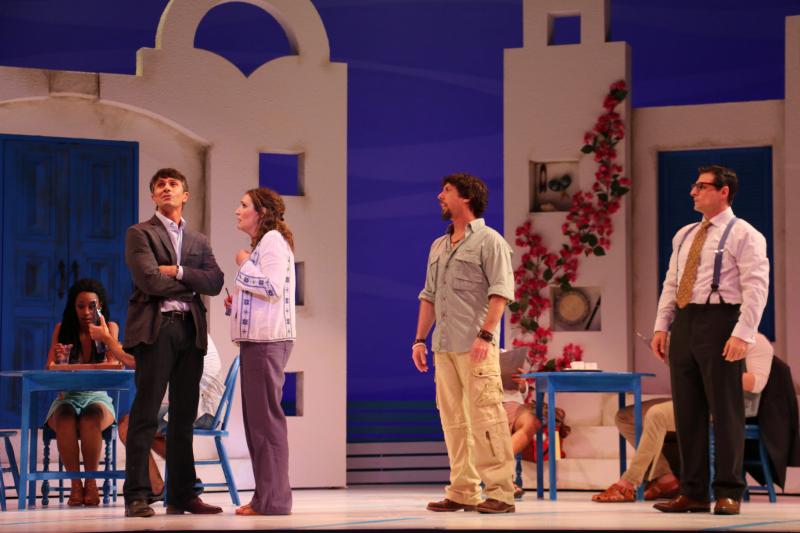 Featuring songs by Benny Andersson and Björn Ulvaeus originally written for Swedish multi-platinum 70s band ABBA, the musical features a book by playwright Catherine Johnson.
Originally opening in London in 1999, the musical is still playing in the UK, making it the seventh-longest running show in West End history. Similarly, its nearly 14-year run (which ended in 2015) currently ranks ninth on Broadway's list, to the consternation of many. The musical spawned a big screen adaptation released in 2008, and a star-studded sequel, MAMMA MIA! HERE WE GO AGAIN, will hit theaters this summer.
So, with that formidable legacy behind it, Riverside's remarkably game company finds the magic in the music, and transports Vero Beach audiences to a small island in Greece, a wash in sea tones and scantily clad dancers. Originally helmed by legendary Shakespearean director Phyllida Lloyd, this absurd romp through the ABBA catalog plays best like a modern day pastoral comedy; on the eve of a young woman's wedding, she invites three of her mother's ex-lovers -whom she has never met- to her nuptials, in hopes of finally learning the identity of her father; shes sure that it has to be either Sam (Eric Kunze), an architect; Bill (Christopher Sutton), an adventurous writer; or Harry (Jonas Cohen), a former heading-banging banker. They are all unaware as to why they have been summoned to the island, but when they find out, they are each overjoyed at the prospect of potentially having a daughter.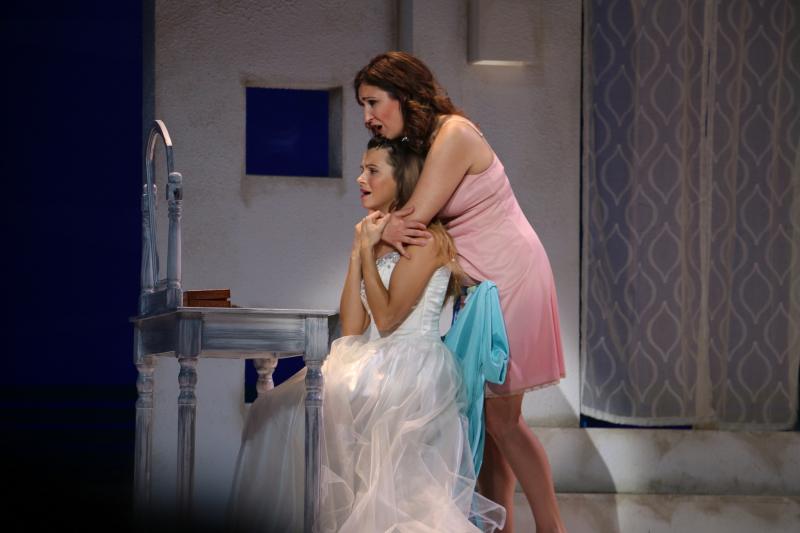 Hijinks, confusion, new and old loves, and an eventual march down the aisle are all part of this bonkers show. However, the eventual romantic outcomes for the various pairs pale in importance to the show's central relationship; that of mother Donna and her daughter Sophie. Played by the wonderful pairing of Anne Brummel and Laura Giknis, their authentically multifaceted relationship hits, with equal grace and honesty, both the complex and basic emotions of the bonds between a child and a single parent.
Though much of the show seems passé by today's standards, this relationship between two strong, yet vulnerable women, feels especially powerful today; thanks in no small part to the fantastic performances by the show's leading ladies.
While the sentimental connection between the two provides more than a handful of misty-eyed moments, like the rest of the cast, the women (especially Giknis) revel in the musical's puerile comedy.
However, director and choreographer Richard Stafford does Giknis a substantial disservice by opening the musical with a stilted, but beautiful, lyric dance routine that seems choreographed for a completely different musical. The pretty, fluid movement washes away into Giknis singing the sweet, quasi-"I want" song, "I Have a Dream."
However, as we properly meet Sophie moments later, her awkward, slightly neurotic personality is jarring, especially as she dives into "Honey Honey" with her best friends (played by Tara Tagliaferro and Kathryn Miller). However, this is through no fault of Giknis', as the softness of the opening betrays what the rest of the show is, setting the audience up for one thing, only to rip it away, and never give it back.
But, once you are able to regain your bearings, and settle into the goofiness of what the show actually is, you are in for a good time.
In addition to Donna's earnestness and Sophie's nervousness, the cast is peppered with enjoyable characters with their own wild bag of traits, including Donna's former backup singers; Rosie (Charis Leos) and Tanya (Lyn Philistine); Sophie's surprisingly scrutable fiancé, Sky (Schyler Conaway); and Pepper, a local bartender with an eye for older woman, played by Brett-Marco Glauser.
With Donna up front, Rosie and Tanya return to their old roles as her Dynamos, and Leos and Philistine provide delightful comic turns as they support their old friend in what has become a nightmare of a weekend. As the potential fathers, Cohen, Kunze, and Sutton each have their own moments, but their characters are so different, it does make one wonder how Donna could have fallen for three such disparate men, in such a short period of time.
The singing and dancing in MAMMA MIA! is what you would expect from a show featuring ABBA music. The talented, professional cast sounds great, but there's only so much they can do with disco standards presented nearly identically to how they are on the original ABBA albums. And, despite the opening misstep, the rest of Stafford's choreography perfectly captures the frantic, hyperactive feel of the show.
The second act of MAMMA MIA! does drag a bit, from too many songs shoehorned in, yet providing minimal plot advancement. However, once all is resolved, the audience is rewarded for its patience with the mother of all mega mixes, bedazzled jump suits (from costume designer Gail Baldoni) and all.
If you are expecting riveting, enlightening theatre, MAMMA MIA! probably isn't for you, despite the quality of Riverside's production. However, if you are open to shenanigans and some of the catchiest songs ever recorded, then this is a can't miss.
Check out highlights of the Riverside production here:

To purchase tickets to MAMMA MIA, visit Riverside's website or call (772) 231-6990.
---
Did MAMMA MIA! have you saying, "thank you for the music?" Let me know on Twitter @BWWMatt. You can listen to me on BroadwayRadio or on BroadwayWorld's pop culture podcast Some Like it Pop.
Banner Image: Charis Leos, Anne Brummel, and Lyn Philistine. Photo Credit: Holly Porch