BWW Interview: Brittany Merenda, Projection Designer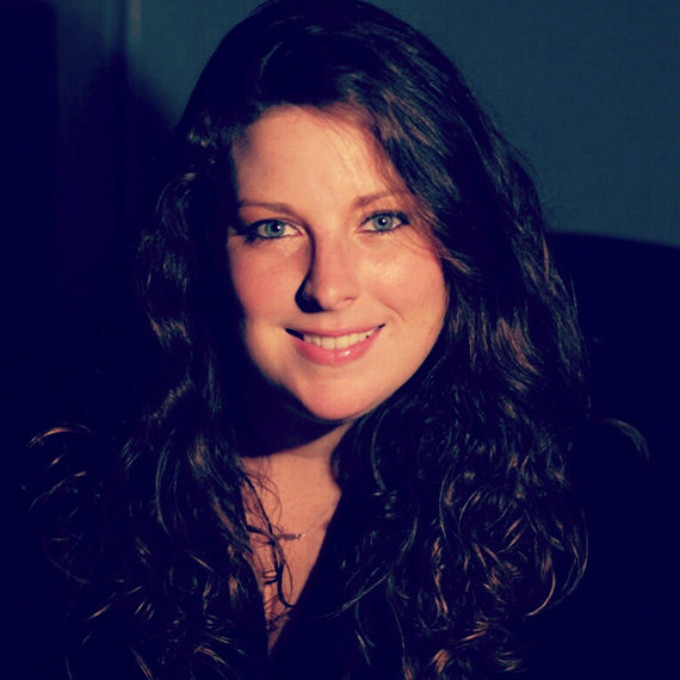 I had never heard of projection design before I saw NEWSIES at The Rose Theater. Brittany Powell Merenda, an award winning professional projection designer based in Traverse City, Michigan, lent her skills to the show. Currently, Brittany is the resident projection designer for the Parallel 45 Theatre Company. This year she debuted with the Hawaii Performing Arts Music Festival. She will soon return to Omaha to design ELF THE MUSICAL for The Rose. I recently had the chance to speak with Brittany about her career.
What is projection design?
Oh gosh, well, I would definitely describe projection design as a little bit of everything. Projection design can help serve as set. It can help serve as lighting sometimes, depending on the situation. It can set time, place, and mood. I've had times where projections have served as characters. At the Rose Theater we did A WRINKLE IN TIME, and projections were about four different characters. There's such a myriad of ways that projections can be used. It's not just a backdrop in the show, which is how it is most often interpreted. The most important thing is that projections are always adding value to the show, and that they are never extraneous, or overwhelming and taking away from the production. They are always adding an element, but never in a distracting way.
I see you have done several shows at the Rose Theatre.
Yes, NEWSIES was my 7th show at the Rose since 2014. I absolutely love working there. We're doing ELF, THE MUSICAL this December, which is going to be an extremely large scale production. The team's been working on it for several months. We're doing something that's never been done at the Rose before, which will be really exciting. I'm looking forward to it.
How did you find this was something you could do as a career?
So, it's certainly not something that your high school guidance counselor tells you about. I definitely fell into it. I did theatre my whole life; all through school. And when I went to grad school, I actually went for educational technology at the University of Florida. I started in the spring semester and the classes that I was supposed to Take That first semester were not offered in the spring. My counselors advised me to take some electives. At the University of Florida there is a college called Digital Worlds Institute and I took their Interactive Storytelling class where I had to create a projection piece about anything. No actors. No set. I lived in Korea for three years before grad school and had worked with the comfort women while I was there. So, I created an 11 minute story about the South Korea comfort women of WWII using only projections. That semester I changed my major!
And now COMFORT WOMEN is on Broadway and there's an Omaha woman, Roni Shelley Perez, in it.
Oh wow!
So, yeah, it was by chance. I'd always done theatre, but projection design I fell into simply because I started grad school in the wrong semester.
How long did your graduate degree take you?
It took about two years going full time and over the summer.
How did The Rose find you?
My first job out of grad school was with Parallel 45 Theatre Company in Traverse City, Michigan. Matt Gutshick was an actor in the show that I did, THE TERRIBLE TRAGEDY OF PETER PAN. When Matt came back to do another show at P45 later that season, he had just accepted the position (Artistic Director) at The Rose and asked if I would be willing to come out. That's how I started.
I see you do a lot of work for opera. Is there one, opera or musicals/plays, that is more suited to projection design?
You know, there is so much projection design in opera right now. I think it is because of the grandiose nature of opera. One of the delightful but sometimes intimidating aspects of what
I do is that projections can be the largest thing on the stage since I am often filling the whole space. Ultimately, I don't think it matters what production it is. It just matters that projections are helping to tell the story. As long as that criteria is met, projections can be in anything. I've done projections in symphonies, dance, musicals, straight plays and in tons of opera. Just as long as they serve the production, they can serve anywhere.
Projection Design is very artistic. Did you take art classes?
I didn't. I don't consider myself a painter or sketcher. Actually, I'm terrible at drawing. I'm self taught in graphic design. My graduate study centered more around the technical element of incorporating projections into live performance and not on content creation. When designing the content for a show I always start with the director and set designer. That collaboration is a vital component and sets the tone for the overall look of the show. It's always my first jumping off point.
What has been the most challenging of the shows you have designed?
Macbeth. In March, I did Verde's Macbeth at Opera Tampa. That was one of the most challenging designs I've done because projections were added after the set had been decided. That isn't often the case. Usually, I get a call and I am a part of the talks to figure out where I fit in the production, and where I can be most useful. But in this production, the set had already been established. I was rear projecting onto a flat RP screen with eight wooden panels that moved in front. In Macbeth, they go to so many locations. There are a lot of ghosts and witches and hallucinations. And when you're on a flat surface and you don't have a lot of set to flow in and out of, that can be really challenging. Everything you do is flat. Everyone can see everything. You can't live among the set. You essentially are the set. That's really challenging when you have things like fire and magic and floating heads. We were pleased with the outcome, but getting us there was quite a ride.
What does the career field look like for future projection designers?
There is so much opportunity for projection designers. Access to the things you need is becoming more widely available. The software you need, the power of computers, and how prolific they are. Even the cost of projectors is more affordable. It's now so accessible for anyone to dabble in projection and explore all the opportunities.
Final words?
There's an article that was written by projection designer Zachary Borovay where he likens theatre to the symphony. A music lover can appreciate the music as a whole while still being able to single out the oboe or the complexity of a viola section. It enhances their experience. I think that's the essence of a successful production. All the components work seamlessly together to tell the audience a story while they are able to appreciate the individual design elements.