Click Here for More Articles on STUDENT CENTER - COLLEGE EDITION
BWW REVIEW: Denim on Denim: THE BASEBALL PLAY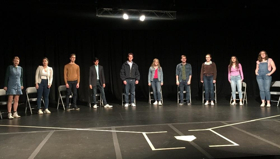 Jess here. WOW! So basically, I have one thing to say; Adam LaPorte is a genius! OCU Out of the Box is presenting a musical called "The Baseball Play," an original work created by by sophomore Music Theatre/Music Composition major, Adam LaPorte. NEVER in my life could I have been prepared for this show. It is unlike anything I have ever seen, all thanks to the composer/lyricist/book writer, Adam LaPorte, and director, senior Music Theatre major Jackson Walker, along with assistant director, Trey Baker, stage manager, McKenna O'Meara, and the ENTIRE cast.
This show takes place in two different years: 1992 and 2002. The plot follows Zachary Birdman, a closeted high school baseball star, and his affair with Caleb Taylor, an openly gay student who tries out for the team. Zachary, however, has a girlfriend of three years (Daphne) who is trying to catch his attention to see if he truly finds her beautiful. Ten years later, Daphne and Zachary are married and are hosting a 10-year high school reunion. Zachary and Caleb see each other for the first time in ten years and old feelings resurface.
The vocal and acting skills of the cast were absolutely fantastic. Being able to take a work never performed before and give it so much heart is incredibly admirable and I was, as the millennials say: shook.
Zachary was portrayed by Andrew Tompkins, an OCU Acting freshman. His voice is like the love child of Adam Pascal and Anthony Rapp in the best way possible. His acting was impeccable, and he delivered the difficult acting and musical aspects of his character amazingly. His male counterpart (Caleb) was played by Music Theatre junior, Cole Cloutier. His character was beautifully honest, and his voice..? WONDERFUL. LIKE BUTTER. Melissa Campbell, a sophomore Music Theatre major, is a constant beam of light in everything I see her perform in. She has the voice of an ANGEL and her portrayal of Daphne was so SO good. One of the students representing the freshmen Music Theatre class was none other than Madeline Powell (Olivia). Her solo in Act II brought the audience to its feet because she is INCREDIBLE.
The ensemble was extremely versatile and vocally tight. The work put into this production is very clear and will not go unnoticed. Please go see this show if you get the chance.
THE BASEBALL PLAY BY ADAM LAPORTE
MARCH 30-31 @ 8PM
OKLAHOMA CONTEMPORARY THEATRE
https://www.facebook.com/events/209033586510594/
I'm listing the entire cast and crew so that when this is on Broadway we will have a record of all the wonderful people who brought it to life in the first place.
Written by: Adam LaPorte
Director: Jackson Walker
Assistant Director: Trey Baker
Stage Manager: McKenna O'Meara
Accompanist: Claudia Carroll
Intimacy/Fight coordinator: Abigail Lafont
Andrew Tompkins: Zachary
Cole Cloutier: Caleb
Melissa Campbell: Daphne
Madeline Powell: Olivia
Alex Speight: Naomi
Nick Atkins: Douglas
Christopher Heron: Bob/ Benson
Gabrielle Browdy: Alex/ Ginger
Jason Gonzalez-Larsen: Ensemble
Celina James: Ensemble
Maddie Riggin: Ensemble
"Golden glory, stirred up, spiraling in Summer winds. That's what you win." -Adam LaPorte
Related Articles