SHOW
DATES
THEATRE

You're A Good Man, Charlie Brown


Based on the comic strip Peanuts by Charles M. ShulzBook, music and lyrics by Clark GesnerAdditional dialogue by Michael Mayer,Additional music & lyrics by Andrew
5/6 - 5/28/2022

Pollard Theatre Company
120 W Harrison Ave
Guthrie

Hamlet


3rd Act Theatre Company, a 501(c)3 non-profit theatre company in Oklahoma City presents their final production of Season 3: UNKNOWN. Hamlet, written by William Shakespeare
5/13 - 5/29/2022

3rd Act Theatre Company
12040 N May Avenue
Oklahoma City

OF A MIND: OKLAHOMA CITY


OF A MIND: OKLAHOMA CITY is an immersive audio tour designed especially for Oklahoma City's increasing vibrant urban core. Guided by a live narrator and
4/30 - 5/29/2022

Oklahoma City Repertory Theater
701 N. Broadway, Suite 120 Oklahoma City OK 73102
Oklahoma City

The 25th Annual Putnam County Spelling Bee


Ponca Playhouse
5/13 - 5/29/2022

Ponca Playhouse
Ponca City

The Lion King

5/11 - 5/29/2022

Civic Center Music Hall


Annie Kids


Leapin' Lizards!  The popular comic strip heroine takes center stage in one of the world's best-loved musicals.  With equal measures of pluck and positivity, little
6/17 - 6/19/2022

Carousel Productions, Inc.
Ardmore

Matilda


Great fun for the family! The inspiring story of an extraordinary little girl who, gifted with a vivid imagination and a sharp wit, dares to
6/21 - 6/26/2022

Lyric Theatre of Oklahoma
201 N Walker Ave.
Oklahoma City

Roald Dahl's Matilda The Musical Jr


El Dorado Middle School
6/23 - 6/26/2022

Ardmore Little Theatre
Ardmore

violinmusic


Download new song 1401, 2022, 1400 and 2021 for free with 2 quality 320 and 128 along with lyrics.
5/31 - 6/30/2022

ViolinMusic
3451 Clair Street
Buckholts

Carousel


Located in a coastal village in Maine near the end of the 19th century, the swaggering, carefree carnival barker, Billy Bigelow, captivates and marries the
7/5 - 7/10/2022

Lyric Theatre of Oklahoma
201 N Walker Ave.
Oklahoma City

Legally Blonde Jr.


Legally Blonde JR. follows the transformation of Elle Woods as she tackles stereotypes, snobbery and scandal in pursuit of her dreams. When Elle's boyfriend, Warner,
7/7 - 7/10/2022

Carousel Productions, Inc.
Ardmore

The Addams Family


Visual content only
7/1 - 7/11/2022

The Poncan Theatre Company
Tonkawa

Honeymoon In Vegas


A romantic romp from New York to Vegas to Hawaii, this musical about saying "I Do" is non-stop, laugh-out-loud fun.
7/21 - 7/24/2022

Carousel Productions, Inc.
Ardmore

Kinky Boots


This exhilarating Tony Award-winner tells the true story about a struggling shoe factory that will lift your spirits to high-heeled heights! Charlie Price has reluctantly
7/19 - 7/24/2022

Lyric Theatre of Oklahoma
201 N Walker Ave.
Oklahoma City

Venus in Fur


Visual content only
7/29 - 8/13/2022

Oklahoma Shakespeare in the Park
Oklahoma City

Lizzie: the rock musical


Lizzie (liz-ee): Noun. 1) Lizzie Bordenthe American woman tried and acquitted for the axe murders of her father and step-mother in Massachusetts in 1892. 2)
8/18 - 8/19/2022

Tower Theatre
425 NW 23rd Street, Oklahoma City, OK 73103
Oklahoma City

Pretty Woman: The Musical

8/16 - 8/21/2022

Civic Center Music Hall


Rocky Horror Show


Back by popular demand, one of Lyrics biggest hits of all time returns with a new rendition of the show in 2022! Whether you are
10/5 - 10/30/2022

Lyric Theatre of Oklahoma
1727 NW 16th St.
Oklahoma City

Spamalot


Visual content only
11/4 - 11/6/2022

Theatre Tulsa
Tulsa

Lyric's A Christmas Carol


Closing the year, Oklahoma's favorite holiday tradition, Lyric's A Christmas Carol, returns for its 12th year November to December . In Charles Dickens timeless tale,
11/16 - 12/23/2022

Lyric Theatre of Oklahoma
1721 N Lincoln Blvd.
Oklahoma City

The Producers


Ponca Playhouse
5/26 - 6/4/2023

Ponca Playhouse
Ponca City



Back to the Main Page | Browse Local Theatres
---
Latest Oklahoma Reviews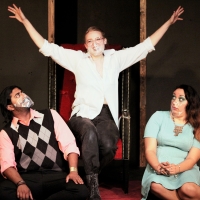 BWW Review: 3rd Act's HAMLET is Wondrous Strange
by Adrienne Proctor - May 16, 2022
3rd Act Theatre Company closes out Season 3: UNKNOWN with the re-imagined, gender-bent, immersive HAMLET. Now through May 28th, Dakota Lee Bryant directs this superb cast in Hamlet's tale of revenge. Kathy Skaggs stars as Hamlet and she's supported by a cast who are ready to recite Shakespeare, dual...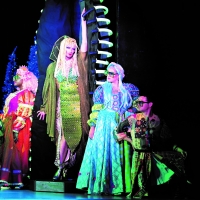 BWW Review: Lyric Theatre's got the beat with HEAD OVER HEELS
by Adrienne Proctor - April 19, 2022
Lyric Theatre returns to indoor performances! Back at The Paula Stover Stage in the Plaza district, Head Over Heels is a welcome home celebration for theatre patrons. Decked out in vibrant colors, the cast of eight performs music of The Go-Gos to the story loosely based on Arcadia by Sir Philip Sidn...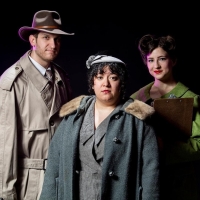 BWW Review: UCO Opera's THE CONSUL Is a Haunting Tale of Caution
by Adrienne Proctor - April 05, 2022
UCO's opera department offers a cautionary tale. The Consul tells the story of one family trying to escape a country they can no longer call home. Though it ran on Broadway in 1950, it brings to mind current images that are seen on the news every night. Parallels to refugees and the bureaucratic sys...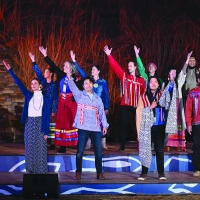 BWW Review: Pride and Culture are on display with Lyric's DISTANT THUNDER
by Adrienne Proctor - March 29, 2022
Lyric Theatre's latest New Work is the Native musical DISTANT THUNDER. Distant Thunder tells the story of Darrell Waters. The young lawyer returns home to a community he doesn't remember and re-learns about his heritage, regaining new friendships and relationships along the way. Native culture is al...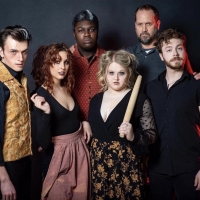 BWW Review: UCO's SWEENEY TODD Cuts Deep
by Adrienne Proctor - March 07, 2022
UCO and Broadway Tonight's production of SWEENEY TODD: The Demon Barber of Fleet Street is a haunting and spooky telling of Stephen Sondheim's masterpiece. The wronged Sweeney Todd and the opportunistic Mrs. Lovett are two of the most beloved antiheroes in Musical Theatre history. This production ho...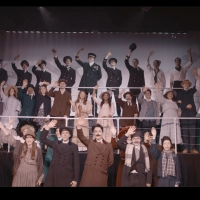 BWW Review: TITANIC THE MUSICAL at Howard Theatre At Heritage Hall
by Theresa Bertram - March 02, 2022
As I walked through the parking lot of Heritage Hall's Howard Theatre, 1800 NW 122nd Street, in Oklahoma City, I knew TITANIC THE MUSICAL was a fitting show to see as I climbed over the literal ice bergs to get to the door. Just prior to the show dates Feb. 24-27, an ice storm came across southern U...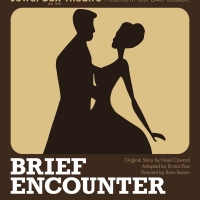 BWW Review: A BRIEF ENCOUNTER Moves Seamlessly at Jewel Box Theatre
by Kevan Dunkelberg - February 20, 2022
'Immersive' is one of those non-specific buzzwords that gets slapped on shows from time to time that could mean anything. There are undoubtedly more specific and meaningful words, and they could probably all be used to describe Jewel Box Theatre's production of BRIEF ENCOUNTER....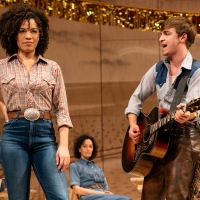 BWW Review: OKC Broadway twists and turns with reimagined OKLAHOMA! Revival
by Adrienne Proctor - January 27, 2022
The re-imagined version of Rodgers and Hammerstein's OKLAHOMA! is dark and twisting. It's controversial to say the least, and it makes its national tour stop now through January 30th at the Civic Center. OKC University alum Sasha Hutchings leads the dynamic and diverse cast in this modernized take o...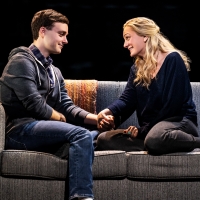 BWW Review: No requiem for DEAR EVAN HANSEN
by Adrienne Proctor - January 14, 2022
The national tour of Dear Evan Hansen makes its OKC stop at the Civic Center now through Jan 16th. When Evan's classmate commits suicide, his friends and family are left grappling and searching for answers. Evan constructs a friendship that never really existed between the two, and as the lie gets b...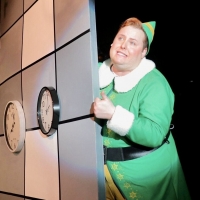 BWW Review: ELF THE MUSICAL is a jolly good time!
by Adrienne Proctor - January 02, 2022
Elf The Musical is a jolly fun, heartwarming holiday tale for the whole family. Poteet Theatre inside St. Luke's United Methodist Church presents this musical on their cozy stage in downtown Oklahoma City. Buddy Hobbs grows up at the North Pole, and soon discovers he's not one of Santa's elves at al...