Zoe Kazan, Paul Dano, and More Among Presenters and Performers at Soho Rep's 2019 Spring Fete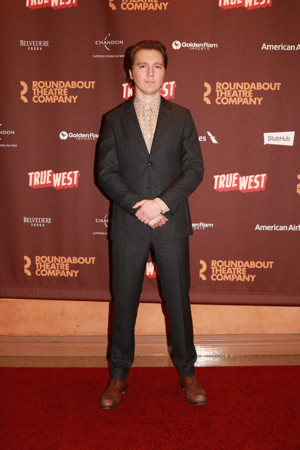 Soho Rep., which provides a platform for vastly diverse artists to realize their boldest visions, in productions that are regularly among the most ambitious and acclaimed offerings of the theater season, will convene many of its collaborators and supporters at its 2019 Spring Fête, Monday, April 8, at Tribeca Rooftop (2 Desbrosses Street, New York, NY 10013). The evening will celebrate the return of Jackie Sibblies Drury's groundbreaking play Fairview, one of the most talked-about new plays of 2018, to New York City. Mayaa Boateng, who played Keisha in the sold-out, thrice-extended world premiere at Soho Rep., and who will be reprise the role when TFANA presents the production this June, will emcee.
The evening will feature performers and presenters including actor Paul Dano (True West, Escape at Dannemora),actor Edie Falco ("Nurse Jackie," The True); musician and Soho Rep. Writer / Director Lab member Jen Goma (A Sunny Day in Glasgow, The Pains of Being Pure at Heart); actress Zoe Kazan (The Ballad of Buster Scruggs, The Big Sick); playwright, director, performer, and Soho Rep. Writer / Director Lab member Kristine Haruna Lee (Suicide Forest); writer, director, and actor and Soho Rep. Board member Tim Blake Nelson (The Ballad of Buster Scruggs, O Brother, Where Art Thou?); performance artist, playwright, and actress Carmelita Tropicana, who is developing a new work with Branden Jacobs-Jenkins in Soho Rep.'s Studio program; actress Sammy Tunis, of the award-winning Soho Rep. / Ars Nova co-production Futurity; and actor Michael K. Williams ("The Wire," "The Night Of"). The program, also featuring the music of indie rock band Arthur Moon, will bedirected by Garrett Allen (Associate Director of Fairview),withmusic direction by Alaina Ferris.
The Soho Rep. 2019 Spring Fête will begin at 6:00pm with cocktails and hors d'oeuvres. Dinner and the program-including performances and the live auction-will begin at 7:00pm. Tickets, starting at $750, and tables, starting at $5,000, can be purchased via Liene Camarena Fogele at liene@sohorep.org, 212.941.8632 ext. 203, or at sohorep.org.
The Spring Fête is Soho Rep.'s most important fundraiser. Net proceeds account for 20% of the company's entire annual budget and support raised enables the company to commission and produce innovative, audacious, and socially relevant new plays while keeping ticket prices affordable. Soho Rep. breaks exciting news each year at the event; at the 2017 Spring Fête, the company announced plans to return to its longtime home on Walker Street in Tribeca, and in 2018, Soho Rep. announced five new artist commissions.
Last month, Theatre for a New Audience (TFANA) announced it would present Fairview, whose world premiere was commissioned by Soho Rep. and Berkeley Repertory Theatre, June 2-30 at Polonsky Shakespeare Center, TFANA's home in the Brooklyn Cultural District. The return engagement marks the first opportunity for New York audiences to experience this bold, radical work since it was first staged at Soho Rep. in Summer 2018. Ben Brantley called it "[a] dazzling and ruthless new play" in The New York Times. Hilton Als wrote in The New Yorker, "I found it hard to predict where Drury would go next, because her mind is so free...[Fairview is an] outstanding, frustrating, hilarious, and sui generis new play (directed with dynamism by Sarah Benson)." Following the play's highly acclaimed runs Soho Rep. and Berkeley Repertory Theatre, Fairview was praised in Best of the Year lists and pieces in The New York Times ("magnificent"), New York Magazine, Time Magazine, Time Out New York ("unforgettable"), The Los Angeles Times ("one of the most original new works of the year"), and BuzzFeed News.
About Soho Rep.
Founded in 1975, and in its theater on Walker Street since 1991, Soho Rep. has built an outstanding reputation for being at the forefront of new and innovative theater, serving as a vital center for contemporary theatre artists. Soho Rep. is dedicated to cultivating and producing visionary, uncompromising, and exuberant new plays, performing to one of the youngest adult audiences in New York City, with over half aged 18-40.
Critics continue to herald Soho Rep. as a go-to theatre destination for new and original works. New York Magazine says, "this indispensable theater offers more excitement per chair than any space in town," Time Out New York says, "Soho Rep. is the best theater in NYC," and The New York Times describes Soho Rep. as "form-twisting, boundary-breaking, and acclaimed" and says, "The downtown powerhouse...regularly outclasses the work done on many of the city's larger stages."
In 2014, Soho Rep. was honored with a Drama Desk Award for Sustained Achievement. Over the last decade, Soho Rep. productions have garnered 21 OBIE Awards; the 2016 Lucille Lortel Award for Outstanding Musical; 13 Drama Desk nominations, two Kesselring Awards, The New York Times Outstanding Playwriting Award for Dan LeFranc's Sixty Miles to Silverlake and, a special citation in The New York Drama Critics' Circle's 2012-13 awards. In recent years, Soho Rep. has presented plays by established and emerging theatre artists such as David Adjmi, Annie Baker, Alice Birch, Jackie Sibblies Drury, Debbie Tucker Green, Aleshea Harris, Lucas Hnath, Branden Jacobs-Jenkins, Daniel Alexander Jones, Richard Maxwell, Sarah Kane, Young Jean Lee, Nature Theater of Oklahoma, Kate Tarker, and Anne Washburn.
Photo Credit: Linda Lenzi