Tickets Are On Sale For The Dare Tactic's Kick Off Benefit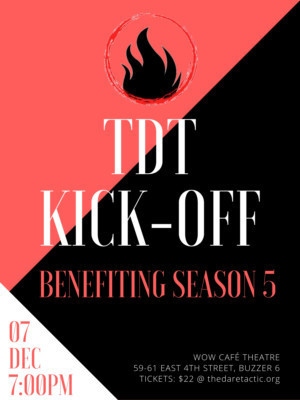 Tickets are now on sale for The Dare Tactic's annual Kick Off Benefit. The celebration will take place Friday December 7th, 2018 at 7pm at WOW Cafe Theater, 59-61 E. 4th Street. $22 tickets, which include one drink ticket and light hors d'oeuvres, are available online at thedaretactic.org and at the door. The event hosted by Maggie Metnick will introduce The Dare Tactic's 5th season, the artists involved, and feature performances from the upcoming season.
The Dare Tactic's 5th season welcomes 9 writers into their FactorEEE Workshops program, 2 new full length works into their Ignite: New Works Mainstages, and 1 emerging playwright into their inaugural Next Generation Residency.
Starting the season off, FactorEEE Workshop: One Acts recipients include Brennan O'Rourke's it's a blur, Amara Janae Brady's Grapefruit, Taylor Dodd Geu's Moth Monk, Gage Tarlton's The Last Blueberry on Earth, Joey Donnelly and Frankie DiCiaccio's The American Variety, and Dominique Rider's THE PARASITES.
Playwright Dominique Rider notes that the play asks, "whose bones are you standing on right now? Gentrification is a violent cycle that continues the ever-present work of colonialism in our world. What are we doing about it? What are we saying about this act?".
Other FactorEEE Workshops include Katie Pedro's Models of Perfection and Juliany Taveras's YAELIS. Fresh out of their residency at The Lark, playwright Juliany Taveras has sparked a buzz as one of New York's emerging playwrights to watch with seats on The Kilroy's List 2016 and 50 Playwrights List 2018. Taveras explains, "YAELIS is a road trip, a fever dream, an earth-shaking ancestral resurrection. In it, I explore questions of Caribbean ancestry and seek to challenge notions of the "American coming of age story."
Ignite: New Works Mainstages include world premieres of Camille Suazo-Harris's play 5, 4, 3, 2, 1...Category Closed and The Picher Project a new musical by Lauren Pelaia, Alex Knezevic, and Quentin Madia.
Camille Suazo-Harris's 5, 4, 3, 2, 1...Category Closed, with a cast lead by Legendary JukeBoxx, is a new ballroom play that asks, "why does family have to be defined by blood?". The play will be directed by Artistic Director Vinny Eden Ortega.
Ms. Suazo-Harris is The Advocate Magazine's 2018 Legacy Award Honoree and playwright in residence with Trans Lab Theater, with support by The Public Theater & WP Theater, and a member of WOW Cafe Theater. Suazo-Harris, a ballroom veteran and a former member of the iconic House of LaBeija notes, "I want the audience to leave with a sense of hope regardless of what storm you may have went through in life."
Rounding out the season is the new musical The Picher Project, which will explore the rise, boom, destruction, and fall of the abandoned mining town of Picher, Oklahoma. Creators Pelaia, Knezevic, and Madia will travel to Oklahoma to conduct interviews and collect data for the project. The musical will be directed by Executive Director Quentin Madia.
The December 7th Kick Off Benefit also serves as the launch of The Dare Tactic's inaugural Next Generation Residency; a year long investment in an early career generative theatre artist. The Dare Tactic has selected Brooklyn native Wes Goodrich. Of his appointment Goodrich notes, "the company is so supportive that I feel confident in taking risks and throwing everything at the wall, because I know I'll get honesty and support on the other side of that."
The Dare Tactic is a non-profit theatre company dedicated to staging innovative, original works by underrepresented voices. The Dare Tactic focuses on bridging the gap between academic studies and early-career opportunities by providing a platform for emerging artists to create, explore, fail, and experiment in a safe, supportive environment. We want to spark young careers, and watch them grow.
?Leadership of The Dare Tactic includes Quentin Madia (Executive Director), Vinny Eden Ortega (Artistic Director), Ryan McCormick (Administrative Director), Bleu Zephra (Associate Producer), Caroline Duffin (Technical Director), Griffin Schmackpfeffer (Director of Photography), McLain Powell (Administrative Assistant), Lauren Pelaia (Administrative Assistant), Merrill Peterson (Technical Assistant), Ashley Malafronte (Artistic Assistant).