Theater Mitu Premieres HOUSE OR HOW TO LOSE AN ORCHARD IN 90 MINUTES OR LESS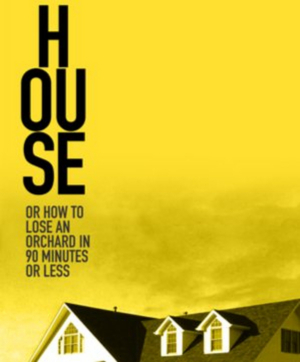 Theater Mitu presents the world premiere of HOUSE or how to lose an orchard in 90 minutes or less. HOUSE is created and performed by collaborating artists Kayla Asbell, Denis Butkus,Aysan Celik, Alex Hawthorn, Justin Nestor, Scott Spahr, Corey Sullivan, Ada Westfall, and Isabella Uzcátegui. Directed by Rubén Polendo, HOUSE begins performances at MITU580 (580 Sackett St, Brooklyn, NY 11217) on Friday, August 23, for a limited run through Sunday, September 8, 2019.
Houses hold histories, memories, and secrets-whether small or large, whether rented or owned-our homes are a vital part of who we are. In a moment of mass migration and displacement, Theater Mitu upends Anton Chekhov's 1903 text The Cherry Orchard to explore how families across the globe must again and again find ways to redefine the idea of home. Interjecting Nobuhiko Obayashi's 1977 cult horror film HOUSE, text from company-conducted interviews, and live music, this technology driven work creates a detailed portrait of what we value, what haunts us, and what gives us the courage to move forward.
Tickets are $25 General Admission, $20 for Students, and can be purchased at www.artful.ly. The performance schedule for HOUSE is as follows: Tuesday-Sunday at 7:30pm; Saturday and Sunday at 2pm.
Driven by a commitment to innovation, Theater Mitu expands the definition of theater through methodical experimentation with its form. Framing art making as a mode of research and inquiry, Theater Mitu shares knowledge, sparks dialogue, and strengthens our community through cultivating radical ways of reimagining our world. Theater Mitu embodies this by way of our theatrical productions, trans-global research initiatives, artist support opportunities, education programs galvanizing the next generation of artists, and the curated programming of MITU580, our multi-use arts space in Gowanus, Brooklyn. All of Theater Mitu's activity celebrates artistic rigor, disciplined exploration, and the continuous exchange of knowledge. We are committed to creating and maintaining a space and community that embraces the whole person as a vibrant and unique range of embodied experiences, histories, and imaginations.
Over Theater Mitu's 22-year history, the permanent ensemble of artists has utilized theater to build bridges across ideas, cultures, and communities. In 2018, Theater Mitu inaugurated MITU580 with the company's production of Remnant. A meditation on death, loss, and what is left behind, Remnant will launch a world tour in the fall of 2019 when the MESS Festival in Sarajevo, Bosnia and Herzegovina, presents the European Premiere. Theater Mitu's work has been presented and developed nationally at The Brooklyn Academy Of Music, New York Theatre Workshop, The Public Theater, Lincoln Center, The Skirball Center, Alliance Theater, American Conservatory Theater, Contemporary Arts Center New Orleans, The Kennedy Center, Mark Taper Forum, Massachusetts Museum of Contemporary Art, McCarter Theater, South Coast Rep, Sundance, Watermill Center, and Z Space among others as well as internationally including The Cairo Opera House (Egypt), Centro Cultural Paso Del Norte (Mexico), Duoc UC (Chile), Kontakt Festival (Poland), Mansion Blatt (Lebanon), Blackbox (Mongolia), The NYUAD Arts Center (UAE), Patravadi Arts Center (Thailand), and Visthar (India). Recent recognitions include funding from The Howard Gilman Foundation, NET/TEN, CEC Artslink, MAP Fund, Mid Atlantic Arts Foundation, NY Cultural Development Fund, National Endowment for the Arts, NEFA's National Theater Project, New York University, NYSCA, Trust for Mutual Understanding, and The US Department of State.
Related Articles View More Off-Off-Broadway

Stories

Shows
More Hot Stories For You