The Workshop Theater presents MICHAEL STROGOFF, COURIER OF THE TSAR- A New Musical Based On Jules Verne Novel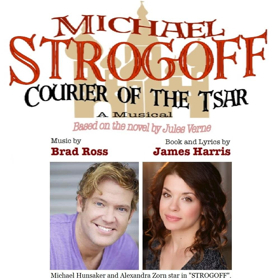 The Workshop Theater - 312 West 36th Street, 4th floor - will present a concert reading of a new musical this Sunday, January 7th, at 6pm.
Michael Strogoff, Courier of the Tsar, is based on the novel by Jules Verne, with music by Brad Ross, book and lyrics by James Harris.
The reading will be directed by Richard Kent Green, and features the following cast: Adanya Dunn, Karen Elliott*, Charles E. Gerber*, Peter Gosik*, Michael Hunsaker*, Mark Montague*, Mac Myles, Jeff Paul*, Joseph Peterson*, Christian Sineath, Tina Stafford* and Alexandra Zorn*.
There will be a moderated talk-back with the creative team following the reading.
Running time: approx. 140 minutes, plus intermission and talk-back.
Brad Ross - Composer
Winner of the Richard Rodgers Award, composer Brad Ross has three musicals published by Samuel French. The Kennedy Center commissioned and premiered Brad's musical The Tales of Custard The Dragon, based on the books by Ogden Nash. Brad's symphonic story, A Family for Baby Grand, for Narrator and Symphony Orchestra, has been recorded by The Rochester Philharmonic and performed by The National Symphony, The Philadelphia Orchestra, and more than 20 orchestras nationwide. Brad is the composer of Luck! (Book & Lyrics by Mark Waldrop), a musical based on a story by Isaac BashevisA. Singer, The Times, and Little By Little, which was produced by The York Theatre Company. This past summer, Interlakes Theatre premiered Brad's musical Peanut Butter & Cupcake! based on the hit children's book.
bradrossmusic.com
James Harris - Librettist
James was the first winner of the ASCAP Musical Theater Award, for the book and lyrics of The Peach Blossom Fan. He is a former member of the ASCAP Musical Theater Workshop, the BMI Lehman Engel Advanced Musical Theater Workshop, and the BMI Librettists Workshop.
The Workshop Theater
Sundaya @ Six Reading Series
312 W. 36th Street, 4th floor
January 7th at 6pm
The reading is Free and Open to the public. No reservations will be accepted. The Workshop Theater's spaces are very intimate - interested parties are urged to arrive early.
For more information, visit
http://www.workshoptheater.org/workshop-events/2018/1/7/michael-strogoff-courier-to-the-tsar