The Tank to Present LA PUCELLE (JOAN OF ARC)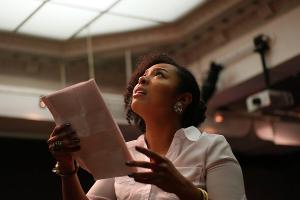 The Tank will present La Pucelle (Joan of Arc). La Pucelle is a multimedia Shakespearean mashup and extended soliloquy of Joan of Arc on the eve of battle, written by John Reed (A Still Small Voice, All the World's a Grave, Vice Magazine) directed by Tony Torn (The Reenactors, Ubu Sings Ubu) and performed by Mieko Gavia (Lou, Quarter Century: New York) at The Tank (312 W 36th St, New York, NY 10018), March 25th, 26th, April 5th, 7th, 8th, 9th, 10th, and 11th. Tickets ($20) are available in advance at https://thetanknyc.org/.
On the eve of war, Joan battles with her demons, rousing her troops to the battlefield, the salvation of France, and certain death. During this extended soliloquy Joan appeals to God, demons, her troops, even the ghost of her father to help her save France and herself. But Joan is plagued by delusions and personalities that may be either spirits and premonitions, or her own undiagnosed mental illness, so misunderstood at the time.
John Reed takes inspiration from Shakespeare's Henry VI mentions of Joan of Arc and restructures them (along with several other classic Shakespeare texts) in order to allow Joan to tell her own story- that of a child soldier forced into a conflict she did not start. La Pucelle draws parallels with today's activism culture in which young people are built up swiftly and torn down just as fast, and urges us to protect our young heroes just as much as they protect us.
La Pucelle is written by John Reed, directed by Tony Torn, and performed by Mieko Gavia and Kemba Barnes, with Michael Weiner, Rolls Andre, Ben Becher, Vera Beren, Lee Ann Brown, Mateo Correa, Sini Hill, Jocelyn Kuritsky, and Jose Scaro.
Readings of La Pucelle were previously held at The National Theatre Club and Torn Page.
More Hot Stories For You