The Pleasure Project Slays Shame At ESTROGENIUS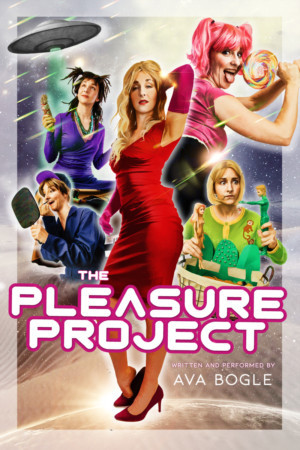 The EstroGenius Festival, the longest running festival celebrating the work of women and gender non-conforming artists in NYC, returns March 12th-31st. And only one show has aliens, vagina diagrams, and a vibrator raffle sponsored by WeVibe.
Written and performed by Los Angeles comedienne and filmmaker, Ava Bogle, THE PLEASURE PROJECT is an award-winning one-woman show that's "funny, engaging, informative and empowering...a performance you will leave feeling inspired, fulfilled and ready to change the world." (Ms. Magazine)
The world is ending and humanity is doomed. President Pussygrabber and Supreme Leader Lil Kim have come to blows and nuclear annihilation is nigh. Bogle plays five sex-positive aliens living amongst us as human women, regaling us with their delightful discoveries of the female anatomy. And in the midst of fleeing our ill-fated planet, they pause to pose a very serious question: can the clitoris save humanity?
Several years ago, Bogle began researching the challenges women face around sexuality, pleasure, and shame. Her findings and unique sense of humor led her to create an award-winning one-woman character comedy that seeks to empower women all over the world to take ownership of their orgasm. THE PLEASURE PROJECT premiered at Hollywood Fringe in 2017 where it received the Encore! Producer Award. And in 2018 made its international debut with critical acclaim at the Adelaide Festival of the Arts. "Be prepared to learn and enjoy an empowering show on the beauty and power of the female body. If you have a partner, take them along and they'll definitely learn a thing or two-you're welcome in advance." (The Advertiser)
You can save humanity with Ava Bogle and THE PLEASURE PROJECT March 22nd at 8:30pm and March 23rd at 8:00pm at The Kraine Theater. Come early for a pre-show sex toy raffle, stay late for O-worthy giggles.
Tickets available here: http://www.horsetrade.info/event/2b70206e2b0a1f7834c7d46c65f00761