Tennessee Williams' SMALL CRAFT WARNING to Be Revived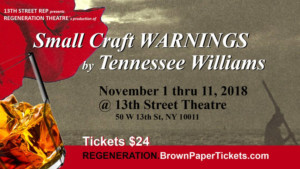 Regeneration - acclaimed for finding forgotten stage gems and giving them a new life - having taken on As Is, Come Back to the Five & Dime, Jimmy Dean, and Kennedy's Children - now brings Small Craft Warnings by Tennessee Williams back to the stage. An expansion of an earlier one-act play, Confessional, (not unlike Streetcar starting as Moony's Kid), this play centers on a motley group of people gathered in a seedy coastal bar in Southern California. The guests read like a list of Williams' favorite types: lusty Leona Dawson, an embittered middle-aged woman; her ne'er-do-well live-in lover Bill McCorkle; Doc, an alcoholic who lost his license to practice medicine (but still does); Violet, who has eyes for Bill regardless of Leona; Steve, a depressed middle-aged short order cook; two gay men - Quentin, a washed-up screenwriter, and Bobby, a young man Quentin picked up on the road... and Monk, the obligatory bartender running a place of refuge for the vulnerable and the lost.
The cast features Nicole Greevey, Jenne Vath, and Jason Pintar.
Williams himself said of this play: "It is the responsibility of the writer to put his experience as a being into work that refines it and elevates it, to make an audience feel the truth of that work." One feels a bit of Williams in each character.
SMALL CRAFT WARNING by Tennessee Williams presented by Barnaby Edwards and Regeneration Theatre runs Thursday - Saturday: November 1-3 at 7:00 p.m.; Sunday, November 4 at 2:00 p.m.; Special showing, Monday, November 5 at 7:00 p.m.; Thursday - Saturday: November 8-10 at 7:00 p.m.;
Saturday, November 10 & Sunday, November 11 at 2:00 p.m. at the Thirteenth Street Playhouse, 50 West 13th Street, NYC. For tickets: https://www.brownpapertickets.com/event/3609319
Barnaby Edwards founded REGENERATION THEATRE as an avenue to bring new work and lesser known shows to the stage so that audiences can discover the thrill of discovery and re-discovery and over the last 18 months has brought Kennedy's Children, Come Back to the Give and Dime, Jimmy Dean, Jimmy Dean, and As Is back to the New York stage. In 2015 he also produced the America Premiere of Boys in the Club by Paul Emelion. Prior to Regeneration Theatre Barnaby produced the 2013-14 season for Beautiful Soup Theatre which featured the US premiere of the musical Lift, a rare Revival of Molnar's Liliom, and the world premiere Little Wars. In London during the 1990s, Barnaby produced Paul Emelion's first musical, Crimes of Passion, and designed some of his early plays - Behind Closed Doors and When Harry Met Barry.
Related Articles View More Off-Off-Broadway

Stories

Shows
More Hot Stories For You