TNC Presents The MARQUIS DU CHATELET & LAWS OF ATTRACTION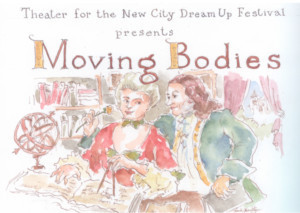 Theater for the New City's Dream Up Festival 2018 presents the World Premiere of 'MOVING BODIES'
La Marquise du Chatelet and Voltaire's Laws of Attraction Written by Lorraine Liscio Directed by Myriam Cyr August 26-September 16
How Newton got it wrong and how a woman came to fix it.

Schedule: (total 8 performances) Opening Performance Sunday August 26, 8 PM Thursday August 30, 6:30 PM Wednesday September 5, 6:30 PM Friday September 7, 9 PM Saturday September 8, 2 PM Sunday September 9, 3:30 PM & 8 PM Sunday September 16, 2 PM Theater for the New City, 155 First Avenue (between 9th & 10th Streets)
Reservations: 212.254.1109 or www.dreamupfestival.org

Starring Lee Mikeska Gardner as Emilie du Chatelet and Jonathan Tindle as Voltairewith Jerome Preston Bates, David Beck, and Sarah Oakes Muirhead Composer: David Beck Lighting Design: Carolyn Wong Costumes: Catherine Stramer
Running time: 90 minutes
Love and science - can a woman have both? Paris 1740, the Age of Enlightenment. When the Marquise du Chatelet and Voltaire take opposing sides in a controversy over Newtonian physics, sparks fly and one of the greatest love affairs of the eighteenth-century takes flight.
The world premiere of "MOVING BODIES," written by Lorraine Liscio and directed by award-winning Myriam Cyr, will take place in eight performances, August 26 through September 16, presented by Theater for the New City, Crystal Field, Artistic Director, as part of the Dream Up Festival. Lee Mikeska Gardner, award-winning actress and artistic director of the Boston Nora Theater stars as Emilie du Chatelet; Jonathan Tindle is Voltaire; David Beck will perform live his original music and selections by Bach, Vivaldi, and Mozart.
Defiant, excessive, and real, the unapologetic scientist Emilie du Chatelet fought for her place as one of her century's greatest scientists with work that endures to this day. Moving Bodies reclaims Emilie's story and tells how she fought for love and science and why as a woman she was never allowed to have both.
It is Paris 1728, and Secretary of the Academy of Science affirms Newton's calculation of the force of moving bodies: Force=Mass x Velocity.
When Emilie du Chatelet corrects his mistake in an open letter printed in the Journal of Science: Force=Mass x Velocity squared, the Secretary strikes back. "Your female condition is the source of your illusions." But Emilie is right - Newton got it wrong. No longer could men claim that the female body clouds female reason. Set against one of the greatest love stories of the eighteenth century, with two of the greatest minds the world has ever known, Moving Bodies is a Dangerous Liaisons of another kind.
Playwright Lorraine Liscio has recently started writing for the theater. Her other plays are City of Ladies (about Christine de Pizan), short version performed at the Cloisters' Medieval Play Festival; The Sheltered Fire (the letters of Heloise and Abelard); and Gono Superiore. Her publications include: Paris and Her Remarkable Women, and literary journal articles on Toni Morrison, Marilynne Robinson, Nadine Gordimer, Eudora Welty, Georges Bernanos, and Stephane Mallarme. For the past six years she has been a member of Pulse Ensemble Theatre under the direction of dramaturge Lezley Steele. Liscio was formerly Adjunct Professor in English and Director of Women's Studies at Boston College and teacher of Romance Languages at UVM and Syracuse University.
Poet Laureate Myriam Cyr is a theater director, critically acclaimed writer, and award-winning actree intent on promoting female narratives whose works include Letters of a Portuguese Nun, named "book of the Month" by The Guardian and translated into eight languages. She recently directed SimonSays at The Culture Project with Brian Murray, which The New York Times hailed as "thrilling," and last year Cyr brought I Am Antigone to Theater for the New City. As an actress, Cyr was a member of Steven Berkoff's company at the Royal National Theatre and played Salome opposite Al Pacino. She is currently producing Hedda Gabler for Universal Studios in a screenplay adaptation by Oscar and Tony Award winner Christopher Hampton.
The 9th Annual Dream Up Festival is being presented by Theater for the New City from August 26 to September 16. An ultimate new work festival, it is dedicated to the joy of discovering new authors and edgy, innovative performances. The Festival does not seek out traditional scripts that are presented in a traditional way; rather, it selects works that push new ideas to the forefront. Dream Up Festival founders are Crystal Field and Michael Scott-Price.
THE CASTLEE MIKESKA GARDNER (Emilie) is so pleased to get another crack at this fascinating woman. She previously played Emilie at The Nora Theatre Company in Lauren Gunderson's Emilie: La Marquise du Chatelet Defends Her Life Tonight, earning an Elliot Norton Award for Outstanding Actress. Lee recently played a contemporary of Emilie's, Olympe de Gouges in The Revolutionists, also by Gunderson. Other Boston roles: Brodie in Precious Little, Tess in Marjorie Prime, and Carla in the IRNE nominated Chosen Child at Boston Playwrights' Theatre. Favorite roles include Terry in Sideman (Helen Hayes Nomination for Outstanding Actress) and Florence Foster Jenkins in Souvenir at 1st Stage.
Jonathan Tindle (Voltaire) NYC credits include The Possibilities, Arcadia, Pity in History, No end of Blame, Scenes From an Execution, Pentecost, Not All Korean Girls Can Fly, Welcome to Our City, The Madness (NYIT award nomination), The Swan (Helen Hayes award nomination), Mrs. Warren's Profession (Helen Hayes award nomination), and more. Tindle has appeared in several films, including The Day Lincoln Was Shot and The Hunley. On TV the actor has been seen in Law & Order, All My Children, Person of Interest, Boardwalk Empire, and others.
Sarah Oakes Muirhead (Madame Francoise de Graffigny) actor/singer/director, trained at the London Academy of Music and Dramatic Art and is also a proud graduate of Boston U's BFA Acting program. Her many stage appearances include Tartuffe, Sunday in the Park with George, A Little Night Music (Huntington Theatre Company, dir. Peter DuBois), Spring Awakening, Fiddler on the Roof (New Repertory Theatre, dir. Austin Pendleton).
David Beck (Koenig and St. Lambert) actor/pianist, will be seen as characters in the play as well as playing his own compositions and selections by Bach, Vivaldi, and Mozart. David wrote, co-produced, acted in, and composed the score to the award-winning short film For Francis, as well as the web series Spring Street, which was nominated for Best Screenplay at the International Online WebFest in London. He has performed in plays at Cherry Lane, LaMaMa, SoHo Playhouse, Primary Stages, and more.
Jerome Preston Bates (Marquis, Koenig, Mairan), Broadway credits include Jitney, Stickfly and Seven Guitars with Viola Davis. Bates has also appeared in numerous productions at The Public Theatre, Circle Rep, Beckett Theatre, Abington, New Federal, and NEC, and around the country at Houston's Alley Theatre, Oregon Shakespeare Festival, The Old Globe, Yale Rep, Folger Shakespeare, Denver Center, and many more. Bates is the recipient of seven AUDELCO Awards, one TOR Award, and Omega Psi Phi's Carter Goodson Award.
www.dreamupfestival.org
www.movingbodiestheplay.org
More Hot Stories For You