THML Theatre Presents New Musical WHERE ANGELS FEAR TO TREAD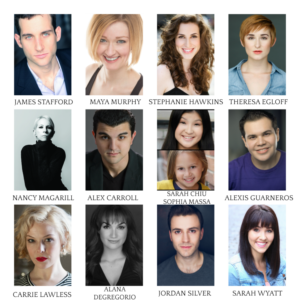 THML Theatre Company presents Where Angels Fear to Tread, a new musical by Kit Goldstein Grant based on the novel by E.M. Forster.
Cast: James Stafford as Philip Herriton, Maya Murphy as Lilia Herriton, Theresa Egloff as Caroline Abbott, Stephanie Hawkins as Harriet Herriton, Nancy Magarill as Mrs. Herriton, Sarah Chiu and Sophia Massa as Irma Herriton, Alex Carroll as Gino, Alexis Guarneros as Spiridione, Carrie Lawless as the Hot Italian Woman, Alana DeGregorio as Perfetta, Jordan Silver as the Featured Male Ensemble, and Sarah Wyatt as the Featured Female Ensemble.
The Players Theatre will host the first fully staged workshop adaptation ofWhere Angels Fear to Tread, a new musical by Kit Goldstein Grant.
Directed by Kayla Friend, the workshop will begin performances on September 7 in the Steve & Marie Sgouros Theatre, a part of The Players Theatre in Greenwich Village. The tragic tale is described as such: "Cautious, sensible Caroline Abbott (Theresa Elgoff) journeys to Italy as a chaperone for her irrepressible friend Lilia (Maya Murphy), but everything goes wrong when Lilia suddenly becomes engaged to a young Italian man named Gino (Alex Carroll). The troops arrive in the form of Lilia's brother-in-law Philip (James Stafford), who has come to try and break the engagement at the urging of his image-conscious mother (Nancy Magarill) and strongly religious sister (Stephanie Hawkins). Philip's mission fails, however, and a hotly contested baby results. Sweeping melodrama and sardonic humor meet in Tuscany as Philip and Caroline's ideals are challenged in the subsequent family battle over the fate of that unfortunate infant." Where Angels Fear to Tread has received developmental readings at The Playground Experiment and Theatre Resources Unlimited's "How to Write a Musical That Works" workshops in Manhattan, and songs from the show have been performed at The Musical Theatre Factory and Composer Collective concerts at The National Opera Center in Manhattan, New Brew by Opera on Tap in Brooklyn, and Playlight Theatre Company in Queens.

Director Kayla Friend is the founder and Artistic Director of THML Theatre Company; she recently directed and co-produced Cagebirds by David Campton at The Producers Club in Manhattan alongside In Our Words and The Screaming Majority, which was well-received. Writer Kit Goldstein Grant is a prize-winning, New York City based composer, lyricist, and librettist. Her musical The Nose was last seen at The Master Theatre in Brooklyn, and The Nose has also just completed a run at the National Arts Festival in Grahamstown, South Africa. Rachel Dean, Music Director forWhere Angels Fear to Tread, is a music director, composer, and pianist who is an ASCAP Award recipient and a recent graduate of NYU's Graduate Musical Theatre Writing Program; Rachel is a prolific writer and composer and also works as a rehearsal pianist for Broadway's Hamilton.

Where Angels Fear to Tread opens on Thursday, September 7 at the Steve & Marie Sgouros Theatre at 115 MacDougal Street near the ABCDEFM trains at W. 4th St at 7 PM. The production will run every Thursday-Sunday from September 7-October 1 as a fully staged workshop.

You can purchase tickets for Where Angels Fear to Tread through Ovation Tix at: https://web.ovationtix.com/trs/pr/977683.
Follow THML on Facebook at www.facebook.com/THMLTheatreCo
Instagram: @THMLTheatreCo
Twitter: @THMLTheatreCo