THE WIFE OF USHER'S WELL Announces Official Cast For 2018 She NYC Arts Summer Theater Festival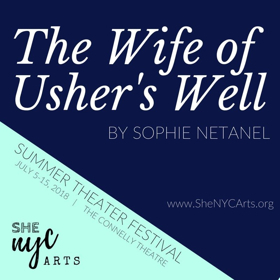 Sophie Netanel's adaptation of The Wife of Usher's Well has officially announced their cast for the 2018 She NYC Arts Summer Theater Festival.
A mother lives in Usher's well, and she sends her three bonny sons away to school. A young woman, Maeve, loves the middle son. She pledges to bring him back in any way she can, even if it means destroying the life she knows. All the while on the edges of Usher's Well, a mysterious traveller and an old woman play out an ancient rivalry and, unbeknownst to her, Maeve is the center of it all.
This summer seven actors will be bringing the traditional ballad to She NYC. Under Alex Keegan's direction, the talented cast will charm the stage with the haunting faery story of The Wife of Usher's Well. This cast includes Victoria Frings* as The Wife of Usher's Well, Chris Stahl* as Eldest, Matt Lytle* as Middle (Ceallan)/The Preist, Ed Ventura* as Youngest, Sophie Netanel* as Maeve, Rebecca Hirota* as The Old Woman, and Matthew Christian* as The Sailer/The Messenger/The Traveller.
For tickets and more information, please visit www.shenycarts.org.
The She NYC Summer Theater Festival is New York City's only festival devoted to producing full-length plays, musicals, and adaptations by women writers annually, and in 2018 will be joined by the inaugural year of the She L.A. Summer Theater Festival. She NYC's commitment to an open submissions process allows it to discover and cultivate the best up-and-coming talent in the industry. The 2018 NYC Festival will run from July 5-15th in the East Village's Connelly Theater, and will feature eight new works. The L.A. Festival will run from July 23-29th at Hollywood's Zephyr Theater and feature five new works. Visit www.shenycarts.org for more information on the other participating shows, as well as performance dates, times, and ticket info.
*Appearing courtesy of AEA