Staten Island's Minty Awards Announces Honorees For January 11 Gala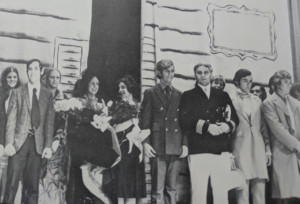 The Minty Organization for the Performing Arts, the non-profit which oversees The Minty Awards, has announced honorees for the 5th Minty Awards Dinner Gala to be held Thursday, January 11 at 7pm at Nicotra's Ballroom, The Hilton Garden Inn.
The 2018 Minty Awards Dinner Gala Honorees are Sr. Raimonde, Carl William Lesch Memorial Award for Educator of the Arts; Frank Lombardi, Distinguished Alumni Award; Ed Burke, Community Enrichment Award, and Moore Catholic High School's 1972 production of Show Boat, Outstanding Show Award. In addition, two students will receive the Msgr. Joseph C. Ansaldi Scholarship, which was founded in 2016 to honor the late chaplain of The Minty Organization.
"There is such a rich history of theatre and the performing arts in our schools, and I think once again we have selected such deserving honorees for this year's Gala.," said Minty Organization Executive Director Michael J. Pinto. "When you look at the span of the honorees' contributions, we are going back over 50 years, and they are still remembered so fondly and with such admiration."
Pinto added that the Gala, in its fifth year, continues to be a highly anticipated evening, a chance for alumni and friends who share a love for the performing arts to come together for a night of fun and celebration. "I always point out the young alumni, either attending or serving on our committee or as volunteers. Their presence and excitement shows the impact the performing arts has had on these students, and their desire to help give back to the community."
2018 Carl William Lesch Memorial Award for Educator of the Arts
SR. RAIMONDE BARTUS
Sr. Raimonde began an illustrious service at St. Joseph Hill Academy in 1956. In 1968, she founded the St. Joseph Hill Drama Club, directing the operetta "The Firefly." In 1971, she directed the school's first musical production "Bye, Bye, Birdie." Over the 13 years, she directed such Broadway classics as "Where's Charley?" to "The Boy Friend" and "Cinderella." She also served as the school's forensics coach for over two decades.
"First and foremost, her goal was to 'educate' as stated by Sister herself!" said Hill alumnae and 2015 CWL Awardee, Loretta O'Hara. "Before musicals, she directed dramas where the Hill girls played the roles of boys/men that required acting. The boys were first invited to audition and participate I. Hill shows beginning with "Bye, Bye, Birdie." Sr. Raimonde was a firm believer that details mattered, 'so pay attention to details and project and enunciate - diction is very important.'"
Sr. Raimonde passed away in June 2012. Her longtime friend and Hill colleague, Mary Jane Truckenbrodt, will be accepting the award on her behalf.
St. Joseph Hill Drama Club Alumnae are asked to email Gala@Mintys.org and take part in a special alumni tribute at the Gala.
2018 Distinguished Alumni Award
Frank Lombardi
Moore Catholic High School, 1974
Frank graduated Moore Catholic High School in 1974, appearing in all of the musicals while there, including "Guys & Dolls" and "Show Boat" (as Captain Andy). He also appeared in musicals at St. Joseph Hill Academy ("Bells are Ringing") and St. John Villa Academy ("Oklahoma!").
He began his writing career in NYC writing jokes for nightclub acts including Wayland Flowers and Madame. His professional career began in Los Angeles in the 1980's. Performing at the legendary "Groundlings" improv comedy theater led to writing jobs in children's television for Hanna Barbera Studios and Nickelodeon.
He broke into prime time as a writer on shows for Shelley Long and Judith Light. He went on to write for Drew Carey's first ABC sitcom "The Good Life", David Schwimmer's first sitcom, "Monty", as well as the NBC hit "Mad About You".
His longest success came as writer and executive producer of "The Nanny" for six seasons on CBS. The show, often in the Top Ten, garnered numerous Emmy and Golden Globe nominations with two wins. During those years he wrote for guest stars such as Bette Midler, Elton John, and Elizabeth Taylor.
Frank went on to write and produce other sitcoms including "First Time Out", "Run Of The House", "Living With Fran", as well as writing for the show "Gilmore Girls". He developed shows for Tyra Banks, wrote several national commercials, a FOX daytime talk show, the television feature "Nicky Deuce" and the feature film "Treasure Island." Most recently he was the writer and executive producer of the TVLand sitcom "Happily Divorced". Frank is currently in development on a new series, and divides his time between NYC and Los Angeles.
For his long and distinguished career in the entertainment industry, we are proud to honor Frank Lombardi as our 2018 Distinguished Alumni Awardee.
2018 Community Enrichment Award
Ed Burke, Deputy Borough President
Ed Burke is the Staten Island Deputy Borough President, appointed by Borough President James S. Oddo. Mr. Burke has served in government on Staten Island for 30 years.
As Deputy Borough President, Mr. Burke works closely with Borough President Oddo and his staff on public policy, community issues and special projects for the office, including parks and recreation, cultural attractions, youth and quality of life issues.
He has supported performing arts in our schools acknowledging the positive impact theatre and music have on youngsters, nurturing discipline, teamwork and creative expression. Throughout his career in government he has helped promote Staten Island's cultural organizations as a vibrant part of our local economy and quality of life. He is a long-time strong supporter of the Minty Awards, recognizing the role high school theatre programs play in encouraging students to build their confidence and public speaking abilities. And, he applauds the leadership and hard work of Michael Pinto, the founding father of the Minty's!
His steadfast support and dedication to not only the Minty's but the Performing Arts across the Island is beyond compare. Staten Island is truly blessed to have such a devoted public servant (We'll even consider ourselves fortunate to hear his jokes each year at the Minty's).
2018 Outstanding Show Award:
SHOW BOAT
Moore Catholic High School, 1972
"In the fall of 1972, the ultimate impresario of school musical theatre decided to produce and stage the beloved classic 'Show Boat.'
Carl William Lesch assembled a large cast of Moore girls and newly arrived Moore boys and taught them an "operetta" that no one else on Staten Island had ever attempted. The production was true to its original concept by design and in its musical integrity. As far as I know, no other high school on Staten Island has attempted it since." - Rosemarie Callahan ("Magnolia"), 2016 Community Enrichment Honoree.
All proceeds from The Minty Awards Dinner Gala will go to fund the Minty Organization's educational programs, which include Audition Workshops, Master Classes and The Minty Awards Ceremony. Tickets to the Gala are $85; $65 for those under 21. Ticket price includes four course meal, live entertainment, and fabulous prizes. Tickets can be purchased online at www.mintys.org or by calling 347-688-9527. RSVP deadline is Monday, January 8. The 2018 Minty Awards Dinner Gala is co-sponsored by The Hilton Garden Inn.
Founded in 2010, The Minty Awards has saluted the best and brightest of Staten Island's Catholic High School Theatre Departments, donating over $50,000 back to the schools. The 2018 Minty Awards will take place on Sunday, June 3 at 7pm at The St. George Theatre. Anyone with photos, videos and memories of our honorees is encouraged to email
Gala@Mintys.org
for inclusion in the evening's events and tributes.
The mission of The Minty Organization for the Performing Arts: "We hope to start a tradition which honors the sacrifice and dedication of High School students in dramatic arts programs. The Minty Awards aims to promote these programs, performers, and all who support them. We believe that these students and their schools provide excellent examples of self-discipline, teamwork, and faith, and we should celebrate their efforts and achievements." www.Mintys.org
Featured BroadwayWorld Events
Check out these concerts...




More Hot Stories For You