Soho Playhouse Hosts NY Premiere of Blanket Fort Entertainment's DR. JEKYLL & MR. HYDE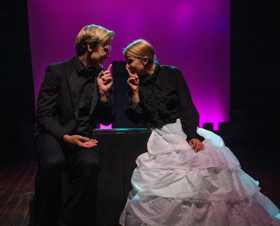 The Soho Playhouse proudly presents Blanket Fort Entertainment's New York premiere of DR. JEKYLL & MR. HYDE, written by Burt Grinstead and Anna Stromberg, and directed by Anna Stromberg, as part of the Fringe Encore Series, running Off-Broadway from December 6 - 15, 2018. The Soho Playhouse is located at 15 Vandam Street between 6th Avenue and Varick Street in New York City.

Based on Robert Louis Stevenson's classic novella, this original, comedic adaptation takes you to the dismal streets of London in the 1860s, where societal pressures silence a gentle doctor's questions about the nature of morality. As the pressure intensifies, Dr. Jekyll takes matters into his own hands. However, things take an eerie turn when his experiment takes on a life of its own. Will his efforts save the world, or will they destroy all that he holds dear? After all, the road to hell is paved with good intentions.

Blanket Fort Entertainment's world premiere of DR. JEKYLL & MR. HYDE was presented as part of The Hollywood Fringe Festival, where it was nominated for six Hollywood Fringe Festival Awards including Best Comedy, winner of the 2CentsTheatre Award for Distinctive Voices, and winner of the Soho Playhouse Fringe Encore Series Award.

DR. JEKYLL & MR. HYDE was praised by Stage Raw as "a highly innovative work, impressive for its delightfully morbid sense of humor and the versatility of the acting." Broadway World said, "Both actors display a great deal of charm, courage and panache. Stromberg is nothing short of amazing." Encore Magazine described the show as "fascinating, invigorating and challenging," and Media Geeks raved, "the two stars are extremely talented." Stage and Cinema admired the "spectacular performances and clever production" and said, "Dr. Jekyll & Mr. Hyde is just what the doctor ordered."

Performances are Thursday, December 6 at 7pm, Friday, December 7 at 7pm, Saturday, December 8 at 8:45pm, Sunday, December 9 at 2pm, Wednesday December 12 at 7pm, Thursday, December 13 at 7pm, Friday, December 14 at 8:45pm and Saturday, December 15 at 8:45pm.

Tickets are $39 and $64 (VIP), and can be purchased at https://www.FringeEncores.org or by calling 1-888-596-1027. The running time is 80 minutes. Appropriate for ages 10 and up. For more info visit https://www.BlanketFortEntertainment.com.
DR. JEKYLL & MR. HYDE is performed by Burt Grinstead and Anna Stromberg.
The production team includes Terry Collins (Set Construction), Burt Grinstead (Sound & Set Design), Matt Richter and Adam Martin (Original Lighting Design) and Anna Stromberg (Costume Design).
Blanket Fort Entertainment came right out of the gate with the critically-acclaimed and award-winning debut production of Dr. Jekyll & Mr. Hyde at the Hollywood Fringe Festival. The aim of the two founders of the company, Anna Stromberg and Burt Grinstead, is to make fast-paced, funny and compelling entertainment with a hell of a lot of heart. This mission is not limited to theatre alone. In addition to their theatrical endeavors, they're spreading their reach to cover all mediums of entertainment including films, television, web-series, radio plays, and literature. After all, inside a Blanket Fort, creativity is limitless.
Like Blanket Fort Entertainment on Facebook at https://www.facebook.com/blanketfortent, follow on Twitter at @BlanketFortEnt (https://twitter.com/blanketfortent) and on Instagram at @BlanketFortEntertainment (https://www.instagram.com/blanketfortentertainment).
Burt Grinstead has starred in films and television shows including Roger Corman's Death Race 2050, "NCIS," "Criminal Minds," "The Mentalist," "9-1-1" and many more. Grinstead has gained critical-acclaim for roles in Deathtrap by Ira Levin, Rope by Patrick Hamilton and Fool For Love by Sam Shepard. He was nominated for an Ovation Award for his portrayal of the twins Peter and Craig in Dying City by Christopher Shinn.
Anna Stromberg has performed in many Off-Broadway theatres. She was a longtime member of The Amoralists Theatre Company, originating roles in collaborations with Daniel Aukin (The Bad and the Better) and Lyle Kessler (Collision). She's a two-time Wilmington Theatre Award winner, and won Best Actress at the Williamsburg Independent Film Festival for Well Wishes. Anna directed the critically-renowned production of David Harrower's Blackbird in Los Angeles.
Photo Credit: Cooper Bates Photography